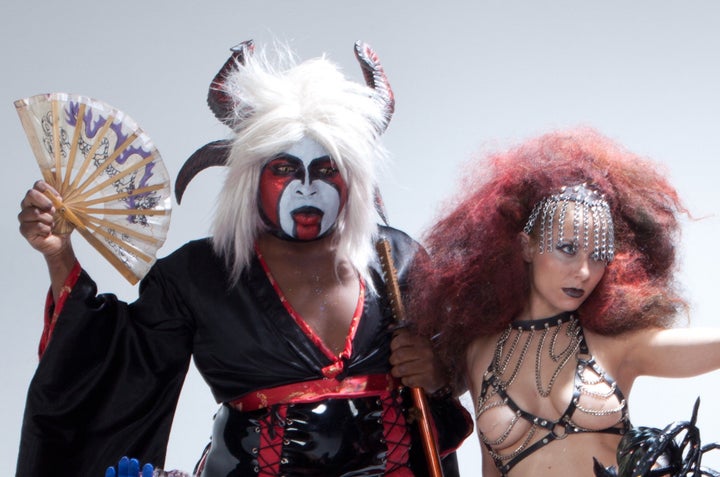 Not only does Miami have its very own nightlife synchronized swim troupe, our city also boasts a beautiful and bizarre performance troupe that freaks crowds out at clubs, parties, and festivals around town.
With the tagline "One part circus, two parts burlesque, a pinch of class, and a dash of trash," CircX is composed of the Magic City's greatest visual and performance artists as well as dancers.
So that lady all leathered up for CircX's bondage ballet act could also be one of the city's renown performance artists like Natasha Taskos, who recently gave an inspired TedTalk, or Belaxis Buil, who just performed in the Miami Performance International Festival.
CircX, whether parodying Van Halen rock videos, jumping around like demons on slits, or dancing on stripper poles that emerge from toilets, has been amusing and confusing Miami crowds for the past 10 years.
To celebrate a decade in the business, they're currently looking for funding via Kickstarter in order to throw an all-out bash and variety show at the Fillmore Miami Beach this fall.
HuffPost spoke with CircX founder Diana Lozano, who told us how it all started with a little bit of post-clown-school depression.
How was CircX started?
I had just returned from clown school and was depressed because I was back running lights at a nightclub. At the end of each shift I would start what some might describe as "interpretive dance/performance art" on the dance floor. Entertained by my silly antics, Shannon Miller, the owner of club Swig Bartini, approached me about putting a show together. I jumped at the chance and solicited performers from my alma mater, New World. A decade later, I run my own theatrical circus and production company.
What are some of the most outrageous acts CircX has performed?
Our most provocative performance was our commission by The Miami Light Project for the Here and Now Festival in 2008, called, CircX Stripped; a Grotesque Burlesque. We featured stripper poles attached to toilet bowls as we examined our own insecurities with self image and obvious eating disorders that plague 1 out of 5 dancers. Instead of a girl in a martini glass, we rolled out an enormous toilet bowl that the artist, Belaxis Buil performed in.
We even had models with LCD screens on their chests featuring recorded breast augmentation surgery. The show was a huge success with rave reviews from some of Miami's toughest dance critiques, although it was not the type of show I would invite my corporate clients to.

Any crowd favorites?
Bring on the Men is our unique rendition of the popular track from the Jeckell and Hyde broadway musical. We call it our Bondage Ballet. We ask audience members up to the stage and then tie them to a chair.
In The Devil Goes Down to Georgia, we bring the storyline of the popular song to life. I play the narrator dressed in male drag, whilst the cast re-enacts the story, complete with dancing hicks and a devil with a flaming violin.
For Hot For Teacher, the 80s rock anthem is brought to life with this over the top parody of Van Halen's Music video. One lucky audience member gets to play Waldo, the nerdy school boy, while chaos ensues courtesy of the CircX cast. The show is complete with bikini clad school teachers and flying airplanes.
Mein Heir is a classic take of the cabaret hit song. Natasha Taskos breaths new life into the role popularize by the great Liza. The CircX dancers join in with a pinch of class and a dash of trash, as they high kick and gyrate with their sometimes crass choreography.
Is it enough to make a living or do most CircX-ers have day jobs as well?
Although I am fortunate to say that this is main source of income. I also do creative direction and costuming through my company, so there are many avenues for income. I also teach at the New World School of the Arts, however, I do this out of pure love of it, since it just about pays for the gas in driving there.
As far as the other CircX-ers, many if not all are artist in their own right. It's something I have always found pride in, since we are not just another 'rent a dancer' type of company. Every artist has their own projects they are continuously working on personal and professional growth. For example, currently Octavio Campos is teaching in Australia, Natasha Tsakos, just came back from performing at G20 Summit, and Rosie Herrera is in New York preparing to perform the debut of her company's dance theater piece.
I don't think any of them have an actual 'day job', instead a wide variety of gigs and projects they are constantly working on. For all of us, performance and art are a passion, not a hobby.
Who does the costuming?
I would say that over 90% of the costuming is done by me. With the exception of Lucky Bruno, who likes to create his own jump stilts creatures, and Natasha Tsakos, who sometimes creates characters with elaborate high fashion circus make-up and thrift store finds. Other than that, it's usually me who spends countless hours with the hot glue gun, feathers and rhinestones.
What do you have planned for the anniversary show?
The show we are planning for this fall is a "retro-spectacle" sort of a "Best Of" type of production since it will be our 10-year anniversary. It will be done in the traditional variety show format with an emcee and a variety of acts from large scale choreographed productions to single circus skill acts and burlesque performances. Staying true to the CircX manifesto of only working with established performance artist and choreographers, we will also use this as a platform to showcase some of their original work.
Although we will also be creating a few new never before seen production numbers, for the most part, each act will be bookended with some of our most popular numbers, enhanced and blown out to fill the Fillmore stage. In between, we will feature the individual artist and circus acts as well as some wild audience participation and games.
Click below for images and videos of CircX: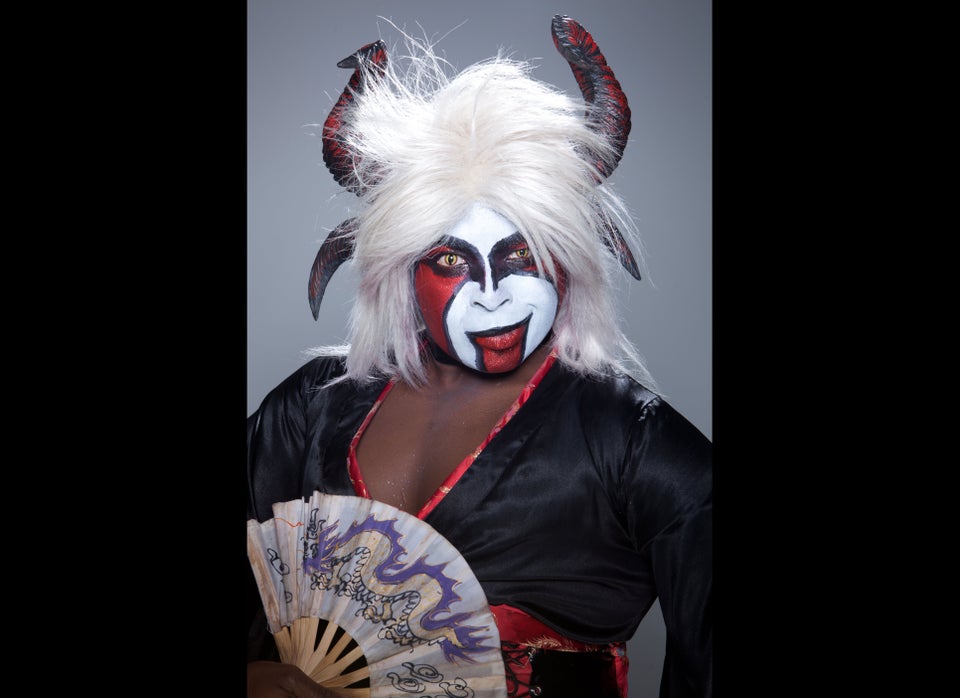 Circ X
Related
Popular in the Community