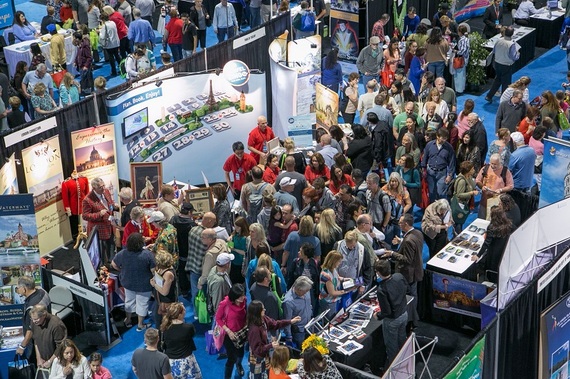 Looking for a special resort in Fiji, or perhaps you're planning a safari in East or South Africa. Has the cold U.S. winter put Mexico or the Caribbean on the brain? Planning a magical vacation to India or perhaps a California road trip.
If you're a lover of "all things travel," and happen to find yourself in the San Francisco Bay Area, the weekend of February 6 & 7, then join the 20,000 plus travel aficionados who will converge on the Santa Clara Convention Center, for a once a year opportunity to mingle with over 250 U.S. and Worldwide destination tourism offices, tour operators, cruise lines, hotels/resorts, and other travel-related products and services. Plan your summer vacation and beyond at the Bay Area's largest travel & adventure show.
Not only will you meet expert and trusted tour providers from the U.S. and exotic locales, from the likes of amazing Thailand, tempting Turkey, fascinating Peru and more, but you are afforded the opportunity to mix with travel industry experts. Come face to face with the icons of the travel world.
Peter Greenberg is the consummate travel correspondent. The multi-talented, CBS award winning investigative reporter and travel editor, Greenberg is always on the front lines of the travel world. Greenberg's accolades make him one of the most sought after, honored and respected news journalists. Known for his series, "The Travel Detective," Greenberg invites you into his inside world of travel expertise. Always on a travel fact finding mission, Greenberg will awe you with his knowledge on what the airlines, hotels, cruise lines, car rentals and more, don't want you to know.
Samantha Brown from the Travel Channel. The world traveler, Samantha Brown has spanned the globe, visiting dozens of countries, hundreds of cities, big and small, and can probably recommend a hotel for you in hundreds of cities throughout the world. Come meet Samantha and discover her truly unique and original tips and destinations, and her take on travel. Let Samantha inspire you to visit some well-known travel destinations, as well as, "the road less traveled."
1. Rick Steves is America's leading authority on European travel. Meet the internationally recognized guidebook author, travel show host, and radio personality. The travel veteran Steves, will guide you on how to travel and live frugally, and to make the most of your European vacations. Steves, who still spends one third of the year traveling through Europe is the master of traveling and living on the road in Europe, and will guide you in planning the perfect European vacation for any budget.
Patricia Schultz is the author of the #1 New York Times bestsellers 1,000 Places to Visit Before You Die and 1,000 Places to See in the United States and Canada. Patricia will inspire you to take off and travel the world. A veteran of over 25 years of world travel experience, the New York based Schultz, gives you her insider tips on travel, and insight on destinations and places that every traveler must visit.
Join a world of savvy travel professionals from around the world.
Whether you're looking to dive the 'Blue Hole' in Belize or meander through Tuscan cobblestone streets and hillsides, get your pulse on travel at the Santa Clara Convention Center, February 7 & 8 at the Bay Area Travel & Adventure Expo
http://travelshows.com/sanfrancisco
http://travelshows.com/sanfrancisco-speaker-stages