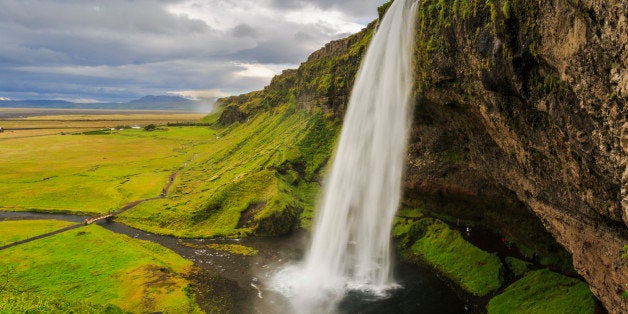 Roughly the size of Kentucky, diminutive Iceland nevertheless captivates with its lunar-like surface, volcanic landscape, glaciers, waterfalls and hot springs. Treasures abound everywhere you look, provided you have the gusto to rent a car and venture outside of the country's admittedly charming capital city Reykjavik. The best way to take in all the sights is via a circular loop that connects most of the inhabited parts of the island. Here is the best of Iceland's Ring Road. Hint: Get a 4WD vehicle.
If you're circumnavigating the island counter clockwise, the first detour-worthy sight is this magnificent cascading chute just an hour and a half southeast of Reykjavik. The falls crash into a pool below from an impressive 200 feet above what is now Iceland's former coastline. You can also hike to behind the falls.
Another waterfall? Yup, and like Seljalandsfoss you'll want to have your selfie stick ready. This one is a mere 30 minutes past Seljalandsfoss and she's a mighty impressive one given her width of 82 feet. Climb the nearby stairs and treat yourself to a view from the top.
Solheimasandur Plane Crash
A mere 10 minutes down the road from
, swerve your vehicle onto the dirt access road to Solheimjokull glacier and make the trek toward the coast to see the remains of this fascinating 1973 crash. The crew survived, but the site of the abandoned craft on a remote black sand beach is a haunting one.
This tiny hamlet claims a population of just under 300 people, but consider stopping at a local restaurant called Halldorskaffi which serves up a justly famous and delicious lamb sandwich. Also, check out the black sand beach featuring Reynisdrangur--basalt sea stacks situated under the mountain Reynisfjall.