Ariana Rubi Ruíz lives next door to a circus tent. When the 14-year-old resident of Dorado, Puerto Rico, was 6, she watched the tent being built in the backyard next door. Day by day, she remembers, she'd watch through the fence separating her backyard from the big top. The circus teachers eventually asked if she wanted to join and offered her a scholarship to make that possible.
That was at the beginning of the National Circus School of Puerto Rico, which is part of the social circus movement ― a growing group of schools around the world that teach circus arts to at-risk young people to help them build self-confidence and be a force for social good.
Ariana is one of dozens of students who spent years with the circus. Then, last summer, Hurricane Maria hit Puerto Rico, bringing 155 mph winds and widespread flooding. It crippled the roadway system and knocked out most of the electrical grid. The government initially said the death toll was 64; on Thursday it acknowledged that number was likely a little over 1,400. And a Harvard University study released last month says Maria probably killed over 4,600 people on the island.
Many of the National Circus School students lost their homes, and all lost power and had limited access to food for months. Some of the students' homes still have not been reconstructed completely.
"The hurricane is not the worst thing. It's after the hurricane," said San Juan resident and circus coach Jafet Irizarry. "You have to deal with yourself, you have to deal with the people around you."
Leslynette Ramos Irizarry, Jafet's sister and the resident psychologist of the National Circus School, remembers the lack of resources after the hurricane.
"Everybody got anxious, like, lining up to get gasoline," she said. "People spent eight hours in line for gasoline. We didn't even bother trying to get gas until about the fourth week, because the lines were so long. And the line in the supermarket? It was like, OK, you can only buy 10 things, and only these certain things."
Ricardo Martinez Lopez, 18, of the National Circus School of Puerto Rico, started college four days before the hurricane hit. Those four days were the only college education he got for many months.
"Coming from a place where you are used to daily having a struggle, and always having to push yourself … and to have something hold you back even more, was really hard," he said.
Jessica Hentoff, the director of Circus Harmony ― a social circus group based in St. Louis ― took notice. Like the National Circus School of Puerto Rico, Circus Harmony uses the teaching and performance of circus skills to build community, as well as to build confidence and social skills in its students, many of whom come from marginalized communities.
The group has previously created circus partnerships under the name Peace Through Pyramids in Israel and in Ferguson, Missouri.
"When people hear 'circus,' they think it's light and fluffy, like cotton candy. They hear 'kids,' and they think it's just a bunch of kids doing cartwheels. It's much more dense than cotton candy, and certainly a lot higher-level than cartwheels."
Hentoff made a donation to help restore the National Circus School's big top tent. Then, nearly a year after Maria hit, she decided to take the St. Louis Arches ― the elite youth circus troupe that performs as part of Circus Harmony ― to Puerto Rico to join with the National Circus School and create a touring act. The Peace Through Pyramids Puerto Rico program was born, with the purpose of creating intercultural connections and bringing hope to communities still hurting from the hurricane.
"Socially, most of these kids that are coming with us have never met anyone from Puerto Rico, much less hung out with them," Hentoff said. "And of course, they'll find out, 'Oh, they're just circus kids,' because that's what happens wherever we go. Everyone lives in their own little bubble, but to really go somewhere totally different, where the life experience is so different ― and yet, they'll be seeing the circus side of it, so it's the same."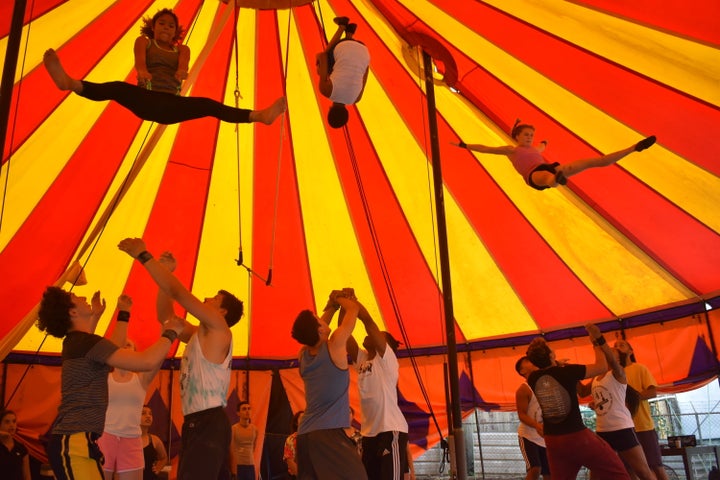 Nine circus students from St. Louis, ranging in age from 13 to 23, joined with 10 Puerto Rican circus performers to become what they called Revolution for Harmony Circus.
Most of them could not speak each other's languages, but Hentoff said that wasn't a problem.
"There are ways to communicate both verbally and nonverbally, but the common language is circus, and you have a common goal," she said. "To create a show. And when you're on that path, the details like the exact words don't matter that much. Circus is so broad a language, and it's so easy to say, 'Like this'? You know, just by doing it. I mean, look at human babies. That's how they learn."
By the end of their first day together, the kids from St. Louis and Dorado were laughing, picking up each other's slang and dancing salsa.
Ari Maayan, an 18-year-old St. Louis Arches performer who has been unicycling for "about four or five years," used his skills to bond with the Puerto Rican students.
"I can connect with people who unicycle much better than I can otherwise," he said. "I can teach them tricks, and they can teach me tricks."
When he got to the circus tent in Dorado, he bonded quickly with a young Puerto Rican performer named Ilka Miranda who could do tricks he had never attempted before, like jumping rope backward on a unicycle.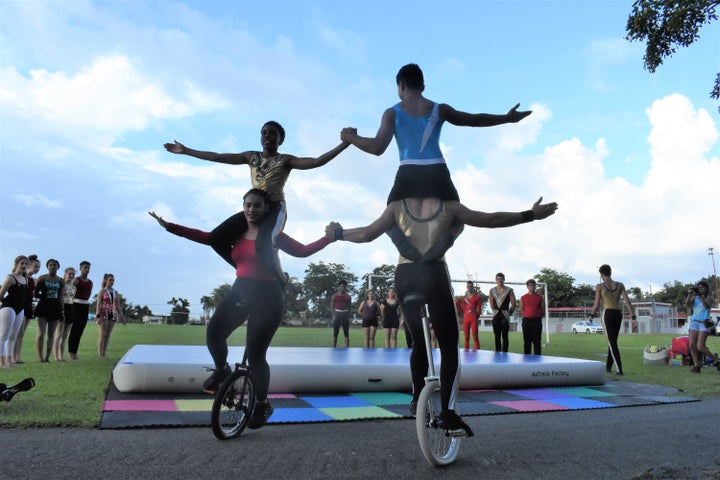 The students trained together and became one team. Then, they went on a whirlwind tour of Puerto Rico, visiting the towns of Adjuntas, Comerio, Yabucoa and Dorado, along with the old city of San Juan and the island of Vieques. In each place, they connected with community organizers who helped spread the word about the circus coming to town. Sometimes, the circus coaches would even come to people's houses and knock on their doors to tell them there was a circus in the plaza, soccer field or basketball court. The coaches helped older people who couldn't walk to the circus themselves.
Each town was in some way still affected by the hurricane.
About 30 percent of the population of mountain town Adjuntas still doesn't have lighting, according to community organizer Rebeca Rodriguez. She works with Casa Pueblo, an organization that has begun distributing solar panels and mini-refrigerators to those who need them.
"Art is what unites us in our community. It is an activation of the abandoned spaces. It's an action of reclaiming community."
The group also distributed gifts and toys to the children in Comerío and Yabucoa, held juggling and tumbling classes in Adjuntas and Dorado, and traveled alongside a group of doctors to the island of Vieques.
Vieques, a former U.S. Navy base, now has the highest rate of chronic illness in the Caribbean. The island lost all its power after the hurricane, and the hospital lost much of its capacity. Now, it only functions as a crisis clinic, which means medical care for chronic conditions is nearly inaccessible there. The circus kids provided a distraction ― children could attend a juggling workshop while doctors screened people in the other corner of the plaza.
People needed to see something like Revolution for Harmony's shows, Rodriguez said.
"[The circus has] really been a blessing for the town ― to be able to relax, to have a tranquil mind, so you don't have tension," she said. "You're bringing something very beautiful for our children."
Edgardo Larregui Rodriguez, an activist and artist in the town of Comerío, said public art experiences are a necessary part of healing Puerto Rico.
"Art is what unites us in our community," he said. "It is an activation of the abandoned spaces. It's an action of reclaiming community. It's not just drawing, or painting, or making sculptures, but a vision of community, of uniting people to make public spaces better, or to imagine the possibilities of an abandoned space to encourage people to become active, to get away from their houses, to get away from their television."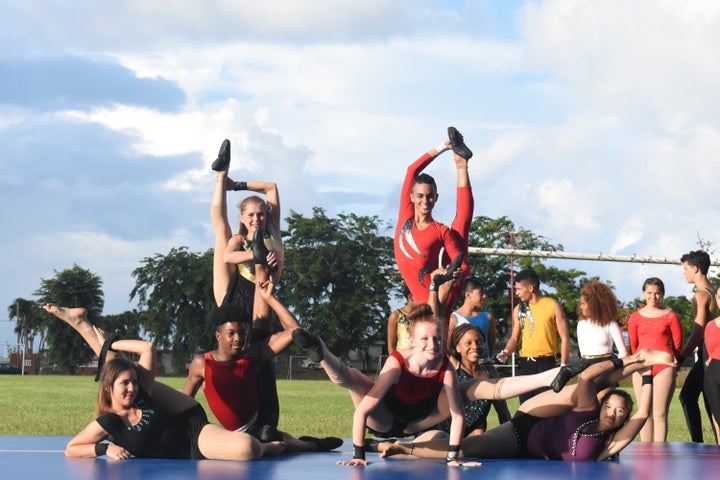 Before the students began their tour, psychologist Leslynette Ramos Irizarry gave the group a tutorial in what they should and shouldn't say to people ― "Never say, 'I know how you feel.' Because they have been through a disaster. You don't know." ― and asked why they were doing this tour. The students answered: "Distraction." "Hope." "To make people happy."
But Hentoff said even her own students sometimes underestimated the circus' ability to make a difference.
"They don't realize how appreciated they are by the people who are seeing them," she said. "And not because of the tricks, just because they showed up. To the kids, we're just doing another show. I wonder if they realize how much it means to them, that someone from outside the town came."
The Puerto Rican performers hope to continue the cultural exchange by visiting St. Louis. A grant of $5,000 from all-star Cardinals baseball player (and Dorado native) Yadier Molina has helped them jump-start their fundraising for the trip.
"I just love the environment, and what it makes you do as a person, and how it pushes you to be a better person," said Lopez of the National Circus School of Puerto Rico. "Not just physically, because yeah, you're working with your body, and you're doing things that normally a human being would not do, but it also makes your mind stronger because you have to believe in yourself. You have to believe in your partners and in your group, and have that state of mind of, 'I can do this, I can do whatever I want.' And circus has taught me that."
Hentoff agreed with that sentiment.
"When people hear 'circus,' they think it's light and fluffy, like cotton candy," she said. "And they hear 'kids,' and they think it's just a bunch of kids doing cartwheels. And they don't realize the depth and impact of the work on the individual children, on the audiences, and also the level of what they're going to see. It's much more dense than cotton candy, and certainly a lot higher-level than cartwheels."
Popular in the Community