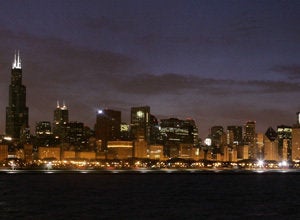 Cirilo McSween died November 4, 2008. It was the day that Barack Obama became president-elect. He died almost to the hour of Obama's acceptance speech.

It was one of life's poetic moments.

Cirilo's life was so large, so influential that he had three funeral services. He touched that many. His life was the ultimate world-class success story. No matter your age or your station in life, his is a story worth knowing. The President of Panama, Martin Torrijos, attended his adopted father's services and took him home to honor him with a head of state funeral.

McSween was a native of Panama and came from a poor family. As a child, he didn't always have shoes. His first pair of shoes--tennis shoes--started his life's pattern. He used his tennis shoes to become a track star. His teacher was quick to recognize his athletic abilities. He came to America on a track scholarship to the University of Illinois. He was a track star in the Olympics, representing his home country. At the University of Illinois, he shattered track and field records. This was the beginning of a stellar career.

Cirilo was a world-class, sophisticated man, while also humble, always appreciative and kind with a beautiful, simple elegance. He was the ultimate gentleman. He never forgot the powerful words his father spoke when he boarded the airplane to come to America: "Show the U.S. what a McSween is like. You represent the best in Panama. I love you, my son. Conduct yourself in such a manner that everyone will admire."
Cirilo never accepted America's racism. He never internalized inferiority or minority status. He knew who he was. He broke records everywhere he went and in every endeavor he attempted. He majored in economics and insurance in college and mastered English with the help of friends. He excelled in his academics.

New York Life Insurance hired him at a job fair. He was excited to begin work. But when they saw him, they told him a mistake had been made. They had mistaken him for an Irishman, on paper. New York Life Insurance had no black representatives, and he was rejected because of his skin color. Cirilo did not accept no for an answer. Politely, he asked for the president's address and name. Corporate offices were in New York, so McSween hitchhiked to New York. He waited days for the president. He finally met with him and told his story.

He introduced himself to the president as being able, qualified and willing to work. He did not understand how he had been hired based on merit and then un-hired upon sight. The president finally told him that they did not have Black sales agents. Cirilo said, "Don't you think it is about time to break that practice?" He presented a practical business approach asking, "Do you realize how much business you are missing?" Cirilo told the New York Life Insurance president his hire would not disappoint and that he would be the best agent ever hired. He persisted. And persisted. And would not take "no" for an answer. He remained in New York and was finally hired. It was a breakthrough for the insurance industry.

In his first year, Cirilo became a part of the Million Dollar Roundtable. He was the first African American to do so, and he did so for the next 28 consecutive years. He broke yet another record.

His business career eventually led to him owning 11 McDonald's franchises in Chicago. The McDonald's on State Street was the first ever to have a theme. The theme was his heroes and friends--members of the Civil Rights Movement--who fought America's apartheid. I worked with Cirilo on the opening of three of his stores, and a sense of pride permeated the festivities. They were productions. Cirilo changed McDonald's. He founded the Black McDonald's Association, insisted that there be black board members, and influenced the corporate structure to hire black executives. Today, the president of McDonald's, Don Thompson, is black.

These experiences exemplify how Cirilo McSween lived. Persist, contribute, be firm, and stand tall. These were the keys to success in his life. However, the most important portion of McSween's life lies within his contributions to the Civil Rights Movement. He was the treasurer of Martin Luther King's Southern Christian Leadership Conference. He knew King was special. He gave the movement his skills in finance. He headed finance later for Jesse Jackson's Rainbow PUSH and his political campaigns. He also worked on numerous political campaigns in the area of finance. He was always among the first to donate and fundraise. This was his role. It was his passion. The stories are numerous.

Cirilo did it all the old-fashioned way: He worked diligently, he earned it all, and he gave back. He loved life. He argued his case and it was like no argument you ever witnessed. Many have stories to tell on how he contributed to their lives. He will be missed. And I am happy to say I ran with him, worked with him, had glasses of wine with him and loved him. We shall never forget him because if you knew him, he impacted you in some way. I think this is the true test of a life lived well.

And at the end of the day, you can say you were happy to know him, and you are better because you did.
Support HuffPost
The Stakes Have Never Been Higher
Related
Popular in the Community