Cirque du Soleil has given birth to plenty of head-turning shows in its 25-year history -- yes, it's been around that long. The company's new endeavor, Ovo ("egg" in Portuguese), is simply one of the best Cirque experiences of the decade.
A memorable, often spellbinding frolic from beginning to end, it takes audiences inside the inner workings of the ecosystem. Here, a bevy of bugs fret over the arrival of a mysterious egg--by a neurotic fly--which forces everyone to question the egg's existence and perhaps their own. (Never hurts to do that.)
The show, which made its bold U.S. premiere in San Francisco last week after a run in Toronto, is written and directed by Deborah Colker, the first female director in Cirque's history.
But Ovo shouldn't be written off as a postmodern "Circle of Life" eco-plea for the health of the planet and its creatures. "We're here to create art," insists Colker, who hails from Rio de Janeiro and has a background as diverse as the show. She studied psychology, played piano and even thrived in volleyball before transforming her artistic self through dance and choreography.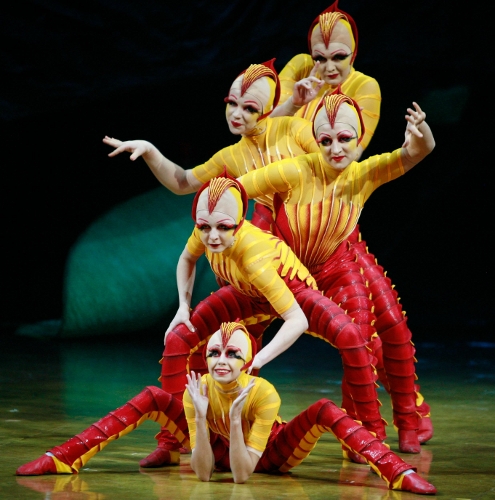 With Ovo she says she and the company wanted to change what people saw in Cirque, and to surprise themselves as well. Fifty-four artists from 13 countries make up this titillating affair and fans may be get a kick out of the romantic storyline between the fly and the ladybug, played by Michele Matlock ("The Mammy Project"). In the meantime, it wouldn't be Cirque without the riveting acrobatic acts: The finale features the jaw-dropping endeavors of 20 artists running, jumping and leaping directly up an 8-meter vertical wall.
That's quite a feat -- for any creature.
Dive into my exclusive backstage tour here:
Calling all HuffPost superfans!
Sign up for membership to become a founding member and help shape HuffPost's next chapter