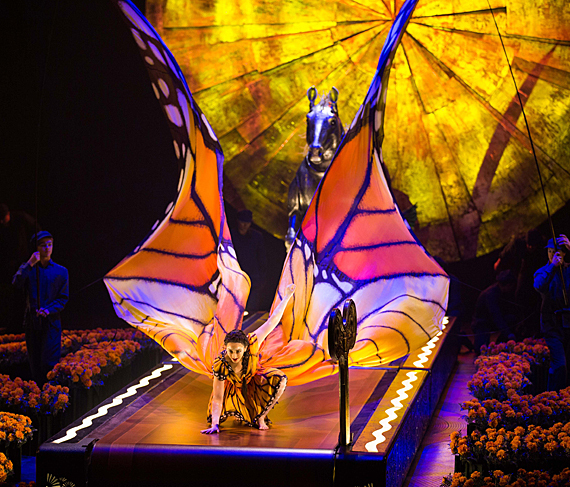 In the foreground, a monarch butterfly; behind, a thundering metal steed
Matt Beard, Cirque du Soleil
At its best, Cirque du Soleil delivers astonishment, employing a brilliant fusion of athleticism, spectacle, music and showmanship. With Luzia, which opened a two-month run in San Francisco a few days ago, Cirque is showcasing its best.
True to form, the show consists of fragments that display gymnastics on the stage and high above it, along with juggling, contortions and other breathtaking feats by performers from more than a dozen countries, flowing gracefully into a thematic whole. In Luzia -- a title formed from the Spanish words for light (luz) and rain (lluvia) -- that theme reflects visions of Mexico and its culture, real and imagined.
Breaking from form, this circus also includes a clown who is genuinely funny and often pathetic, and who provides an element of continuity throughout the production. He goes by the name of Eric Fool Koller, and he exhibits an incredible gift for projecting amazement, confusion, disdain, cheerfulness and much more through adept use of every part of his tall, lean frame and supple face.
He opens the show in the guise of a pilot falling from his plane, flailing wildly through the air, losing his parachute and miraculously landing intact with the aid of a colorful parasol. His landing place is a field of marigolds, populated by a few brightly feathered, human-sized hummingbirds. At the field's edge is a huge key, which he hesitantly twists. And fantasy begins, alluding to Mexico through music and costumes even during acts that have no geographic linkage.
Attired in shades of gold, with immense wings that flutter as she moves, a woman races on a huge revolving treadmill, conjuring imagery that's intended to suggest the monarch butterflies that migrate every year from Cirque's home in Canada to the mountains of northern Mexico. She's chased on that treadmill by an immense, articulated steel stallion, racing with grace and power through the skills of three puppeteers.
Still using the treadmill, seven gymnasts soar and spin through hoops -- as many as five stacked atop each other -- sometimes doing their thing solo, sometimes as simultaneous pairs or trios. They're obviously awe-inspiring, but compared with the act that follows, the hoop diving looks as safe as a walk to the refreshment stand.
That next act involves three men swinging two women like jump ropes that barely clear the stage, and flinging them aloft, where they usually spin before landing, standing, on the shoulders of a catch man. Absolutely awesome.
I won't try to describe every act, which would be impossible in any case, but the next deserves mention because it introduces an element that represents the extremes of Mexico's climate, and because it's repeated in varied forms throughout the show. The routine features one gymnast twirling and contorting on a trapeze and two more spinning inside and around hoops that must be at least six feet in diameter. That's impressive enough on a dry stage, but when a torrent falls, as it does here, the difficulty of their feats of speed, strength and balance rises to another level.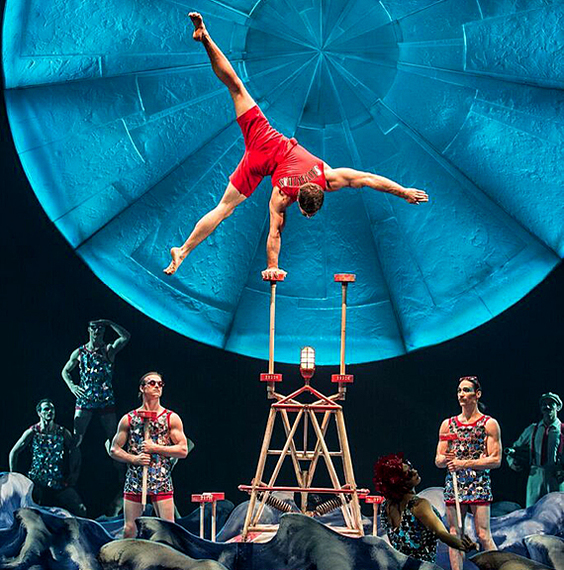 What's a circus without a strongman? This may be the easiest of his feats.
Laurence Labat, Cirque du Soleil
Deluges are one aspect of Mexico's climate; droughts are another. Pilot/guide/clown Koller highlights the arid side, endlessly searching for raindrops to fill his empty canteen. Narrow bands of rain fall a few feet in front of him but quit before he can reach them; more rain falls behind him, follows him, lands on either side of him, always out of reach and provoking frustrated responses that bring down the house. Inevitably, though, he catches a few drops and equally inevitably, a deluge catches him.
Among the show's 20 acts, here are a few others that remain especially memorable:
Phenomenal antics with a soccer ball, including spinning it on a straw-sized stick that's held in the performer's mouth, while he executes a backbend that reaches the floor.
A juggler who keeps as many as seven silver clubs in motion at a speed the eye can't possibly follow, at times even passing them under a leg or behind his back.
A contortionist who closes his act by lying on a platform with his legs over his shoulders, and his enigmatic face between his feet.
The soaring flips, twists and landings delivered by nine acrobats who fly between swings that look to be some 30 feet apart.
And the absolutely magical patterns shaped by the designers of the show's falling waters. They make it rain cats and dogs, of course, but that's just for starters. They also deliver a deluge of ephemeral patterns, from butterflies and snakes to all manner of beasts and a few symmetrical abstractions.
The show runs about two hours and 10 minutes, with a longish intermission that allows you time to clear your brain for the dazzling treats that follow. To this viewer, and seemingly to many others in the company's jam-packed tent on opening night, Luzia is as good as circus gets.
Cirque du Soleil's Luzia runs through Jan. 29 in its 2,600-seat tent next to AT&T Park, 74 Mission Rock St., San Francisco. It will also play Feb. 9-March 19 at the Taylor Street Bridge in San Jose. Tickets start at $42, from tickets.cirquedusoleil.com or 877-924-7783.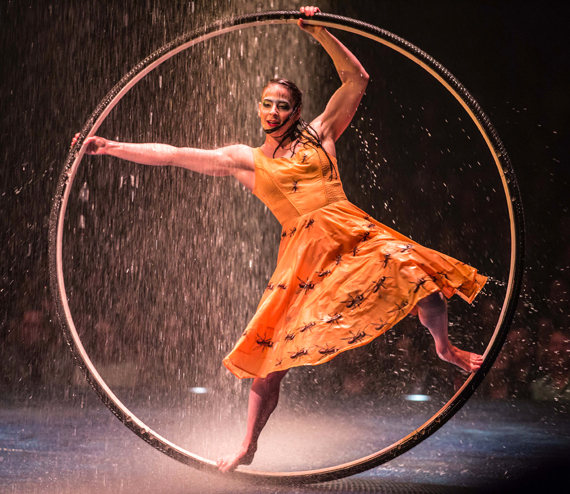 The rain in Luzia falls mainly on very agile acrobats.
Matt Beard, Cirque du Soleil
Calling all HuffPost superfans!
Sign up for membership to become a founding member and help shape HuffPost's next chapter