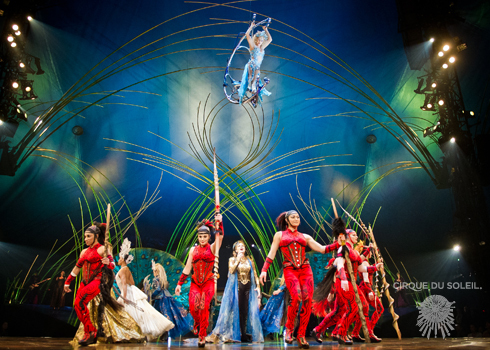 Cirque du Soleil's breathtaking "Amaluna" pushes previous creative boundaries and establishes itself as one of the most captivating and enterprising outings to unfold under the big top in some time.
And that is no easy feat, considering the fact that the venerable entity, based in Quebec, has given birth to more than 30 shows--many of which tour nationally and internationally, while others, like "Ka," "O" and "Love," which are stationed in Las Vegas.
Any way you swing it from the uneven bars, it's hard to deny Cirque's allure--since it entered the fold 30 years ago, more than 100 million spectators have seen a Cirque show. But back in 1984, only 73 people worked for Cirque du Soleil. And today? It's a booming enterprise with more than 5,000 employees worldwide, including more than 1,300 artists. Fun fact: the company's employees and artists comprise more than 50 nationalities and speak 25 different languages.
"Amaluna," which has been enjoying a healthy run in the San Francisco Bay Area since late last year and heads to New York City March 20, surpasses expectations. Here are five reasons why.
Estrogen: For the very first time, the show's cast is nearly all female. "One of the main things Cirque said to me early on was that they were considering doing a show that would be an homage to women," Director Diane Paulus told me during a recent interview. "It was an opportunity I could not pass up. It's usually 25 percent women to 75 percent male in a typical show. We are nearly the opposite ratio."
Diana Paulus: The woman is a powerhouse and her distinctly original vision elevates "Amaluna." Paulus, the artistic director of the American Repertory Theater (A.R.T.) at Harvard University, was the mastermind behind the recent Broadway revival of "Pippin." She also took "Gershwin's Porgy and Bess" and 2009's revival of "Hair" to new heights. It's her first collaboration with Cirque du Soleil. She says she spent nearly an entire year seeking top female acrobatics from all over the world, and witnessed "every single talent a woman can do."
The Premise: Audiences are taken to a clandestine island governed by goddesses and guided by the cycles of the moon. A queen, Prospera, oversees her daughter's coming-of-age ritual, which honors femininity, rebirth and renewal. Love factors into the tale, too. "I was pretty clear to me that I didn't want to build a 'women's agenda' show," Paulus reflects. "I wanted to make a show with women in the center of it; something that had a hidden story that featured women as the heroines." Note: the production doesn't lack masculine virility. It's there, but the women rule the arena.
Dynamic Feats: The production's numerous acrobatic elements include aerial straps, a Chinese pole, and a Cerceau and large waterbowl, perhaps one of its more memorable scenes. Another act that stands out is the Icarian Games, a breathtaking showcase with spinning, glowing water-meteors. Most captivating is the Balance Goddess, who defies logic--and gravity--to create a stunning mobile made of thirteen palm leaf ribs ... and balances it all on the top of her head.
Emotions: "I think people will be surprised by the emotional impact of the live experience," Paulus adds of the entire endeavor. "What I was so determined to do was make the audience care about they were seeing on stage--and connect to it. That's a very strong focus of 'Amaluna' and it goes hand in hand with seeing women on stage. The power of that--seeing how these women convene together adds a real emotional layer to the entire project."
I recently ventured behind the scenes at "Amaluna" to learn more. Take a look:
Related
Popular in the Community