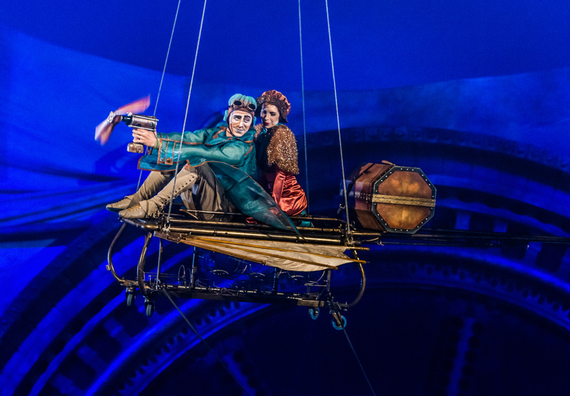 In Cirque du Soleil's Kurios: Cabinet of Curiosities, the engine of human imagination sputters and whirs to life. Now playing in the nation's capital, the show brings a soaring steampunk dream to life under the legendary big top.
Visions of the future have fascinated the public throughout history--from the clockwork time machines of H.G. Wells to the space-age lights of films like Cloud Atlas. Kurios delivers its audience back in time to a reimagined past filled with the futuristic steam-driven contraptions of Victorian era inventors. Propelled by the industrial revolution, they dreamt of exploring the vast sea and sky. It was an age of invention: a time when the future would be run by cogs and steel.
Kurios lives in the space between scientific possibility and human whimsy. The story opens in the workshop of The Seeker, our bumbling protagonist and a true believer who is convinced in his heart of hearts that within his 'cabinet of curiosities' lies a hidden world where his mechanical inventions spring to life.
One night the spell is broken. The clock strikes 11:11, the fateful wishing hour. When the cabinet opens, strange characters emerge and his wildest dreams take flight. We are invited to get lost in a parallel dimension, where books flutter like birds and reality itself is relative. Our mad scientist's laboratory is transformed into a world between worlds... as things get curiouser and curiouser.
Gears and springs fall apart like time, as a giant clock unwinds in the backdrop. Within this singular minute, hours unfold. Feats of the impossible begin. The curiosities of the cabinet include both the superhuman and the not-quite-human: from acrobats that break laws of physics to automatons with wind-up hearts. Cirque du Soleil blends atmospheric elements of set design, costume and live music with stringed instruments to transport us to another time and place.
There is an eccentric beauty in the strange and wonderful. In one of the most evocative scenes, one daring artist climbs to towering heights in a scene that seems to symbolize the hidden human desire to build ladders that can reach all the way up to our higher selves. What do we see when we choose to look up? Maybe there is a mirror image of us somewhere out there, waiting for us to notice. Is that upside-down vision a mirage... or could it be our truest self?
Kurios invites us to explore the extraordinary and the unknown within ourselves. It shifts our idea of what is possible: who we are and who we could be. Where we came from and where we are going. There is something so innately human within us that calls us to test the limits of our earthly bonds. Much like works of fantasy and science fiction, the circus arts as told through story and movement tap into that universal desire to soar beyond the world we know.
What is it that makes art so powerful? "It's imagination," says Assistant Artistic Director Dawn Wilson. "Everyone needs to be moved emotionally in some sort of way, whether it is by a brilliant performance on the stage or a movie. We all need art. Everything is art. Everything we hope for as humans is by emotions, it's by love and fear, it's how we feel.. that's all we aspire to as humans and that is what art is geared towards. If people are moved, then we've done our job."
Kurios is a stunning, live-action theatrical masterpiece within a long line of modern steampunk love that has seeped into popular culture--from the music of the Smashing Pumpkins to the cinema of Hayao Miyazaki's Howl's Moving Castle.
What about this genre fascinates us so? Perhaps something stirring within our hearts calls for the charms of an analog past in an ever more virtual world. In the long view, we are all storytellers of the great human story. We exist in myth and memory. The most moving works of art often remind us of something long since forgotten, buried deep in our subconscious, ensconced in mystery.
And like The Seeker, we do not need an enchantment to open that door.
Imagination is our own real-life portal to other realms: those borne from the cobwebs of packed away memories and long-lost dreams. Within the far reaches of the mind lies a window to alternate realities where we can explore the edges of possibility: to wonder over what is, what could be, and what might have been.
In time, maybe we will see that we are the most awe-inspiring machine to ever exist. For all the scientific discoveries and boundaries broken, our time on this planet--the history, and future, of the human experiment--is the greatest of all.
That hope chimes in the night like a clock in our hearts.
Cirque du Soleil's Kurios is playing in Tyson's Corner, VA through September 18th, 2016. Tickets for all shows are on sale at cirquedusoleil.com/kurios.
Calling all HuffPost superfans!
Sign up for membership to become a founding member and help shape HuffPost's next chapter