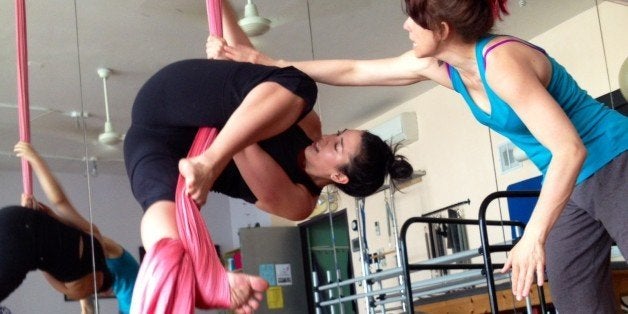 What We Tried: Cirque Style Fitness
Where: The Art of Fitness is set smack in the middle of Astoria, New York just off the corner of Steinway and Broadway.
What We Did: The Cirque Style Fitness class blended strengthening moves with aerial fabric dance. Owner and director Kristine Petrucione, who taught the class, led us in a series of stretches before heading straight into handstands. The class took turns trying them against the wall and practicing in the center of the room with support from Kristine and teacher Aimee Gottesman, who assisted with the class. Next, we divided into two groups by skill level. My group learned how to climb the long pieces of fabric from floor to ceiling and back down again. Then, we partnered up and helped one another tip upside down, straighten our legs and drop them into splits. Next, came some serious ab work on mats spread on the floor, followed by two styles of pull ups (yes, pull ups) using the fabric. At the end we got to hang upside down and freestyle our own poses and leg movements in the air.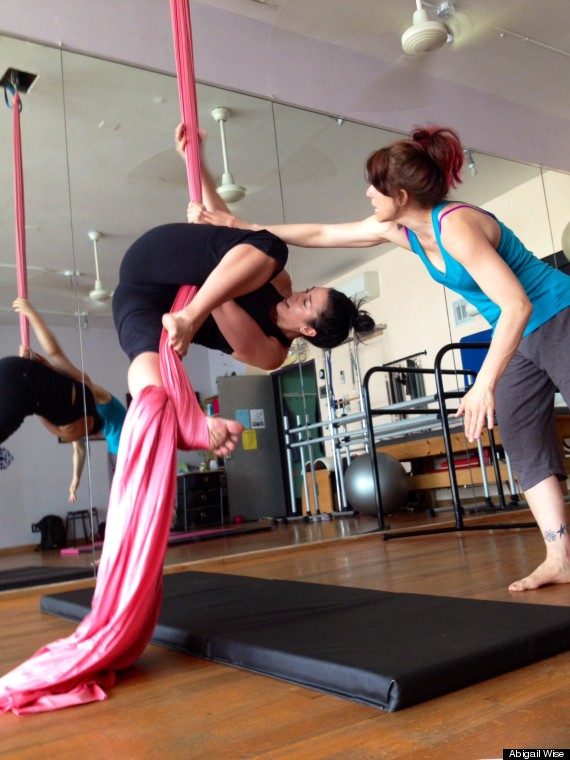 For How Long: The class lasted for one hour.
How'd It Feel: I panicked slightly when I found out the class would start with handstands -- I'm the one who heads straight to child's pose when this move comes up in a yoga class -- but Kristine was helpful and encouraging. With a little stabilization from her, I got it on my first try. The rope climbing was challenging, but not impossible, and the best part was getting to hang upside down and stretch my legs around, because that's what I'd imagined doing when I signed up for the class in the first place. Overall, it felt like a really intense Pilates class, but the challenging aspect of the fabric distracted me from thinking about how hard I was working.
What It Helps With: Cirque Style Fitness increases whole-body strength, with a focus on the upper body, and flexibility. Twisting around on fabric sure beats boring old pushups or weights and was the perfect way to trick myself into pushing my body to its max. I'll tell you one thing: I could feel every muscle in my arms, shoulders and abs the next day.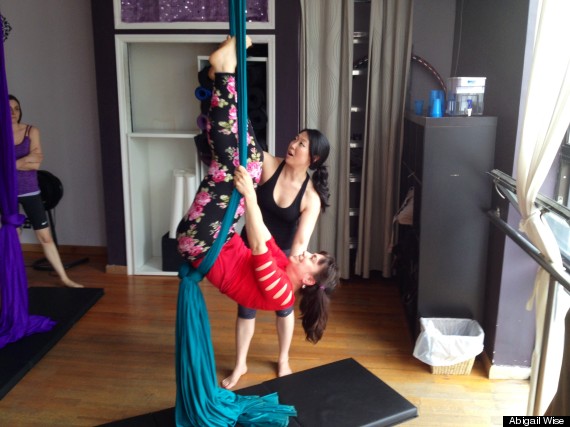 What Fitness Level Is Required: The studio welcomes beginners, but I certainly wouldn't recommend this class to someone who broke their New Year's workout resolution way back in February. While there was a clear divide between the beginners and the more advanced, I was the only one who had never tried it before. That said, even though I was at the bottom of the class, I never really felt intimidated or embarrassed. The entire group sweated support and even clapped for one another after particularly challenging moves.
What To Wear: Most people wore a tight workout top and capri leggings. Kristine said that baggier clothes interfere with the fabric. The class is done barefoot, so there's no need to worry about shoes, but ladies, be sure to tie your hair back so you're not blinded during all of those in-air somersaults.
Would We Do It Again: For sure -- I've already started recruiting friends to come take a class with me.
Related