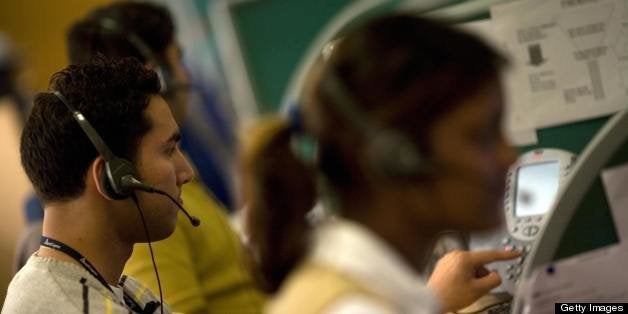 While international aid for economic development often fails, business has the potential to bring millions of people out of poverty. For no enterprise is this more true than the unsung $300 billion industry known as Business Process Outsourcing.
Business Process Outsourcing, often referred to by the acronym BPO, means contracting business functions to third-party service providers. While call centers are the most visible part of this industry, BPO also includes many types of back office processing. This industry largely operates invisibly for consumers in North America and Europe. However, the sector employs several million people worldwide - primarily in India, the Philippines and China. In India, the industry has grown from 1.2 percent of GDP 1998 to 6.4 percent in 2011 -and has created more than 700,000 jobs in the Philippines.
While some make the case that outsourcing is just another industry chasing lower wage rates, I've seen something different. In 2001, a former McKinsey consultant named Jeremy Hockenstein posed the challenge to me of creating BPO jobs for the poor in the developing world. From my perspective at the time, working at a Silicon Valley venture capital firm, the idea that the BPO industry would employ poor people in a country like Cambodia seemed crazy. However, Jeremy was struck by the talented and skilled youth in this very poor nation, a country still recovering from genocide - and the challenge they faced finding work. He proposed to play jiu-jitsu with the forces of global business and technology, and he started a BPO firm in Phnom Penh, which he called Digital Divide Data. The venture capital firm I worked for, Global Catalyst Partners, contributed $25,000 in philanthropic seed capital. Two Cambodians learned how to manage the business from a firm in Delhi. Jeremy purchased computers and rented a storefront on a dirt road in Cambodia's capital, Phnom Penh.

In 2003, I lived above the storefront Jeremy rented in Phnom Penh and volunteered for DDD, which by that time had grown to employ 60 youth. I was privileged to witness some of the tremendous impact the new business had on its employees. I worked with an 18 year-old woman named Chantheng Heng, who came to work at DDD from a very poor family. Chantheng was capable and had an affinity for computers; we soon promoted her from data entry work to managing an IT helpdesk. While she was working, DDD gave her a scholarship to attend university, where she studied computer science. After graduation, she obtained a job advising Cambodia's Ministry of Education on a computer education curriculum for the nation's high schools. She then received a scholarship for a master's degree in comparative economic development in Europe.
As I learned from the example of Chantheng and many others, work in the BPO industry has the potential to empower people to bring themselves out of poverty. DDD pioneered a concept now called Impact Sourcing. Impact Sourcing means delivering BPO services while providing work and opportunity for some of the world's poorest citizens. It is a segment of the BPO industry that benefits disadvantaged individuals in low employment areas. Impact Sourcing looks beyond the common source of supply for traditional outsourcing to provide higher-income employment, skill development, and access to new income opportunities to individuals who might not otherwise be employed in this sector.
Today, more than two dozen BPO firms in countries as diverse as Bangladesh, Ghana, Haiti, Kenya and Pakistan deliver services to clients performed by individuals from very disadvantaged backgrounds. In countries where the BPO industry is thriving, including India, the Philippines and the U.S.A., social entrepreneurs are bringing this model to small towns and villages in rural and remote areas to create employment and opportunity.
Chantheng is now working in Cambodia to improve communications technologies to support development. As she says, "I believe women must have their own skills and a better education to get the career they want." Organizations like DDD can make this possible in places where access to education and jobs in the IT industry is quite limited for disadvantaged women. But Chantheng is not an isolated example of the success of Impact Sourcing.
While not everyone who has worked at DDD has followed Chantheng's path, more than 500 young people have worked at DDD for four or more years, developing 21st century skills while obtaining university degrees. They've gone on to professional jobs in which they earn over five times more than the average high school graduate in Cambodia.
A similar trend is happening at an Impact Sourcing service provider called Invincible Outsourcing in South Africa. Another social business called Anudip operates a variant of the model reaching youth from very poor families in the Calcutta area of India - a region of the country most BPO operators have avoided. There are even BPOs like this in the U.S.A., as Accenture helped a Native American tribe in Oregon start Cayuse Technologies. Still, in most cases, BPOs operate without this social mission.
Inevitably, the BPO industry will chase lower wages. However, the nature of BPO work means that these companies will only thrive if they are recruiting and developing talent. This is the potential - and the genius - of Impact Sourcing. It is an industry that requires knowledge workers - and it will only be profitable if workers are sufficiently productive. This means establishing policies and programs to develop talent in some of the poorest countries of the world.
If the BPO industry is to become a force to take on global poverty, we all need to make this a reality. You can help by:
Find out what types of work are outsourced by the business or institution you work for. Which companies provide these services? Where and what are their employment practices?
Learn more about Impact Sourcing and the range of services offered by these social enterprises. How might they save you time and effort in your work - while changing lives?
Consider the person answering the phone next time you call your bank, your insurer or tech support. While call centers sometimes get a bad rap, the person on the other end of the call may just be someone just like Chantheng.