Economists tell a joke about two colleagues walking down the street who find a $20 bill on the ground. One economist, who believes in efficient markets, tells her friend, "It can't be. If there were really a $20 bill on the ground, someone would have already picked it up." As a social entrepreneur, I might tell a similar story about walking through Nairobi's Kibera slum. As President Obama identifies opportunities for American businesses to invest in Africa, there is a tremendous opportunity for investors to connect the talent in Africa with global markets.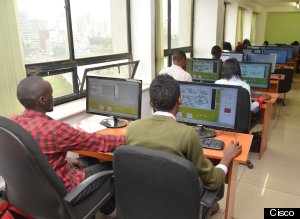 Digital Divide Data or DDD, a social enterprise I co-founded in 2001, opened in Nairobi, Kenya two and a half years ago with the idea to employ youth from slum areas to deliver digital services. While at first we weren't sure what young people were capable of, we understood the imperative to create productive opportunities for youth in Nairobi's slums. The reality is that these young people are more talented and hard working than we ever imagined, enabling DDD Kenya, Ltd. to deliver increasingly higher value work to clients.
DDD's clients, ranging from Fortune 500 companies to technology startups, demand high quality work, and the services from our Kenya operation exceed their expectations. For example, a hedge fund client asked our team to analyze thousands of SEC filings to gather data required to make investment decisions. Any concerns regarding accuracy were allayed by the use of industry standard processes and the quality of the results delivered. DDD Kenya has become a significant supplier to Ancestry.com, the largest for-profit genealogy company in the world, digitizing data to grow their database of more than 11 billion records. Todd Jensen, Senior Director of Document Preservation at Ancestry.com, speaks exuberantly about DDD's technical infrastructure and staff, saying, "they've really worked hard to hire top-notch talent and to develop talent."
Like many of our employees, Sheba Achieng Otieno had little computer experience before she joined DDD. Having grown up in the Mukuru slum, Sheba learned about DDD from a friend. Despite hesitations about her lack of experience, she worked hard to improve her typing speed and accuracy. In May 2012, she was hired to start performing data entry work. Just a few months later, she was navigating a range of software, diligently meeting deadlines, and communicating confidently with her colleagues. Sheba is on her way to fulfilling her dream. At DDD, she manages database projects and quality assurance. She recently applied to study toward a degree in Library and Information Science at Kenyatta University. Sheba's story is one of many, reflecting a journey these young people make from slums to office towers.
"Employees at DDD not only earn a fair wage and receive valuable training, but the work experience empowers them to aspire for a life beyond the slums, creating better futures for themselves and their families," says my colleague, Ms. Amolo Ng'weno, a U.S.-educated Kenyan who serves as Managing Director of DDD Kenya. "Bringing investment dollars to Africa is important -- but investments in people are one of the most critical economic levers for African development."
I'm proud of how DDD is satisfying our customers -- and even more so that we are rapidly becoming a profitable business with the potential to grow and employ more people in Africa. Our success demonstrates the talent and spirit of African youth, and their passion to work hard to create better futures for themselves and their families. Of the 250 staff employed by DDD Kenya, most live in urban slums. While many never before had a job in the formal sector, they adjust rapidly and are highly productive in our work environment.
Along the way, DDD spun out a second company. This business, called eKitabu -- which means "ebook" in Swahili -- enables African and international publishers to take advantage of the demand for content from more than one billion mobile device users in Africa. The company has attracted U.S.-based private investors, creating jobs in both the U.S. and Africa. "Americans are working with Africans as equal partners to build sustainable technology companies," says Matthew Utterback, CEO of eKitabu. "It is time to radically scale up these ventures and we are ready to do that. Growing these business will benefit the U.S. and Africa."
Africa needs American investment in businesses like DDD and eKitabu that develop human resources to enable economic development. Investing in people builds skills and capacity to increase productivity. Access to the information in international and African publications empowers Africans to become players in the global economy on a more equal footing.
The opportunity to make investments in Africa is increasingly accessible. DDD's U.S. non-profit accepts donations to support the recruitment, training and scholarships for youth from the slums. As part of a growing revolution of profit-seeking businesses with a social mission, DDD hybrid model has a "double-bottom line" to create jobs and build skills, while also generating a profit. Profits are re-invested to further our social mission. Soon, eKitabu, a for-profit company, will likely seek additional investments to expand its market in Africa.
Neither business would have this opportunity to grow without the wealth of talent available in Africa. After more than three years working with my colleagues there, I am humbled by the capability, innovation and drive of our Kenyan employees. While Africa may be rich with gold, diamonds and oil, it is Africa's people, like Sheba, in whom Americans should be investing.