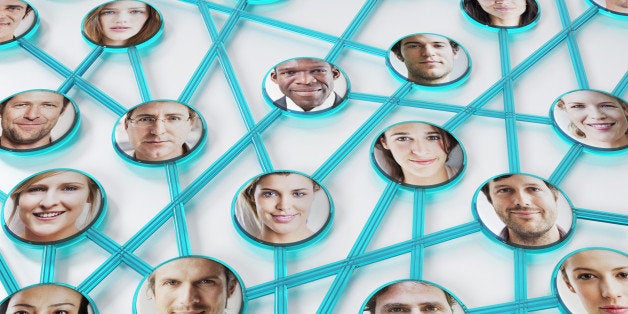 This week, heads of state, Nobel Prize winners, nonprofit leaders, and influential CEOs will attend the annual meeting of the Clinton Global Initiative (CGI) -- whose mission is to create and implement innovative solutions to the world's most pressing challenges.
I am excited about the opportunity to discuss with other global leaders how we can work together to address global challenges. In preparing for the event, I sat down with Cisco Chairman and CEO John Chambers, who is also attending, to talk about the role of technology in driving positive change.
Tae Yoo: This is a busy week for business and political leaders in New York. What is on your mind as you attend this year's Clinton Global Initiative annual meeting?
John Chambers: Top of mind for me is how we can all come together for a collaborative approach to solving our world's most pressing issues, such as education, health care, and the global economy. When I think about developing solutions, I think about how we can use technology to make a difference. Let me give you an example. In Jordan we are using Cisco technology to improve health care access in communities with few or no specialists. People who might normally have to travel hours to a distant city to see a cardiologist can now do so virtually, through Cisco technology, at their local hospital or health clinic. Clinicians use technology to share patient reports and diagnostic images and collaborate on cases. As a result, doctors can serve more patients, and more patients can get care.
Tae Yoo: You often mention the importance of public-private partnerships. Why are these so critical?
John Chambers: Public-private partnerships are essential to scale the delivery and impact. No one organization or person can do it alone. When I look at the success of the Cisco Networking Academy program, which has reached more than 4.75 million people since 1997, I know it could have never achieved this scale without our partners. Together we provide the tools, equipment and training for our students and teachers. Many of our partners also develop innovative ways to use the Networking Academy curricula to meet the needs of their communities. This year, 10,000 academies in 165 countries will deliver IT training to over 1 million students. For many students, this program changes their lives and their families' lives, and positively impacts their communities.
Tae Yoo: How do Cisco's investments in Corporate Social Responsibility (CSR) create social, economic and business value?
John Chambers: One example of how we can create economic value for society is our Palestine Investment Commitment, which was recently featured in Forbes. In 2008, we began an initiative to outsource projects from our Israeli office to three companies in the Palestinian Territories. Those firms have since reported a 65 percent increase in their workforces; our partnerships have evolved into ongoing business relationships, and the region's entire information and communications technology (ICT) industry has benefited. Palestinian ICT firms report a 64 percent increase in international client work from 2009 to 2012, and the percentage of the Palestinian GDP attributable to the ICT sector grew from 0.8 percent in 2008 to 6.4 percent in 2011.
Worldwide, there are not enough qualified people to fill the growing number of jobs that require IT skills. By helping 1 million people develop IT skills each year through Networking Academy, we are narrowing this gap and supporting local industries. We are developing a new generation of professionals who are equipped to use, maintain, and secure our products. Networking Academy also helps us empower women to succeed in the IT industry, which is still dominated by men. Twenty percent of Networking Academy students worldwide are women, and the Middle East has the highest concentration of women at 35 percent. A number of Networking Academy programs are tailored specifically toward women: At one in Saudi Arabia, more than 85 percent of participants have either found job or decided to pursue a master's degree.
Tae Yoo: You'll be speaking on a panel at CGI on "Mobilizing Youth" with Chelsea Clinton. How is Cisco mobilizing youth?
John Chambers: In addition to our Network Academy program, Cisco and our partners are helping young men and women transition out of the U.S. armed services into the private sector through training, certification and even hiring events. We have a great partnership with Futures Inc., which helps to match military skills to civilian jobs through a cloud-based platform. At our hiring events, there is a 50 percent interview-to-hire ratio and many participants receive job offers within 48 hours. These types of programs have a ripple effect are encouraging others to get involved to recruit and hire veterans.
Tae Yoo: Can you give us examples of where technology was leveraged to enable innovation for social benefit?
John Chambers: The work we did in China through "Connecting Sichuan," after the 2008 earthquake, stands out to me. The destruction I saw there was unimaginable and access to health care was a big problem. We focused on creating a networked medical delivery system that would bridge the gap between urban and rural health care. We enabled 66 health care organizations and 32 "smart" hospitals with technology and built three mobile clinics. These technologies made many new capabilities possible. For example, a village resident could be examined by specialists at a far-off hospital without incurring costly travel expenses. "Connecting Sichuan" changed health care delivery models in China and continues to positively impact the region today.
Tae Yoo: What is the status of Cisco's most recent commitment to CGI?
John Chambers: In 2007, we made a 5-year CGI commitment in sub-Saharan Africa to develop a model for establishing Community Knowledge Centers (CKC) that would use technology to help drive economic growth in underserved areas. The CKCs are tailored to a community's needs and may offer courses on ICT, entrepreneurship, and language skills, along with tailored services like telecommunications or office support. We partnered with local and international organizations to develop this model, and I'm proud to say there are now more than 100 CKCs operating in Ethiopia, Kenya, Rwanda, and South Africa. In the small Kenyan village of Nyangwete, farmers have used the CKC to discover new markets and sources of income. As a result, money flowing into the village has increased, parents are able to provide better care for their children, and the standard of living has risen.
Tae Yoo: You have stated that you want Cisco to be the No. 1 IT company in the world. What does it mean to be a leading company?
John Chambers: To be the No. 1 IT company allows us to have the greatest impact on people and the world -- and to do it on a bigger scale. Our vision is to change the way we work, live, play, and learn. Together, through the power of connections, I truly believe we can change the world.
Related