Several cadets at The Citadel military college in South Carolina were suspended Thursday after photos surfaced on social media of them wearing white pillowcases on their heads that resembled Ku Klux Klan hoods, the president of the school announced in a post on his Facebook page.
Lt. Gen. John W. Rosa, president of The Citadel, said in a Facebook post that after photos of the incident were brought to his attention, "suspension proceedings" began for the cadets known to be involved.
Rosa cited a photo that shows a man -- Rosa refers to him as "an upper class cadet" -- standing in front of seven other cadets with pillowcases over their heads. The pillowcases resemble pointed white hoods with eyeholes cut out of them.
Citing "preliminary reports," Rosa wrote that the cadets were reportedly singing Christmas carols as part of a "Ghosts of Christmas Past" skit.
"These images are not consistent with our core values of honor, duty and respect," he wrote.
The Citadel Minority Alumni Association posted a photo that appears to match Rosa's description to its Facebook page Thursday.
Later on Thursday, Lamont A. Melvin, chairman of the CMAA, released a full statement about the offensive social media post, saying the group found it to be "disgraceful" and that CMAA members were "pleased" Rosa and his staff had taken action to address the incident:
We found the social media posting disgraceful. Regardless of the spin that one may try to assign to this type of behavior, the characterization of what took place was "not a mistake" that can simply be swept under the rug. We are pleased that Lt. General Rosa and his staff have taken swift action to address the situation and look forward to the results of his investigation; however, much more needs to be done to address the culture that continues to house recurring prejudices against minority cadets. At the very least, there needs to be a zero tolerance policy established immediately for racially charged and racially-motivated rhetoric and activity. Furthermore, increased funding should be committed to cultural competence and diversity training for the entire Corps of Cadets and staff on a regular basis. This is not the first, second or third time that racially charged events have been documented to have occurred at The Citadel. It is easy to try to isolate events of this sort to a single item or incident, which would, on its face, be a disservice to minority cadets who have and are currently attending The Citadel. This issue is much bigger. It's a cultural issue and it must be addressed and it must end now. When racist acts occur on campus, ALL students, black and white should feel the same degree of outrage that we do. As minority alumni and wearers of the ring, we expect The Citadel to carry out the core values of creating principled leaders…not racist leaders. These reprehensible behaviors are not indicative of actions in which principled leaders engage. Again, the activities that led to this social media posting were not a mistake and should be dealt with severely because symbols matter.In the meantime, we will continue to do our due diligence and await the results of the Administration's investigation.

In the meantime, we will continue to do our due diligence and await the results of the Administration's investigation.

Lamont A. Melvin, PhD, MBA '91
Chairman, The Citadel Minority Alumni Association
When reached for comment by The Huffington Post, The Citadel emailed Rosa's statement from Facebook, but would not comment further on the investigation into the incident or confirm how many cadets have been suspended.
ABC's local news affiliate, WCIV, reports that eight students have been suspended already, but that their identities are unknown.
Citing an anonymous source described as a "person with knowledge of what's going on and knowledge of the school's rituals between upperclassmen and freshmen," the news station reported that the incident took place in one of the school's barracks. The anonymous source also speculated that that the incident "likely" involved first-year students and that the act "could be considered a form of hazing."
James Johnson, a member of Al Sharpton's National Action Network, said in a statement that the group plans to hold a press conference "in reference to the Citadel students in Klan attire" on Friday at 11:00 a.m. in front of the entrance to the school.
Also on HuffPost: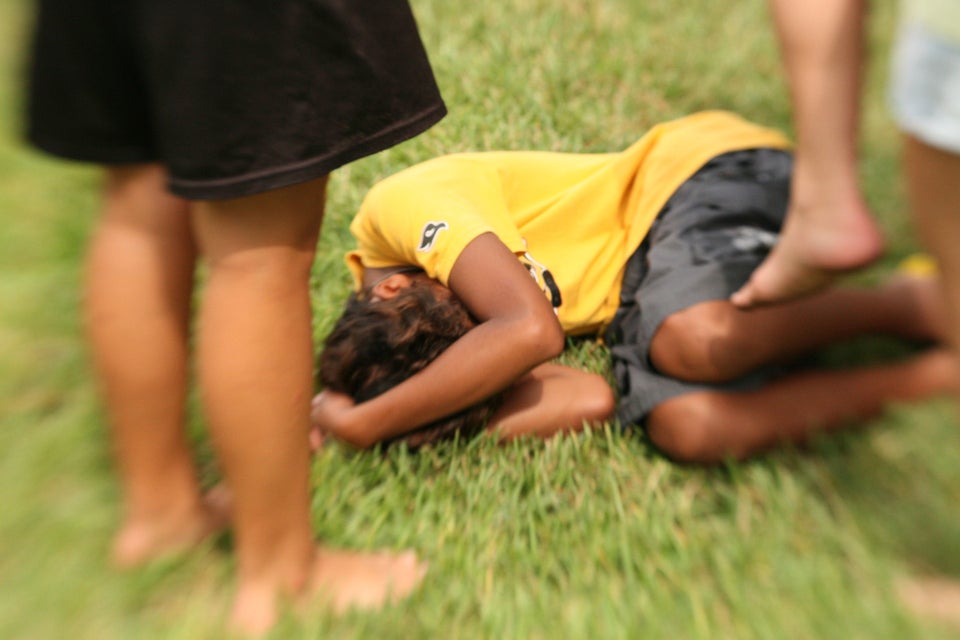 Fighting Racism And Discrimination Everyday
Related
Popular in the Community