Tina, who works at a Fan Assistance kiosk at Citi Field, says that most of the questions she answers are about food. There is certainly plenty to eat at a Mets game -- from hot dogs to sushi -- beginning in the stands, where the vendors don't just sell their wares, they advertise them.
Alex, the hot dog guy, hawks his goods with the following patter: "I hear people's stomachs rumbling! Hot dogs! Yummy, yummy!" Rotating the same territory (between home plate and third base) is Peter, who sells beer and water. "Bottled water! Bud, Bud Lite -- speak up!," he barked in the same continual spiel that made me wonder if he was carrying a hidden speaker playing a looped recording.
If the basic ballpark menu doesn't satisfy your palate, you can visit Taste of the City, an area behind the stands that has a Shake Shack, a Blue Smoke Barbecue and also offers tee ball, a dunk-the-clown tank and a 2K sports gaming kiosk.
What does all of this have to do with baseball?
"Years ago, you had to sit in your seat but now there's so much more to do, that you get people here who aren't even fans," said John M., who was working security in another area that purveys Gyros from nearby Astoria.
If you're worried about your diet, North Shore LIJ Hospital has a Health Information Center with graphics about blood pressure, the heart, and even a video that explains proper hand washing technique.
It seems that no matter where you stand, there is a clear sight line to the field. If not, there are always television monitors available every few feet, so if you find the temperature too warm outside, there are numerous club areas inside to eat, drink and go to the bathroom -- and yes, there are televisions in the potty as well.
After a slice of brick oven pizza at the air-conditioned Caesars Club on the Excelsior Level, I remembered that I had come to watch a baseball game, and returned to the press box to watch R. A. Dickey handily dispatch the St. Louis Cardinals.
I felt a bit out of breath walking up the stairs, so I'm going to lay off the food on my next visit to Citi Field unless they decide to build a small gym for the fans.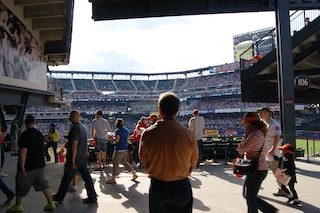 (photo by Andrew Taub)
REAL LIFE. REAL NEWS. REAL VOICES.
Help us tell more of the stories that matter from voices that too often remain unheard.