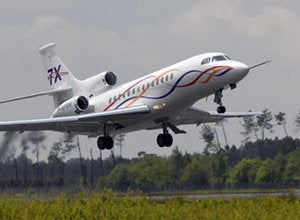 The New York Post's Jennifer Keil and Chuck Bennett reported in Monday's paper that Citigroup, which has received $45 billion in government bailout funds, is about to upgrade to a new $50 million, twelve-seat corporate jet.
The plane, the Dassault Falcon 7X, is a luxurious jet with a range of 5,950 nautical miles (meaning it can fly from New York to all of Europe and South America, as far east as Riyadh, and as far west as Honolulu or Petropavlovsk, Russia). The Post reports it has "plush interior with leather seats, sofas and a customizable entertainment center."
The Dassault website describes the wide, generously appointed cabin, but says the "the airplane's most welcome feature may be Dassault's breakthrough environmental system." It touts "quieting acoustics" and advanced temperature monitoring that contribute to a more comfortable passenger experience.
The Post also reports that Citi executives are "quietly trying to unload two of their older Dassault 930EXs," worth approximately $27 million each.
Popular in the Community