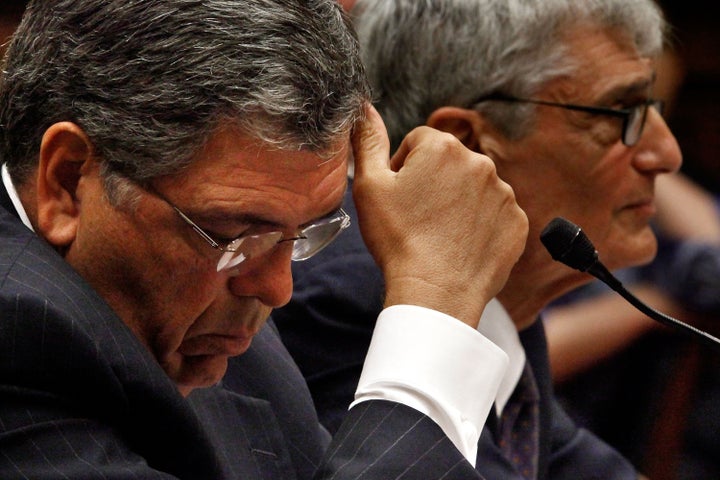 A top Citigroup official testified Wednesday that the firm was reducing its risk to subprime mortgage products as early as 2006, fully expecting housing prices to decline. Yet a review of industry figures shows that in 2007 Citi was still underwriting billions in subprime mortgage securities and was the nation's top lender of subprime mortgages.
It also purchased insurance on those holdings in 2007 in the form of credit default swaps in case they soured, regulatory filings show.
"We were negative on subprime, as a matter," Thomas Maheras, the bank's former trading chief, who served as co-CEO of Citi Markets and Banking, told the panel created by Congress to investigate the roots of the financial crisis. "We were, from the very earliest part of '07 and the end of '06, we were in most of our business areas reducing our risk around subprime."
Yet despite the firm's efforts to mitigate those risks as early as 2006, Citigroup, which is about 27 percent owned by taxpayers in the wake of the 2008 bailout, still proceeded to originate an estimated $19.7 billion in subprime mortgages, according to Inside Mortgage Finance, a leading trade publication whose data is used extensively by the federal government. Citigroup was the nation's top subprime mortgage lender that year, according to Guy Cecala, CEO and publisher of Inside Mortgage Finance.
Citigroup also underwrote $13.4 billion in subprime mortgage securities that year, according to Cecala's data. All told, the firm generated more than $33 billion in subprime mortgage products that year.
But the firm knew that the housing market was deteriorating, Maheras told the Financial Crisis Inquiry Commission.
"We weren't sitting there twiddling our thumbs and assuming that housing could never go down," said Maheras, now a partner at Tegean Capital Management, LLC, and a director at Discover Financial Services. "We had in our base case that housing was going down during '07 and would likely continue."
A senior administration official tells the Huffington Post that it's this very kind of activity that the administration hopes to address in its attempt to reform the financial system. The proposed consumer financial protection agency is one way to address this, the official said.
"You want an agency looking at it from a consumer perspective," the official explained. The examiners for the proposed agency, which would not be beholden to concerns about the bank's profitability, would be empowered to ensure that banks aren't "writing policies or products that [the banks] don't really believe in."
A Citigroup spokesman declined to comment.
Unfortunately for the banking behemoth, while parts of it were trying to minimize its exposure to subprime, that effort apparently didn't filter throughout the company.
Rising mortgage delinquencies and defaults finally took their toll -- the subprime market came to a crashing halt by the end of 2007. Securitization of subprime mortgages all but dried up by the end of the year, a situation that continues to the present.
"Remember, the subprime lending business collapsed at the end of 2006 and all lenders were retreating in 2007," Cecala said.
Citigroup didn't securitize any subprime mortgage loans in 2007, according to data maintained by Inside Mortgage Finance.
"Unlike most other subprime lenders, Citi held their subprime originations in portfolio," Cecala said, meaning that Citi held onto those assets.
The firm originated $38 billion worth of subprime mortgages in 2006.
Over the past two days, the Financial Crisis Inquiry Commission has publicly grilled current and former top Citi officials over their roles in orchestrating and directing one of the biggest disasters on Wall Street. Taxpayers pumped $45 billion into Citigroup to keep it afloat, tying it for third place along with Bank of America on the list of the biggest private recipients of public cash during the bailout of 2008 (not counting Fannie Mae and Freddie Mac, which were government-sponsored entities).
Commissioners questioned whether Citi was too big to manage, and made clear that the firm appeared to have operated with a silo-like mentality -- different parts of the company weren't communicating with other parts. Warnings were apparently ignored, like the one issued by Richard Bowen, former chief underwriter for Citigroup's consumer-lending unit, who said he discovered in mid-2006 that more than 60 percent of mortgages bought from other firms and sold to investors were "defective."
Commissioners bristled when former and current Citi officials said the firm wasn't too big to manage.
Citigroup lost nearly $30 billion over the past two years, according to regulatory filings with the Securities and Exchange Commission. The U.S. government guaranteed much of the potential losses on a $301 pool of toxic assets, giving the firm significant breathing room by putting taxpayers on the hook. Citigroup has issued nearly $65 billion in Federal Deposit Insurance Corp.-guaranteed debt, a little-noticed bailout for banks that lets them borrow money cheaply while putting taxpayers on the hook for potential losses.
Charles "Chuck" Prince, the firm's CEO from 2004 to 2007, told the panel Thursday that he was "deeply sorry that our management -- starting with me -- was not more prescient and that we did not foresee what lay before us."
While Prince personally apologized, he defended the firm's conduct on Thursday and he said that Citi is not too big to manage.
But in interviews with the commission's staff, Prince was much more forthcoming.
"I believe that in hindsight, the lack of adequate regulation of the origination of mortgages created a situation where the demand side, the pull side of that equation, found a place where more raw material could be created than could be created safely," he said. "So that as more and more of these subprime mortgages were created as raw material for the securitization process, not surprisingly in hindsight more and more of it was lower and lower quality.
"At the end of that process, the raw material going into it was actually bad quality, it was toxic quality, and that is what ended up coming out the other end of the pipeline. Wall Street obviously participated in that flow of activity."
Prince said he found out about much of this "toxic" activity near the end of his term. Apparently, he wasn't in the loop.
"I found out at the end of my tenure, I did not know it before, that we had some warehouse lines out to some originators," Prince told the panel's staff. "And I think getting that close to the origination function being that involved in the origination of some of these products is something that I wasn't comfortable with and that I did not view as consistent with the prescription I had laid down for the company not to be involved in originating these products."
One of the reasons that these risky activities weren't stopped earlier was the fact that the firm had so many different regulators, the senior administration official said. The Federal Reserve regulated the bank holding company; the Office of the Comptroller of the Currency oversaw the national bank; the Securities and Exchange Commission regulated the broker-dealer part of the firm; and the Federal Deposit Insurance Corporation also regulated the banking parts of the firm.
Having so many different regulators -- with each one looking at different aspects -- can result in a "potential for massive failures in supervision," said the official. That's exactly what happened, top regulators concede.
And that's part of the reason why the administration is pushing for the Fed to have much greater supervisory authority over systemically important firms like Citigroup, the official explained.
As for units of a firm betting one way while other units take the opposite position -- like what happened at Citigroup when it came to subprime mortgages -- "that's why you have a consumer agency to ride along with the prudential regulator," the official said. You want independent examiners looking out for less sophisticated investors, the official said.
But difficulties may still arise if there's a market for those products. If there are investors or other parties that want to buy certain products, like subprime mortgage-backed securities, it may be difficult for a regulator to tell a bank to not make that sale and ignore that potential profit.
"Trading is a very different perspective than lending. The investment or trading arm of Citi may have been 'negative' on subprime but that doesn't mean the lending unit has stopped making the loans," Cecala said. "There was a lot of demand for -- and high fees to be made off of -- subprime loans in 2007. Citi may not have been buying or trading much in subprime MBS [mortgage-backed securities], but they were continuing to originate and hold subprime loans in portfolio. Those are two different units and businesses."
WATCH the testimony below:
Popular in the Community