Cities that penalize homeless people, instead of providing them with the services and affordable housing they need are paying a steep price, according to a new report.
A report from the University of Denver looked at 76 cities across the state and found that they are enforcing anti-homeless ordinances at high rates, collectively costing them millions of dollars.
These ordinances criminalize activities such as sitting, sleeping or lying down in public, begging, panhandling or loitering.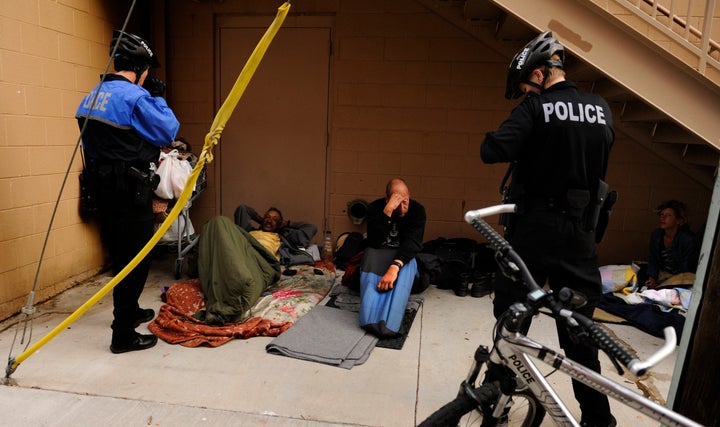 "The activities that we're talking about are acts of being," Terese Howard, member of Denver Homeless Out Loud, said to the Huffington Post on Thursday. "It's basically anything but walking. As long as you're walking or moving, you can exist. But the second you sit down or lay down, you face consequences."
Colorado Springs has doubled its rate of enforcement of anti-homeless ordinances between 2010 and 2014, according to the report. Denver issued over 2,000 trespass citations to homeless individuals between 2013 and 2014. That's more than half of all trespass citations in the city, even though homeless residents represent only 0.05 percent of the population.
"Law enforcement treats me pretty rough," a homeless person told the University of Denver in the report. "I've been kicked in my sleep, kicked in the face. I fell asleep in a dumpster area. A police man found me: 'Get out of here, you f-ing bum, if I catch you here again, you're going to get it worse.' I will never forget that one -- it was a thunderstorm that night and that's the only cover I had."
Some cities prohibit public urination, but don't provide alternatives for homeless residents, says the report. Denver, for instance, does not have a public bathroom open 24 hours a day.
"The lack of dignity is one of the most horrible effects of these ordinances," Howard said. "Basically when you're living on the streets you're told you are a criminal. And you take that to heart. Cops aren't there to help, they're there to tell you to move."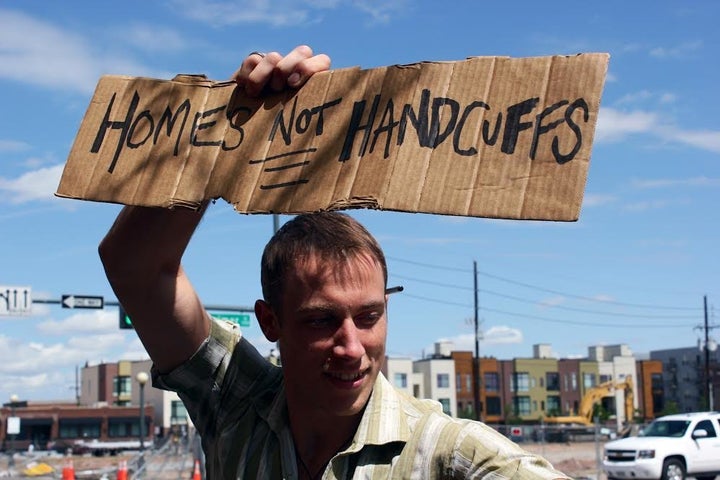 Accompanying this criminalization is a shocking lack of support to the homeless: Boulder provides 280 beds for 440 homeless residents, according to the report, and shelters in Denver can only house about 10 percent of the area's homeless population.
"[There] is a lack of infrastructure to serve people in crisis," Shahera Hyatt, director of the California Homeless Youth Project, told The Huffington Post. "We don't have affordable housing in our communities enough to meet the need."
In order to afford an average rental in Denver in 2014, a resident needed to make $35 an hour, according to the Denver Post -- more than four times Colorado's minimum wage. The steady decline in affordable housing has contributed to a 600 percent increase in the homeless population of Colorado from the 1990's to 2010, according to the report.
"I have friends who have lost jobs, and then have been unable to get housing from having so many tickets," Howard said.
The worst part is, the enforcement of anti-homeless laws collectively costs the cities millions of dollars. Denver alone spent $750,000 enforcing these ordinances, according to the report.
Criminalizing homelessness is an ineffective solution, because it is costly, it fails to address the causes of homelessness and it keeps people homeless, according to the report. In order to reduce homelessness, the money would be better spent expanding services and affordable housing options.
"Moving chronically homeless individuals off of the streets and into permanent supportive housing ends their homelessness, with 95 percent housing retention rates," John Parvensky, president of the Colorado Coalition for the Homeless, told HuffPost. "It also reduces taxpayer-funded emergency services from detox facilities, hospitals, emergency rooms, jail time, police and shelter services by 81 percent."
Colorado could look to other states as examples, such as Virginia and Connecticut who have officially ended homelessness among veterans by providing timely, permanent housing options.
"Don't criminalize our existence," Howard said. "Treat us like humans, and provide the resources that we need in order to have a dignified space to exist."
Related
Before You Go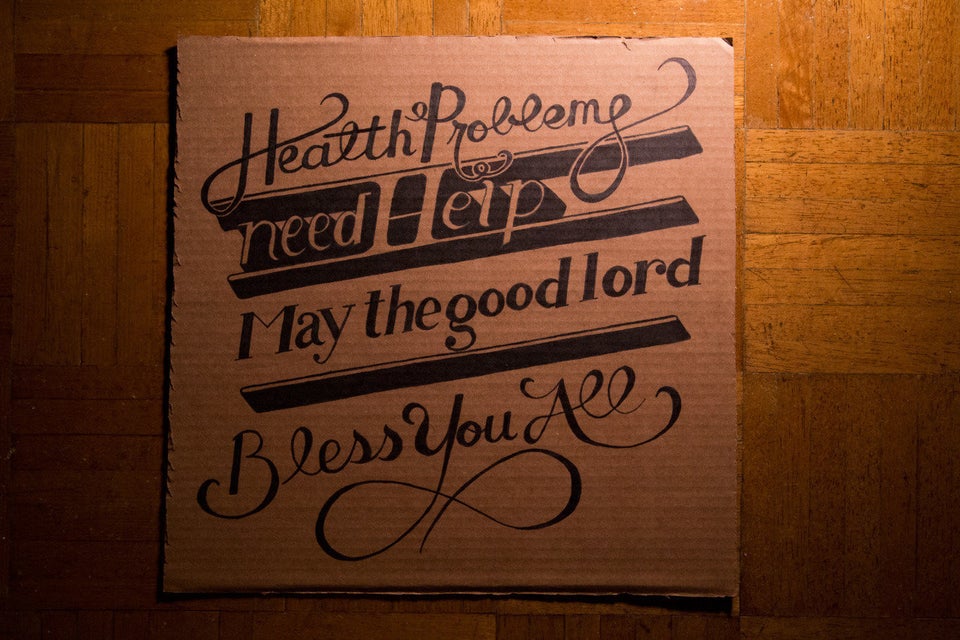 Artist Redesigns Signs For Homeless People
Popular in the Community