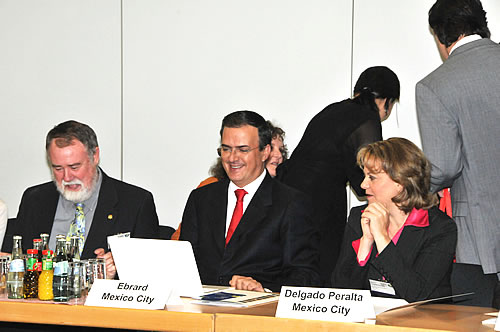 Negotiators are meeting this week in Bonn, Germany, in an effort to secure a binding agreement on global climate change. However, months after the talks in Copenhagen, the prospect for an agreement this year is fading.
Fortunately cities around the world are taking the lead on reducing harmful emissions. Mayors and city councils are developing local green plans -- out of recognition of the risks of climate change and to lower the potential trade-offs between economic growth and environmental sustainability. We are acting because our citizens demand it.
Cities can act on climate change through land-use zoning, public transportation, natural resource management, building codes, waste management, water and other utility services. Everything we do can be more sustainable by reducing emissions and preserving resources.
We can influence climate policy through our procurement. For example, if 20 cities agreed on specific building standards, the size of such purchasing power would enable companies to scale up their green manufacturing construction.
Yet city leaders have not yet been part of global climate negotiations. Those of us attending the Copenhagen talks wore credentials labeled "non-government organization." That came as a shock (and an insult) given that we often provide citizens with their essential daily needs: mobility, water, electricity, schools, healthcare, housing and waste removal, among others.
Cities need a stronger voice.
Mayors must be at the table with national governments and multilateral institutions to arrive at a global, binding treaty. After all, it is the local governments that will realize the targets. More than half the world's population today lives in urban areas.
The agenda for global climate talks must include financing mechanisms to city governments giving them the resources necessary to implement change. This includes direct financial support from multilateral institutions and national governments, carbon finance mechanisms, and increased access to capital markets through green bonds.
As chairman of the World Mayor's Council on Climate Change, I am bringing together cities to identify a global plan of action. I will host the Mayors Global Urban Climate Summit in Mexico City on Nov. 21, 2010 -- one week before the United Nation talks in Cancun. We will meet in conjunction with the 3rd Congress of United Cities & Local Governments, when leaders of more than 1,000 cities will be gathering in Mexico City.
Many cities are already acting. Through our 15-year Green Plan in Mexico City, we are investing $1 billion per year in new transport, water, waste, land conservation and alternative energy programs. I speak regularly with mayors from other global cities who have similar initiatives in place.
But we have no United Nations, through which we can pressure our national governments to act, or to ensure that a treaty will be one we can successfully implement. There is an urgency for us to create a new mechanism to help mayors complete our daily tasks - finding the means to do what our citizens expect of us.

REAL LIFE. REAL NEWS. REAL VOICES.
Help us tell more of the stories that matter from voices that too often remain unheard.