Co-authored by Christine Kim, Business Development Manager at Simprints

Like most who grew up reading Harry Potter, I used to think invisibility cloaks were so cool. Going incognito at will held too many opportunities for the adventurous child I was. Now that I'm an adult...hey, I still think they're cool. In fact, I could definitely find better uses for one now than what I had ever imagined as an eleven-year-old boy. Avoiding my Finance Director when she chases me down for monthly travel receipts, for example.
I find it ironic, therefore, that in my line of work, our goal is specifically to tear away the figurative, but very real, "invisibility cloaks" from the faces of those who were born with it, never go without it, and want nothing more than to escape it.
When I was in Dhaka, Bangladesh a few months ago, I met a woman named Nasrin. She lives in Korail, one of Dhaka's largest slums. Contrary to popular assumptions, these slums are thriving informal metropolises: they have social structures, rules, and working economies - a powerful testament to human ingenuity and resilience. Nasrin works as a maid, and her husband is a rickshaw driver. They are well-known in their community, but just like all her friends and neighbours, Nasrin is invisible in the eyes of the world. She has no birth certificate, no government ID, no national insurance, nothing to prove that she is, in fact, Nasrin from Korail. And this means that she is greatly restricted from accessing basic necessities, government services, and fundamental citizenship rights that you and I take for granted, like adequate healthcare, social transfers, financial services, and formal education.

Nasrin, her husband, and her friends are not alone. The World Bank estimates that over 1.5 billion people worldwide have no official identity, the majority of whom live in slums. In other words, over a fifth of the entire world population do not count as formally existing.
We are surrounded by cities of invisible people.

This underdocumentation, so prevalent in the developing world, is what Dr. Alan Gelb, Senior Fellow at the Centre for Global Development, calls the identity gap - and it is "increasingly recognised as not only a symptom of underdevelopment, but as a factor that makes development more difficult and less inclusive." In fact, among the United Nations Sustainable Development Goals (SDGs) - a new set of 17 goals designed to collectively "end poverty, fight inequality and injustice, and tackle climate change" by 2030, SDG 16.9 is specifically dedicated to the provision of "legal identity" for all.
The ambition is huge. Accurate and unique identification isn't simply a Goal in and of itself, but a link that runs through the entire SDG agenda. If Nasrin wants to benefit from gender-equal participation in a formal economy (SDG 5), have legally-recognised ownership of her Korail home (SDG 1.4), or obtain polio and tuberculosis vaccinations for her children (SDG 3.2), she needs to prove she is who she says she is. Official identity provides that legitimacy; official identity banishes invisibility.
It is in this developing country context, where traditional forms of identification are notoriously unreliable, that technological innovations have opened up the floodgates for new possibilities. Governments, NGOs, and businesses around the world are employing biometrics (think: fingerprints, iris scans, and face-prints) in an effort to reach the 1.5 billion.
In Ghana, the E-Zwich technology uses fingerprint biometrics for e-Money and ID-linked bank accounts. In 2006, the Dowa Emergency Cash Transfer (DECT) programme of Malawi provided drought relief to rural farming families through fingerprint registration and verification for payments. VaxTrac, a global mobile health nonprofit, uses biometric fingerprinting to record vaccinations in their clinics in Benin. And finally, the tech nonprofit Simprints, where I head a team of nine professionals equally passionate as I am about invisibility cloak-ripping (admittedly, I'm outnumbered by Lord of the Rings fans), has built the world's first low-cost, secure, rugged, and open-source identification system specifically designed to bring mobile healthcare to the doorsteps of the rural and urban poor.
We are surrounded by cities of invisible people - but now more than ever, we are equipped to do something about it.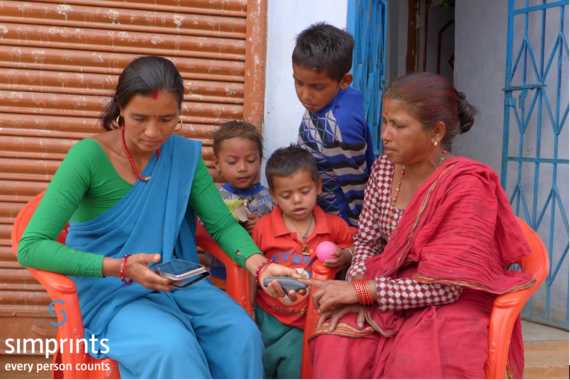 Of course, biometric identification for development is not a panacea, but simply one of many tools. And being relatively new on the development scene, biometrics poses some important questions that should be addressed. Yet when these systems are inclusive, cost-efficient, context-specific, and led by national authorities (versus external players like foreign tech companies), biometric identification systems are showing increasing promise.

Unique identity is the key to claiming that you exist, that you have the right to be seen and cared for, that you have a voice - essentially, that you matter. Eighteen years ago, I used to playact: I would don my cloak, and become invisible. Eventually, the cloak would come off, and I would become visible again. Today, over a fifth of the world's population remain perpetually invisible, over one in five people do not officially count. But they do, because every person counts. We need to give them the option to take off their invisibility cloaks when and if they choose.