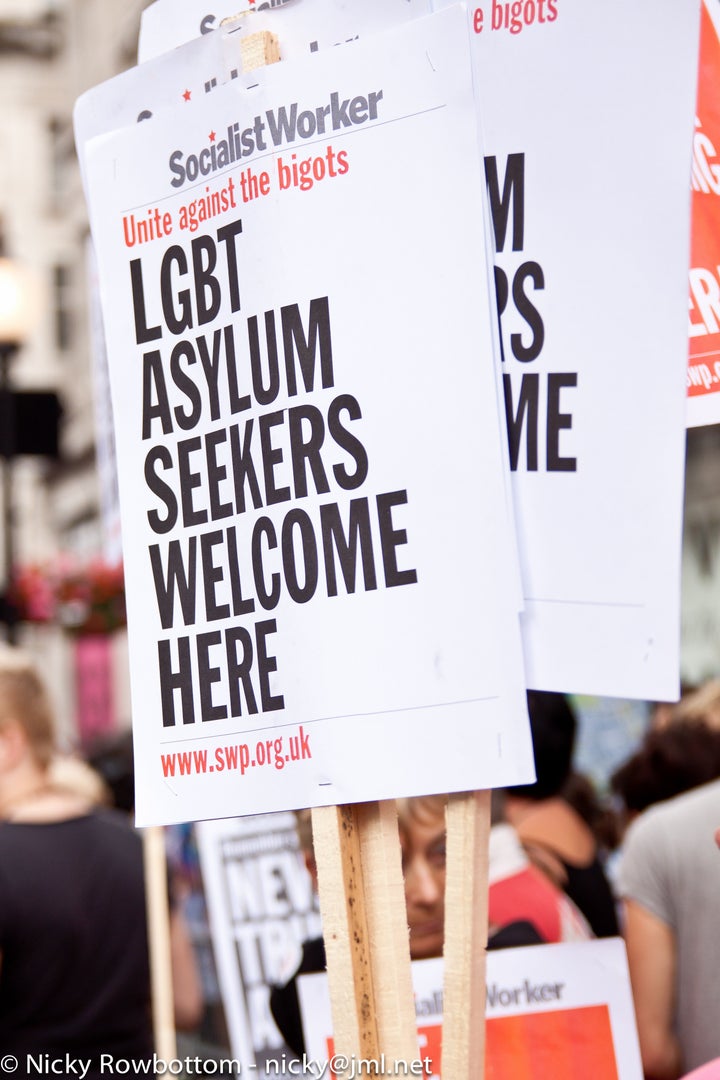 On the night of Dec. 1, members of Light Brigade Maryland, joined by members of GetEqual DC and the Gay and Lesbian Activists Alliance (GLAA), stood outside the Ugandan Embassy and displayed the message " REJECT UGANDAN HOMOPHOBIA" in card-mounted lights. I held the "JE." Perhaps because I had seen the holiday concert of the Gay Men's Chorus of Washington a few hours earlier, our display of tiny lights along the 5900 block of 16th Street felt like Christmas decorations.
Passing cars slowed to read our message, and many honked their horns in solidarity. A Secret Service officer parked across the street and said he liked the lights. Blogger Melanie Nathan quickly posted an item about our protest, and Frank Mugisha of Sexual Minorities Uganda retweeted our messages.
Expressions of solidarity are only the beginning. The struggle will continue regardless of the outcome of Uganda's Anti-Homosexuality Bill and goes beyond one country. Anti-gay laws have passed in Burundi, Malawi and Nigeria (on top of laws dating from the colonial era), and anti-gay abductions and beatings by Islamist militias are reported in Libya. As Mugisha notes, anti-gay laws make HIV/AIDS prevention much harder in at-risk populations like men who have sex with men. Outrageously, right-wing American Christian groups are pushing these laws.
In September, at the DC Center for the LGBT Community, I met a male Kenyan couple seeking asylum. Though they avoided being sent into America's prison-like immigration detention system, they soon ran out of money, were homeless, could not yet legally work and required assistance with their asylum claim. They married in D.C. but would have been in dire straits without quick work by DC Center Director David Mariner. The DC Center has launched a new project, Center Global, to help people like them, but it already faces financial challenges in maintaining its other programs.
American cities must add refugee assistance to particular city agencies' responsibilities. We cannot simply wait for LGBT asylum seekers to wander into a community center from the street and then scramble to find homestays, food and legal assistance. But community-based groups need to be involved. If your city has a project like Center Global, support it. If it doesn't, help start one.
Even in gay-friendly cities, we must demand changes that are properly disseminated and implemented. A refugee referred to a shelter shouldn't arrive there to blank stares. We must make it clear that a city that fails to identify resources up front will pay more on the back end.
One of the participants in the Dec. 1 action in D.C. was Kushaba Moses Mworeko, a bright-spirited Ugandan who won asylum in 2011. As he was leaving, he kissed and thanked us, and I joked, "Oh, look, we're standing right under a lamppost! People will know we're queer!" He laughed and replied, "I don't give a--," and stopped. I finished his sentence: "A flying fuck."
That was easy for us to say in the relative safety of an American city with LGBT-rights protections (despite the continuing problem of hate crimes). Anti-gay groups like the Family raise money here but use it to spread poison overseas. We have much to do to defeat them and help those they have harmed, growing numbers of whom are landing, quite fittingly, on America's doorstep.
Popular in the Community