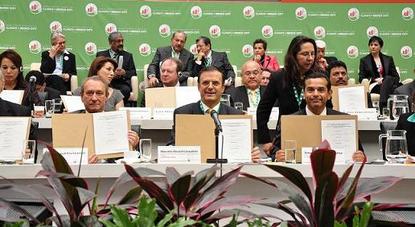 Cities have sent a strong message to national governments ahead of the upcoming round of climate talks, scheduled to begin in Cancún, Mexico, at the end of this month. The message is: we are acting to address our planet's changing climate and we want you to do the same.
On Nov. 21, 135 mayors from around the world signed an agreement to address climate change at the World Mayors Summit on Climate in Mexico City. The Mexico City Pact establishes a global climate monitoring and verification mechanism for cities. It calls for cities to develop and implement climate action plans and introduce local laws and initiatives designed to reduce GHG reductions. To establish and follow up on their commitments, the pact's signers will establish their climate actions and progress with the Carbon Cities Climate Registry (CCCR) at the Bonn Centre for Local Climate Action and Reporting (carbonn).
The pact was signed by a diverse set of cities around the world, both large and small, from megacities such as Los Angeles, Jakarta, Sao Paolo, Johannesburg, Istanbul and Mexico City, to cities such as Paris, Vancouver and Barcelona - already leaders in developing innovative climate solutions - to small cities such as Burnsville, Minnesota, and Malmo, Sweden, to name just a few. With the establishment of the Registry, other cities of the world can sign on and be part of the pact. And of course, because the information will be freely available, citizens everywhere can know what their city is doing in comparison to other jurisdictions.
The Mexico City Pact will be presented to the United Nations Framework Convention for Climate Change (UNFCCC) when it begins meeting later this month in Mexico. We will send it with a strong message that we want national governments to agree on a global binding treaty. In addition, because funding is a critical component to ensure that cities around the world have the financial resources to implement climate programs, we will urge national governments that as part of any treaty to set aside a significant portion of funds to be passed-through to cities and local governments to implement local climate programs.
Cities have great capacities to address climate change, even in the absence of a binding global treaty among nations. We manage public buildings and lands. We operate water and electric utilities and solid waste facilities. We establish building codes and zoning regulations. We run public transportation systems. If we can make all of these services more energy efficient or cleaner, we can have a significant impact on reducing harmful emissions.
With more than half the world's population today living in cities for the first time in human history, mayors and urban leaders are on the frontline of the planet's fight against a changing climate. At the World Mayors Summit on Climate, we took action. Now we want national governments to summon the political will to do the same.
Marcelo Ebrard is mayor of Mexico City and chair of the World Mayors Council on Climate.
Related
Popular in the Community