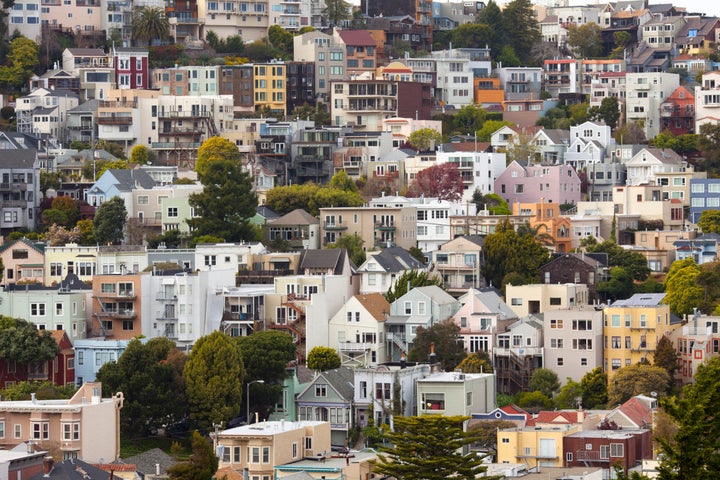 As residents are priced out of big cities like New York and San Francisco, unaffordable rents are quickly rising in some smaller urban areas.
A report released last week by advocacy group Make Room found mid-sized metro areas have had the largest increases in renters paying more than they can afford. They looked at how many renters spent half their income or more on housing in the 50 largest metro areas over the last decade. The benchmark for affordable rent is less than 30 percent of a person's income -- half qualifies as "severely rent burdened." 
Since 2005, the portion of renters in the severe category has shot up the most in Jacksonville, Florida. In 2014, 28 percent of renters in the city spent half their income on housing. That's not much more than the national rate, but represents a 7 percent increase. The portion of severely rent-burdened residents also went up 5 percent or more in the metro areas surrounding Orlando, Florida; Richmond and Virginia Beach, Virginia; and Hartford, Connecticut. (See a map of the findings for all 50 metros below.)
Rents have gone up steadily in Jacksonville, and Make Room notes that supply isn't keeping up with demand: over the last decade, there was one unit built for each additional rental household. And many of those are luxury apartments, a more profitable market for developers and out of reach to most renters.
The historical data reinforces Make Room's earlier report projecting that rent burdens will keep going up in the next 10 years, economist Andrew Jakabovics said. Jakabovics is the senior director of policy development and research at Enterprise Community Partners, a nonprofit that invests in affordable housing and the Make Room campaign's sponsor.
"There have been places that have seen some ups and downs, but the overall trajectory has been for worsening cost burdens," he said. "The prevalence of this problem is not just limited to, sort of, coastal high-cost cities. When you dig down, the plight of renters has really gotten worse everywhere." 
At first glance, Make Room's data appears to show optimistic signs for San Francisco, decried for having some of the highest rents in the country. Just under a quarter of renters in the metro area are severely burdened, down 1.5 percent from 2005. That's better than a number of cities you wouldn't expect, from Phoenix, Arizona, to Buffalo, New York.
The New York metro area has one of the worst overall rates of severely rent-burdened residents, and it's risen over the last decade. But it's actually dropped consistently since 2011 to 30 percent.
Jakabovics was quick to note that those counterintuitive shifts reveal another dimension of the rental crisis.  
"The rents have just gotten so outrageous at the top that people give up on staying in the area," Jakabovics said of San Francisco, where two-bedroom apartments regularly go for $3,000 or $4,000 a month. "The severely cost-burdened renters have just basically been entirely pushed out."
Severe rent burdens aren't really going away: they're instead rising in exurbs and other cities as people move further and further away in search of affordable housing.
That's what Kelly Dwyer did when she got notice that her family's rent was increasing more than 40 percent. The city worker, who was elected to the local Democratic County Central Committee in 2012, told the San Francisco Chronicle that they considered moving to nearby Oakland, Berkeley and San Mateo. Nothing was affordable, and they ended up finding a house more than an hour away.  
"I'm an elected official who can't even live in the city," Dwyer told the paper. "The voters elected me to do a job, and I can't even do it because I can't afford it." 
Make Room Managing Director Angela Boyd is trying to show just how common situations like Dwyer's are and push the issue of unaffordable housing into the national limelight.
"It's a wake-up call to our nation's leaders that rental housing needs to be much much higher on the agenda," she said.
See how many renters are struggling with rent in your city in Make Room's interactive map.
 Kate Abbey-Lambertz covers sustainable cities, housing and inequality. Tips? Feedback? Send an email or follow her on Twitter.
PHOTO GALLERY
9 Most Segregated Cities In America
Calling all HuffPost superfans!
Sign up for membership to become a founding member and help shape HuffPost's next chapter