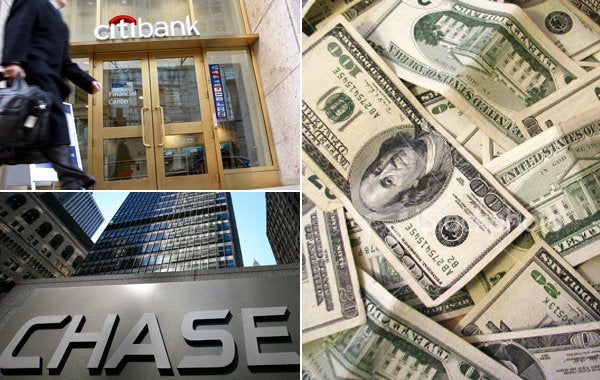 Call it the Great Cash Hoard.
The Wall Street Journal reports this morning that, in response to the financial crisis, U.S. companies are hoarding more cash than they have in the last 40 years.
Among these corporate cash-savers are banks like Citigroup and JPMorgan Chase, two institutions are holding onto funds "as if another financial crisis were on the way," reports Bloomberg. Citigroup has almost doubled its cash reserves since Lehman's fall last year, a move which seems to be very popular move among Wall Street's mega-banks:
"The four largest U.S. banks by assets -- Bank of America Corp., JPMorgan, Citigroup and Wells Fargo & Co. -- have increased their combined liquidity by 67 percent to $1.53 trillion as of Sept. 30 from $914.2 billion in June 2008, before Lehman's collapse, according to the companies' third-quarter reports. The amount equals 21 percent of the banks' total assets, up from 15 percent."

In fact, as Bloomberg points out, Citigroup's massive cash holdings are more than five times great than those held by Warren Buffett's Berkshire Hathaway. Here's one particularly striking quote from Bloomberg:
"In my 44 years in the business, I have never seen a company with remotely as much cash as this," said Richard X. Bove, an analyst at Rochdale Securities in Lutz, Florida.
For its part, JPMorgan is maintaining what has been called "a fortress balance sheet," with $456 billion in liquidity. JPMorgan's cash holdings have shot up to 22 percent of its total assets, up from 9.5 percent before the financial crisis took hold.
The WSJ points out that the trend isn't just happening on Wall Street:
"In the second quarter, the 500 largest nonfinancial U.S. firms, by total assets, held about $994 billion in cash and short-term investments, or 9.8% of their assets, according a Wall Street Journal analysis of corporate filings. That is up from $846 billion, or 7.9% of assets, a year earlier.




The trend appears to have continued in the third quarter, despite an improving economy. Of those 500 companies, 248 have reported third-quarter results. Their cash increased to 11.1% of assets, from 10.1% in the second quarter. Companies as diverse as Alcoa Inc., Google Inc., PepsiCo Inc. and Texas Instruments Inc. all reported big third-quarter increases in cash holdings."
Interestingly, one of the most well-funded companies mentioned in the WSJ's piece is Google, which has short-term investments and cash equal to 58 percent of its total assets. That's a whopping $22 billion in cash, if you're scoring at home.
Perhaps Google should start a lending business...
Popular in the Community