Shares of Citigroup, once the nation's most powerful bank, hit an all time low of 97 cents on Thursday. It is a 95.56% drop from the same period last year. The bank's 52-week high was $27.35 on April 28, 2008. According to WSJ's Market Watch, the stock reached an all-time high of $57 a share on Dec. 18, 2006.
Citi and the other banking stocks were hammered Thursday in the wake of ratings downgrades and the expectation that the government will likely have to assume a bigger stake in at least some of the financial institutions when it completes its stress tests to determine whether the banks have sufficient capital.
Here's a screen grab from CNBC of the stock at 97 cents... check here for updates of where the stock is throughout the day.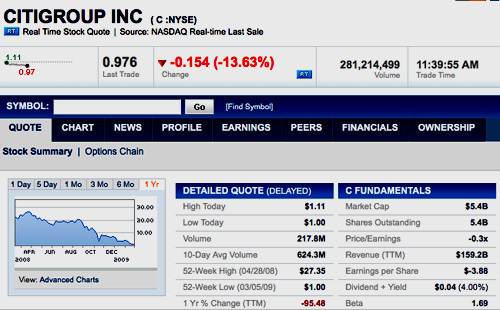 See our slideshow of things that cost more than a Citi share today:
Related
Popular in the Community