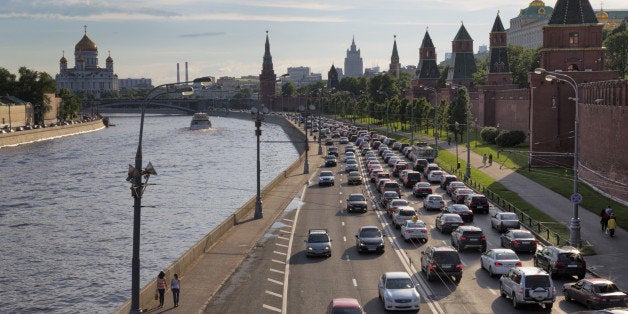 As of Tuesday, January 6, it is now illegal for transgender and transsexual people to drive vehicles in Russia. The bill, originally signed by Russian Prime Minister Dmitry Medvedev on December 29, bans any person demonstrating "mental disorders" such as fetishism, exhibitionism , voyeurism, and pathological gambling from driving. Additionally, amputees and colorblind individuals are subject to the new prohibition.
The "On Road Safety" law references the World Health Organization's manual for classifying mental illness in humans. Under the heading "Egodystonic sexual orientation," the International Statistical Classification of Diseases and Related Health Problems (ICD-10) says, "The gender identity or sexual preference (heterosexual, homosexual, bisexual, or prepubertal) is not in doubt, but the individual wishes it were different because of associated psychological and behavioural disorders, and may seek treatment in order to change it."
Supporters of the law cite road accidents as the reason for the newly proposed parameters.
"We have too many deaths on the road, and I believe toughening medical requirements for applicants is fully justified," said Alexander Kotov of the Professional Drivers Union.
The Association of Russian Lawyers for Human Rights, founded in 2004 and legally formed in 2007, posted on their website, "All transgender people, bigender, asexuals, transvestites, crossdressers, people who need in a sex reassignment were recognized by Russian Government as a people with the deviations." The website further stated that "the reason of the refusal in obtaining of the driver's license may be, for example, the visit of a human to the sex-shop: if the police get the information about the purchase in the sex-shop (handcuffs, dildo) the human may lose the driver's license."
"Banning people from driving based on their gender identity or expression is completely outrageous and just another example of the Russian regime's methodical rollback of basic human rights for its citizens," said Human Rights First's Shawn Gaylord. "Beyond the denial of basic freedoms, this provision may deter transgender people from seeking mental health services for fear of receiving a diagnosis that would strip them of their right to drive, and leaves the door open for increased harassment, persecution, and discrimination of transgender people by Russian authorities. We urge the United States to immediately condemn this provision and to press the Russian government to repeal this decision."
In 2013 the Russian government passed a discriminatory "anti-gay-propaganda" law whereby any individual suspected of being lesbian, gay, bisexual or transgender would be subject to harassment from government officials, threats of violence, and imprisonment for peaceful public demonstrations.
The Obama administration is being urged to appoint a special envoy for the human rights of LGBT people within the State Department to stand as a statement of the U.S.'s commitment to the human rights of LGBT people worldwide.
Popular in the Community