 Citing a potential shortfall in quality STEM workers, a report from the National Academy of Engineering and National Research Council urges the Department of Defense to overhaul its recruitment practices and reassess its requirement for security clearances for some science, technology, engineering and math positions.
"STEM assignments at the DOD that involve more procedure and bureaucracy than technical challenge and mission are unlikely to satisfy the high-quality STEM professionals the DOD needs to recruit," C.D. Mote, professor of engineering at the University of Maryland, College Park said in a statement. "Making DOD employment an attractive career choice to the most qualified and motivated professionals will pay enormous dividends to the department and the nation." Mote is also co-chair of the committee that wrote the report.
Due to the hierarchical learning of mathematics, students must generally decide very early in their educational careers whether to retain the option of pursuing a career in a science, technology, engineering, or mathematics field. America's education system usually requires about eight more years for an individual in the eighth grade to graduate with a bachelor's degree in science or engineering, and 14 additional years to earn a Ph.D. in one of those fields.
According to the report, the DOD's historical record of predicting the number of scientists and engineers necessary to work in national security "has been abysmal at best," due in large part to uncertainties about future threats and the military requirements needed to combat them, as well as the unpredictably of future technological advancements.
"It's virtually impossible to forecast the STEM skills and number of individuals possessing those skills that will be needed by DOD beyond the near term because of the increasing rates of advancement in science and technology and the geopolitical uncertainties affecting DOD demands," Norman Augustine, retired chairman and CEO of the Lockheed Martin Corp. and committee co-chair, said in a statement. "The fundamental issue, therefore, is maintaining the necessary quality, agility, and skills mix. It is critical to include workers at the forefront of emerging, potentially critical technical areas, as well as those capable of redirecting their careers into these new areas."
The report is reminiscent of the "U.S. Education Reform and National Security" report, penned by former New York City schools chief Joel Klein and former Secretary of State Condoleezza Rice and released in March. The report argues for treating education as a security issue, contending that failure to properly educate in America is a threat to national security.
In it, Rice and Klein say that lacking foreign language programs, for example, hinders America's ability to produce soldiers, diplomats and spies. Higher standards, accountability and school choice, they said, would improve America's international standing in education.
The authors go on to cite additional reasons why the United States may soon have trouble meeting its workforce needs. For one, the country's national immigration policy caps the number of high-tech visas allotted to for-profit organizations, while a green card can take six to 10 years to acquire. Further constraints on visa entrants could make it increasingly difficult for the Department of Defense to recruit citizens if these restrictions intensify competition from the private sector.
Individuals who are able to clear immigration law barriers and remain in the U.S. as noncitizens after receiving their degrees are excluded from most defense-related work due to the difficulty of obtaining a security clearance.
Furthermore, according to the report, the median age of employees in the defense industrial base STEM workforce has increased to 47 in 2010, from 45 in 2005. Because of the aging DOD science and engineering workforce, a disproportionate number of science and engineers are eligible to retire in the next few years. And according to a recent survey of over 59,000 college students in various fields at over 300 universities, there might not be a lot of interest in filling those shoes. In neither engineering nor the natural sciences fields did the DOD rank in the top 100 when it came to desirability of potential employers.
The report offers recommendations for how the DOD can go about readdressing its workforce policies and practices so as to attract and retain the best STEM talent.
It suggests more active outreach and recruitment efforts aimed at civilian hires of needed scientists and engineers that call attention to "the many exciting technologies that are being developed by the DOD and their potential contribution to the nation." The report also proposes new measures to expedite recruitment offers, and additional authority to expedite security clearances necessary for such positions.
On that note, the authors add that DOD should reexamine the need for security clearances in selected positions in order to allow non-U.S. citizens to enter the STEM talent pool, and should modify the high-tech visa system to provide the nation and the DOD with a larger pool of talent in areas of need.
The report also recommends adopting unconventional programs and prototyping in an effort to foster critical STEM skills within the DOD workforce, as well as provide "exciting, challenging and highly attractive opportunities" for STEM employees.
To develop an agile and resilient STEM workforce, the DOD should be prepared to quickly educate highly capable, but not yet STEM-qualified, individuals into STEM-capable professionals with masters' degrees in science and engineering in times of urgent need, similar to what is done at the Naval Postgraduate School today, the authors say.
Lastly, the DOD should ensure that the education and training — and re-education and re-training — opportunities for its civilian STEM workforce align with similar opportunities afforded career military personnel and tailored to the needs of the civilian workforce.
Support HuffPost
The Stakes Have Never Been Higher
Related
Before You Go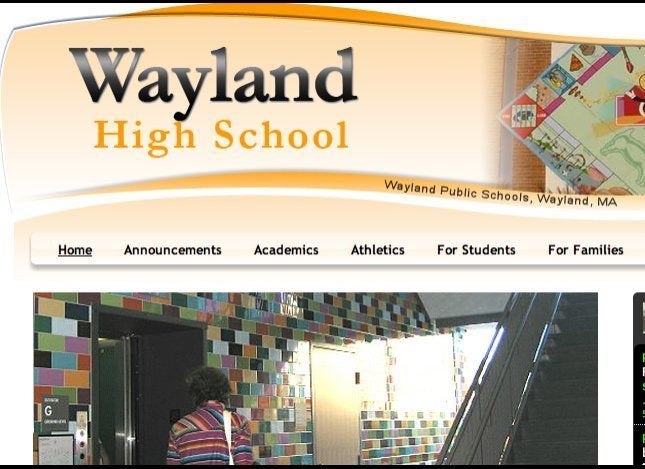 U.S. News Best High Schools for STEM 2012
Popular in the Community