The citizens of Houston and nearby towns are showing amazing resilience in the face of catastrophic flooding from Hurricane Harvey.
Water has completely submerged homes, streets, and highways in the area and left locals stranded, waiting for help. Authorities used social media to communicate on Sunday that 911 services recieved over 56,000 calls, seven times their daily average. Responders were at capacity, urging people to call only if they were in "imminent danger." So locals have banded together help their neighbors.
"I just saw on the news that they needed some help and some flat-bottom boats, so I just trailered up," John Stevens told ABC13. "I tried to call a bunch of numbers, but all the numbers are busy. So I was just trying to find somebody that knew where people needed help, and we ended up down here."
The National Weather Service has reported that Houston has seen more than 30 inches of rain in the last 48 hours, with more to come. Hurricane Harvey, which was downgraded to a tropical storm on Saturday, has yet to dissipate and is continuing to hammer the area with heavy rains.
"With this flooding event, we were using words like 'catastrophic' and 'life- threatening,'" Dennis Feltgen, a spokesman for the National Hurricane Center, told HuffPost. "It's as bad as we thought it was going to be, and it's only getting worse."
Five people have already been reported dead by the National Weather Service.
On social media, residents are sharing stories of people volunteering their boats to help authorities with rescue attempts. One video showed a man from Texas City bringing his boat to "help save some lives." Another shows neighbors with an airboat rescuing an entire family.
Even local companies are pitching in.
Houston-based 8th Wonder Brewery brought out a high truck to navigate through flooded streets to rescue people stranded on their rooftops, ABC13 reports.
The Cajun Navy put together a Google Form for people to submit their locations and requests for help, and members use the app Zello to communicate on the ground with each other.
In Dickinson, a CNN crew worked with local volunteer Austin Seth to rescue an elderly couple from their flooded home. CNN correspondent Ed Lavandera said that the group had been ready to leave the area when they heard the voice of Pam Jones calling for help.
That rescue was caught on camera by the news crew.
Twitter users recognized more good Samaritans in the posts below.
Before You Go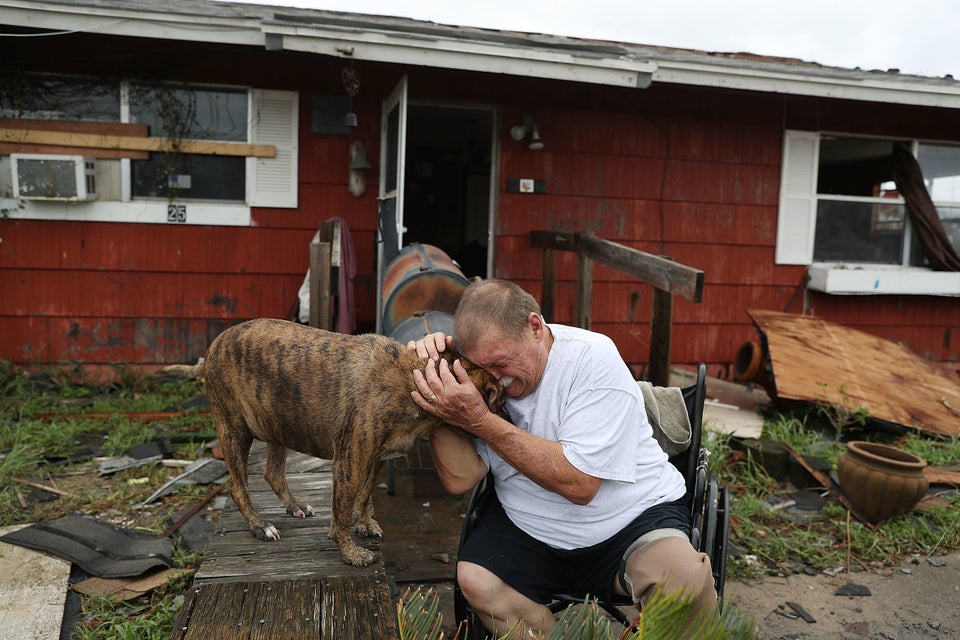 Hurricane Harvey Aftermath