Those of you familiar with my work know that twenty years ago I was a stay-at-home mom, living with my husband and young daughters in a log cabin in a remote corner of northwest Montana. Beyond a strip of state forest and a US Forest Service wilderness area, our backyard was the massive Bob Marshall Wilderness complex, which comprises 2.5 million acres.
So what does one do for fun in the back of beyond? We didn't have TV, so we amused ourselves by reading good books, spending lots of time in the woods, and doing citizen science. Back then citizen science was novel. We heard about the Cornell Lab of Ornithology's Project Feederwatch and signed up. Each week we counted birds -- common species, such as black-capped chickadees, and far less common ones, such as indigo buntings -- and noted environmental conditions. Little did we imagine that our data would lead me to graduate school and beyond.
One misty summer morning, as our daughters and I were gardening, a pair of wolves tore through the meadow on our land, chasing a white-tailed deer. These wolves had come down from Canada on their own, part of a natural recolonization after being locally extinct for seventy years. And within four years everything changed. With wolves on the prowl, deer and elk had to stay on high alert, taking quick bites and moving on. Saplings and shrubs filled in our meadow. Songbirds we'd never seen before showed up, such as the American redstart warbler -- a species of high conservation concern that needs young forest and shrubs in order to reproduce and feed.
Had we not been citizen scientists, it's unlikely that we would've noticed these profound changes. And because we were citizen scientists, we became deeply curious -- to the point that my family encouraged me to return to school, get a master's in conservation biology, and follow it with a Ph.D. in forestry and wildlife. My dissertation and the two books I've written are about food web relationships called trophic cascades -- how apex predators affect their prey by killing and scaring them, and how that in turn increases biodiversity by (for example) causing shrubs and saplings to fill in our meadow and new songbird species to turn up to use this habitat.
Citizen science has led me to a fascinating career filled with questions, exploration, and work with inspiring people. As a professional scientist, from the start I've used volunteers working alongside our field technicians and me to collect data. So two years ago it was a natural fit for Earthwatch Institute, a nonprofit citizen science organization, to fund our fire and wolves research in Waterton Lakes National Park, Alberta. And one year later, they hired me as their lead scientist. In my job, I address crucial conservation problems by helping bring together great scientists with passionate volunteers to do top-quality science on six continents.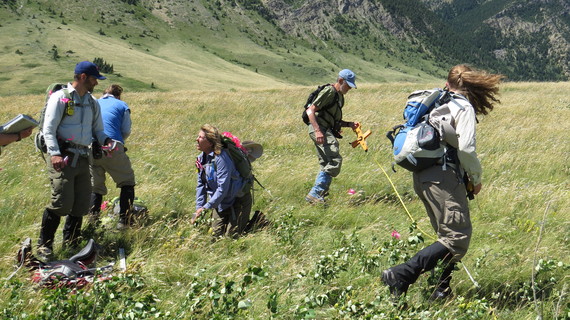 Volunteers pulling transect tapes in Waterton Lakes National Park, Alberta, Photo by Cristina Eisenberg
Defined as engagement of non-professionals in scientific investigation, citizen science involves volunteers asking questions, collecting data, or interpreting results. While people such as Thoreau, with his field observations at Walden Pond, have been doing citizen science for centuries, as a formal discipline this field is less than 45-years-old.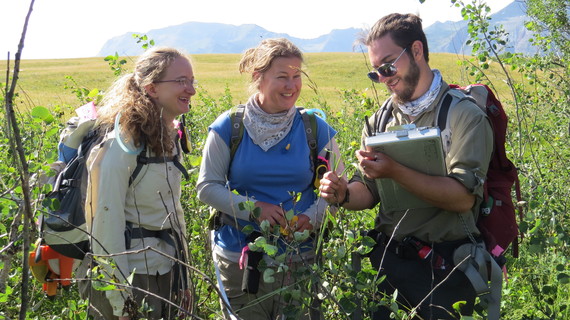 Citizen Scientists Collecting Grass Data in Endangered Short-Grass Prairie
Photo by Cristina Eisenberg
Broad in scope, citizen science spans a spectrum of research approaches, from contributory (designed by scientists, with public contribution of data) to collaborative (designed by scientists, with public contribution of data, design, and analysis) to co-created (jointly designed and implemented by scientists and the public). Thousands of citizen science opportunities exist, from monitoring monarch butterfly migration to intensive hypothesis-driven investigations, such as the work we do at Earthwatch. Today, many projects feature crowd-sourced data (e.g., iNaturalist, eBird) and some have National Science Foundation support.
Earthwatch Institute, founded in 1971, was one of the first organizations to do citizen science. We engage people in scientific field research and education to promote the understanding and action necessary for a sustainable environment. Our projects are contributory in nature. Over the years, Earthwatch-supported scientists working with volunteers have produced hundreds of peer-reviewed scientific journal articles, changed management plans, established protected areas, and prevented species extinctions.
However, any form of citizen science leads to change because it influences human relationships with nature. And without citizen science, we'd be unable to find ways to mitigate seemingly insurmountable conservation crises -- such as climate change.
The problems we face today are so huge that scientists alone, working within academia, can't solve them. We're running out of time and need an enormous amount of data to help us find solutions. And so citizen science is coming of age, bird by bird, monarch by monarch, firefly by firefly, and Earthwatch expedition by Earthwatch expedition.
In my heart I'll always be that young mother working with three- and four-year-old daughters to figure out what all those feeder birds were. Today, I'm no less filled with wonder about the natural world than I was back then, and no less excited about how by watching and learning and doing, regardless of what type of citizen science we do, everyday people can do extraordinary science to help save nature.
Popular in the Community