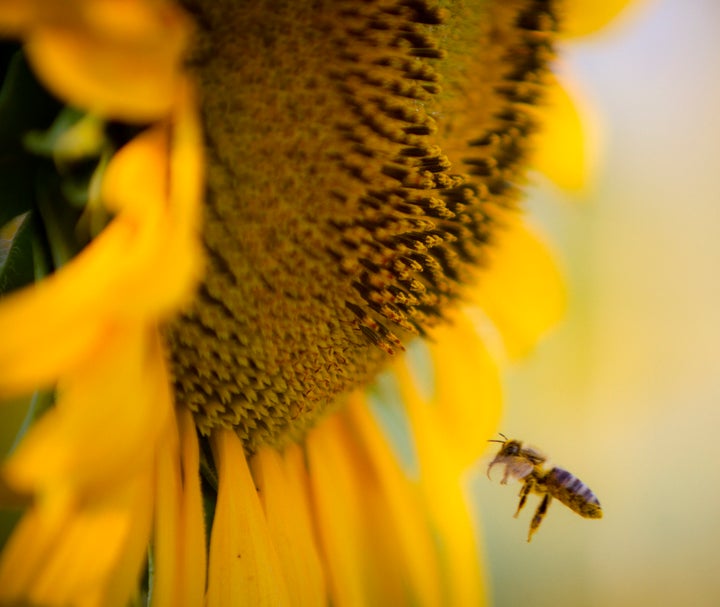 Scientist Gretchen LeBuhn is trying to save the nation's wild bee population. But to achieve her goal, she's resorting to some unconventional means, namely the help of ordinary citizens from across the country.
On Saturday 100,000 'citizen scientist' volunteers will spend about 15 minutes counting the number of bees that visit "lemon queen" sunflowers they've planted following instructions on LeBuhn's website, www.greatsunflower.com. Participants will monitor the flowers for bees twice monthly through the end of the summer, uploading the information into a central database.
Studies have shown that pollinators affect 35 percent of the world's crop production, but climate change and a little-understood phenomenon called "colony collapse disorder" are threatening honey bees, a key pollinator. Though researchers have reported a drastic decline in the populations of domesticated honeybees since at least 2006, the statistics on wild bees have remained more elusive.
LeBuhn hopes the new data will help scientists identify where native bee populations are doing well and where they're doing poorly. Hopefully, the hundreds of thousands of sunflowers planted by volunteers will have the added benefits of providing wild bees with an enriched and expanded habitat.
"We're really leveraging science dollars to do a survey we could never do using traditional methods," said LeBuhn, an associate professor at San Francisco State University. "It would just be incredibly cost prohibitive. I was thinking of sending my grad students up to Napa [County] and having them count bees," she added. "But to do that at any bigger scale than one county would be impossible. So it's amazing to get all these people participating."
Participants don't need to know whether the bee they're watching is a bumblebee, a carpenter bee or a honeybee, LeBuhn said, though a guide available on her website can help with identification.
There are more than 4,000 different species of native bees in North America, according to Science Daily, but many of them have already disappeared. LeBuhn says that of the nine species of bumblebees known to live in the San Francisco area, researchers have only been able to find four of them in recent years.
"The Western bumblebee disappeared from all over the Western U.S. and nobody noticed," she told HuffPost in an interview Thursday. "I find that amazing that you can have the biggest, fuzziest, most common, cute bee disappear and people didn't even know."

Calling all HuffPost superfans!
Sign up for membership to become a founding member and help shape HuffPost's next chapter