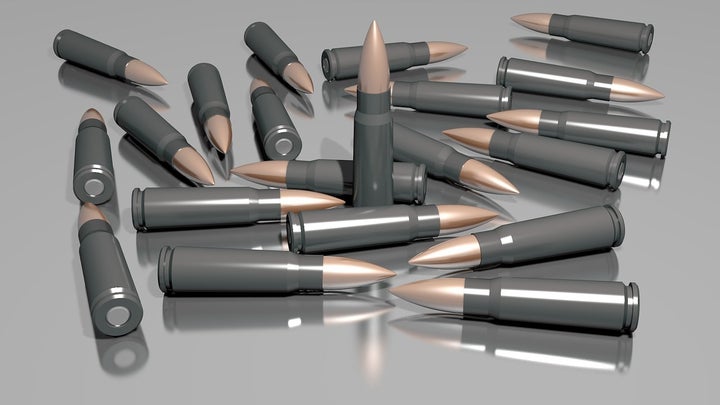 I'm speaking with another American citizen concerned with the outrageous levels of gun violence in the United States. I hope that we might initiate conversations in homes, places of worship, schools and state legislatures on the subject of guns before it's too late.
Robert: It seems that President Obama's administration was a boon to the gun industry. A lot of fear was generated by the rumor that Obama would take away Second Amendment rights thus creating a surge in gun sales. While we don't have exact figures, a decent indicator of gun sales is the number of background checks reported by the National Instant Criminal Background Check System. In 2008, the year Obama won the presidency, there were 12.7 million background checks. In his last full year as president, 2016, there were 27.5 million. How many guns do we need? And, what is this really about?
Gabi: Robert, thank you for focusing on this profoundly vexing American issue. I am grateful for this opportunity to share with you my concerns and hopes. I was born and raised in Baltimore and I continue to live in Maryland with my husband and two teenage boys. Daily gun violence, like in my hometown, and mass shootings around the country have haunted my psyche, especially after becoming a mom. (CNN Guns Project.) When President Obama was a candidate in 2008, my boys were 8 and 6 years old. It was the first presidential election our whole family could follow and discuss. I recall the intensity of the gun issue in the campaign. The NRA traded on slogans like "Gun Ban Obama" in 2008. They followed with rhetoric in 2012 that a second term would give Obama the opportunity he had been waiting for to implement a plan to destroy the Second Amendment. A continuation of the impending doom narrative that provokes fear was also played against candidate Hillary Clinton and was repeated in the NRA's current recruitment video released this July. The NRA was not always like this. In the late 1970s, the NRA transformed from a moderate organization that taught gun safety and embraced aspects of gun control to an organization with the primary purpose to bolster the gun business. The greed of the gun manufacturers is often cited as the primary driver of the NRA's current platform and actions. To answer your question, I think the increase in gun sales is really about greed disguised in the Second Amendment arguments that all guns and the right to buy guns will be taken away. My hope is that the public is learning that common sense gun violence prevention measures help make communities safer for everyone.
Robert: Ok, so, profits at the expense of lives. This is a familiar theme. Do you believe there's a nexus between the NRA's refusal to support any reasonable life saving laws, gun violence in cities like Baltimore and the number of black and brown lives lost to gun violence? Where do the guns come from that end up in our cities and why are there so many?
Gabi: Our urban communities are flooded with illegal guns. Illegal guns first enter the stream of commerce as legal guns. When these guns are inevitably used for violence and often in communities of color, the NRA uses the very same violence to gird their argument that guns are necessary for protection. And, yet, the NRA strategically ignores the Second Amendment rights of citizens of color. It's as though all the gun violence in Baltimore is acceptable to the NRA because it supports their strategies. Sadly, in our cities it is not uncommon for families to lose multiple family members to gun violence. Baltimore homicides have exceeded 200 for 2017. The father of three who was gunned down as the 200th homicide victim in Baltimore was the fifth person in his family to be killed by a gun. His Aunt is a gun violence prevention activist who lost her son to gun violence. My hometown and families like this have suffered too much from the greed of the NRA and the gun manufacturers. It is well cited by journalists and law enforcement that illegal guns in our cities come from other states with lax gun laws. The focus on trafficked guns from other states into Maryland is a priority for Baltimore City. But, of course, there is also great concern that crackdowns on illegal possession disproportionately impacts citizens of color in a negative way. I wonder why there are not more meaningful partnerships between law enforcement, gun violence prevention advocates and communities to out-lobby the NRA at our State houses. As I get more involved I look for leaders in these constituencies who can stand together against the NRA.
Robert: Tell me how Maryland has created some common sense restrictions limiting the numbers and/or kinds of guns in the state.
Gabi: As a Marylander, I am proud and grateful for the common sense leadership Maryland has demonstrated over the last two decades: Maryland passed background checks for all handguns in 1996, the Child Access Prevention law in 2000, and the Firearms Safety Act (FSA) in 2013. The major components of The FSA included handgun purchaser licensing, assault weapon ban, limit on magazine rounds to 10, Maryland State Police power to inventory gun dealers (to prevent 'bad apples'), and requiring lost or stolen guns to be reported within 72 hours. I have been volunteering time with Marylanders to Prevent Gun Violence (MPGV). The incredible leadership and outstanding work of this advocacy and educational organization is standing up to the NRA's attack on our existing gun laws. I did not know until I became involved with MPGV that, while the NRA says existing laws should be enforced before more and more gun laws are passed, what they are really trying to do is undermine the current smart gun laws. Galvanizing our concerned citizens and responsible gun owners to defend the existing laws in testimony and advocacy is powerful and vitally important. This year the gun lobby introduced over twenty bills in Maryland that sought to undermine existing common sense legislation. I testified against one of these NRA backed efforts to weaken Maryland's concealed carry permit law. To counter the narrative that anyone asserting a vague concern of self-defense should have the right to carry a concealed weapon, I asked the legislators what is their vision? Is it that everyone would carry a concealed gun? How would that make us safer? The legislators decided not to weaken the current law. This victory is not one that we can rest upon though since the NRA will try again in the next legislative session. These unwavering efforts by the NRA are what lead to stand your ground laws and other dangerous legislation such as the federally proposed relaxation of regulations on gun silencers.
Robert: Most Americans support universal background checks especially when we keep seeing shootings by people with a history of mental illness. Why can't we get universal background checks?
Gabi: I have become very sensitive to the mention of mental illness in the gun debate. For this reason, I will come back to the issue of universal background checks and address mental illness first. My primary concern is that people who suffer from mental illness are far more likely to be a victim of gun violence than a perpetrator. Providing care for mental illness is critical as a core value of our communities and our country. But focusing on guns in the hands of the mentally ill is a myopic perspective that will not adequately address the dangerous problem of gun violence. And, universal background checks alone will not protect us either. Background checks are a snap shot in time. A person's ability to be a responsible gun owner may change. This is why a focus on validated statistics and studies is vitally important to prevent gun violence. Domestic violence is a sound predictor of potential gun violence, and yet the NRA resists any measure to address guns in the domestic violence debate. While it is promising that most Americans support universal background checks, it is only part of the life saving legislation needed to reduce gun violence. And, sadly, progress on the prevention of gun violence has been slow. However, this is a movement and challenging an institution as powerful and as well funded as the NRA, which had been in existence since 1871 (and for over 40 years in its current extremist form), is no easy task. It takes time and courage. Disappointingly, many of our politicians lack the fortitude to stand up to the NRA and too many voters fail to make gun violence prevention a priority. With time and education, the public is pushing their leaders to represent the gun violence prevention movement. In Maryland, we are working for common sense licensing requirements that hold owners accountable for lost and stolen guns and reasonable consequences and logical procedures for removing guns from domestic abusers.
Robert: Can you point us to some gun stats?
Gabi: I rely on the Brady Campaign** as a good source to understand the impact of guns in our lives. The stats are important to share. Thank you for providing this opportunity to post them here:
Every Day on Average (ages 0-19)
* Every day, 46 children and teens are shot in murders, assaults, suicides & suicide attempts, unintentional shootings, and police intervention. Every day, 7 children and teens die from gun violence: 4 are murdered, 2 die from suicide. Every day, 40 children and teens are shot and survive: 31 injured in an attack, 1 survives a suicide attempt, 8 shot unintentionally. Note: Numbers may not sum because of rounding of CDC averages.
Every Day on Average (All ages)
* Every day, 315 people in America are shot in murders, assaults, suicides & suicide attempts, unintentional shootings, and police intervention. Every day, 93 people die from gun violence: 32 are murdered, 58 die from suicide, 1 killed unintentionally, 1 killed by legal intervention, 1 died but was intent unknown. Every day, 222 people are shot and survive: 164 injured in an attack, 10 survive a suicide attempt, 45 shot unintentionally, 3 are shot in a legal intervention.
In One Year on Average (ages 0-19)
* 17,012 American children and teens are shot in murders, assaults, suicides & suicide attempts, unintentional shootings, or by police intervention. 2,647 kids die from gun violence: 1,565 murdered, 907 die from suicide, 116 killed unintentionally, 27 killed by legal intervention, 32 die but intent was unknown. 14,365 kids survive gun injuries: 11,321 injured in an attack, 232 survive a suicide attempt, 2,747 shot unintentionally, 65 shot in a legal intervention. In America, 1 out of 3 homes with kids have guns and nearly 1.7 million children live in a home with an unlocked, loaded gun.
In One Year on Average (all ages)
* 114,994 people in America are shot in murders, assaults, suicides & suicide attempts, unintentional shootings, or by police intervention. 33,880 people die from gun violence: 11,564 murdered, 21,037 die from suicide, 544 killed unintentionally, 468 killed by legal intervention, 267 die but intent was unknown. 81,114 people survive gun injuries: 60,041 injured in an attack, 3,700 survive a suicide attempt, 16,428 shot unintentionally, 945 people are shot by legal intervention.
Robert: What are some of the promising signs that Americans can begin to reduce what seems like an out-of-control amount of gun violence?
Gabi: Preventing gun violence is an overwhelming, but attainable goal. As a member of the advocates in Annapolis for this year's Maryland's annual gun day (a full day of legislative hearings on proposed gun laws), I was part of a large group that out numbered the NRA supporters. This has not been the case in years past. The engagement of our gun violence prevention backers is high and well-organized, nationally and locally here in Maryland. And we are an inclusive group building bridges between communities to prevent the devastating loss caused by guns. Our activism is holding law makers accountable locally and nationally. Common sense reveals the NRA's vulnerabilities. I have witnessed the power of testimony by a Virginia Tech student survivor who lives with bullets lodged in bone, and a Sandy Hook parent who bravely sat shoulder-to-shoulder with NRA advocates who callously testify that gun laws won't bring their child back. I support Mothers of Murdered Sons and Daughters in Baltimore City and keep my home city in my heart and mind throughout all my efforts. The media attention received by the tragedies of mass shootings is juxtaposed with the daily gun violence in our communities that rarely gets coverage. It is heartbreaking but important to understand that national inequities, racism and classism permeate the American gun problem, like a mirror of our society's prejudices. And, yet, gun violence is a great leveler affecting all of us. I often participate in gun violence prevention meetings that typically begin with introducing yourself with a description of why you are called to action. The reasons vary wildly, but the commonality is the devastating impact on all. We are learning that gun violence prevention advocates are now more aligned with the majority of gun owners than gun owners are with the NRA. This creates momentum in the fight for safe communities. Marylander's to Prevent Gun Violence is a great example of organizations holding a critical fault line with the NRA at the local level. I encourage everyone to get involved with their community advocates. Your impact is meaningful to moving this essential issue in a convincing way through American society.
Robert: When will responsible gun owners, who are the overwhelming majority in the US, finally seize control of this conversation from the NRA? Thank you, Gabi for your work.
** The Brady Center averaged the most recent five years of complete data from death certificates (2011-2015) and estimates of emergency room admissions (2010-2014) available via CDC's National Center for Injury Prevention and Control's Web-based Injury Statistics Query and Reporting System. Data retrieved 1.3.17 and 4.29.16 respectively. Numbers may not sum to 100% because of rounding of CDC averages.
See also: the push to allow gun silencers and other dangerous changes to life saving laws.
Follow me on Titter @RobertJBenz
Calling all HuffPost superfans!
Sign up for membership to become a founding member and help shape HuffPost's next chapter