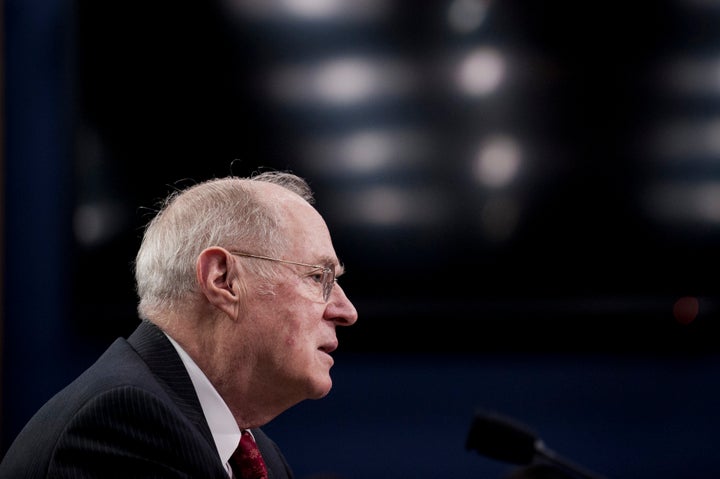 WASHINGTON -- When Supreme Court Justice Anthony Kennedy penned the 2010 Citizens United decision allowing corporations and unions to spend unlimited sums of money on elections, he did so with a promise that instant disclosure of election spending over the Internet would be enough to prevent corruption.
"With the advent of the Internet, prompt disclosure of expenditures can provide shareholders and citizens with the information needed to hold corporations and elected officials accountable for their positions and supporters," Kennedy wrote in the decision.
The problem with Kennedy's belief in instant online disclosure is that, at the time of his opinion, plenty of loopholes in campaign finance disclosure law already made it possible to cover up unlimited spending. Many opponents of Kennedy's majority opinion noted this at the time.
Now, Kennedy has admitted that his belief in disclosure hasn't turned out the way he thought it would.
In an interview with Harvard Law School dean Martha Minow last week, which can be viewed below, Kennedy defended his Citizens United ruling. "You live in this cyber age. A report can be done in 24 hours," he said. But he also added that disclosure is "not working the way it should."
Disclosure didn't work the way Kennedy thought it would because instant disclosure laws do not exist for the supposedly independent corporate and union spending that Citizens United allowed. Further, corporations and unions can spend undisclosed "dark money" on elections through nonprofit corporations, which are not subject to campaign finance disclosure laws due to a prior Supreme Court ruling and a Federal Election Commission rule change in 2007 that eliminated a key reporting requirement.
Transparency about non-candidate spending on independent electoral efforts decreased for several years after that. According to the Center for Responsive Politics, fully disclosed independent spending fell from 65 percent of all independent spending in the 2008 election cycle to 48 percent in 2010 and 40 percent in 2012. It recovered to 59 percent in 2014, but dark money continues to finance many election races.
Disclosure of Independent Spending, 1990-2016
Forty-three percent of the $35.6 million of independent spending in the 2014 Kentucky Senate race between Sen. Mitch McConnell (R) and Kentucky Secretary of State Alison Lundergan Grimes (D) came from undisclosed sources. Thirty-one percent of all independent spending in Colorado's 2014 Senate race came from non-disclosing groups, and dark money accounted for one-quarter of independent spending in the 2014 Alaska, Georgia and North Carolina Senate campaigns.
It should have been completely clear to the justices hearing the Citizens United case that granting corporations the right to spend unlimited sums on elections would lead to decreased transparency in election finances. The case centered on a conservative nonprofit organization called Citizens United that wanted to use corporate funds it had raised to create a negative documentary about Hillary Clinton, who was running for the Democratic presidential nomination in 2007. The group planned to offer the documentary as an on-demand option on DirecTV and to run advertisements to promote it. The Federal Election Commission determined that the advertisements and documentary were express advocacy against a candidate that could not be funded with corporate money.
Justices on the court should have known that a nonprofit organization like Citizens United was not required to disclose its corporate donors. This is not only because nonprofits have been largely protected from targeted disclosures of their membership rolls since the 1958 NAACP v. Alabama decision, but also because the FEC loosened disclosure rules enacted in the 2002 McCain-Feingold reform law in 2007.
That year, the court ruled in FEC v. Wisconsin Right to Life, Inc. that corporations could fund so-called "electioneering communications" (which name a candidate without explicitly calling for their election or defeat within a certain timeframe prior to an election). The FEC responded by gutting a disclosure provision from the McCain-Feingold law that required groups to disclose their donors when reporting independent spending. The new rule mandated disclosure of donors only if they gave money to run a specific ad or other election effort. Contributions to a group with no stated purpose from the donor would no longer need to be disclosed. This FEC rule is now being challenged in court by Rep. Chris Van Hollen (D-Md.).
While Kennedy may now bemoan that disclosure post-Citizens United is "not working the way it should," he should have known that his imagined disclosure regime was not working before the decision, either.
Popular in the Community