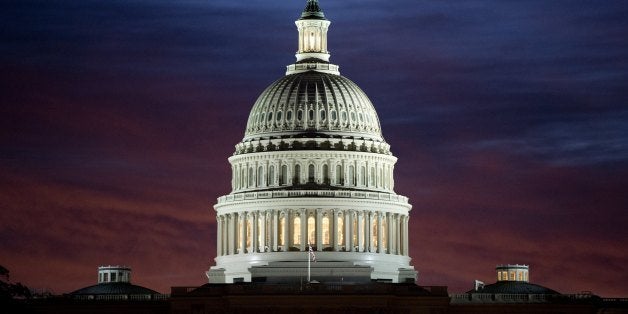 WASHINGTON -- A new report from The Ohio State University Moritz College of Law sheds light on how the millions in independent spending unleashed by the Supreme Court's 2010 Citizens United decision affects the political process.
The report is rich with examples of how campaigns cooperate without coordinating with independent groups. The 2010 Supreme Court ruling in Citizens United v. Federal Election Commission opened the door to unlimited spending by corporations, unions and, ultimately individuals, as long as they do so independently of campaigns and political parties. Perhaps the most revealing aspect of the new report is how easily the line of independence is evaded.
Campaigns are not legally allowed to coordinate with independent groups, but the legal line has been drawn at private communications related to specific actions or needs. This leaves many ways of cooperation.
"[A]t the end of the day, it's all just kind of a fiction –- it's just kind of a farce, the whole campaign finance non-coordination thing," an unnamed campaign operative told the authors. Another explained that the coordination mostly occurred through public channels, including the media and the Internet.
The report's examples include some that have made the news before, such as the posting of B-roll video and high-quality images to campaign websites, and the reservation of television advertising time by campaigns and political parties as a signal to independent groups of where and how much to spend.
The report found new creative efforts: "One campaign staffer suggested putting out press releases, even on items the campaign does not expect to have written about in the media. We also heard about a tactic of creating a campaign advertisement but purchasing little airtime for it, and then putting out an accompanying press release stating that the ad is 'really moving voters.'"
The report reveals how candidates solicit money for outside groups, beyond appearing at fundraisers. An unnamed campaign operative explained:
You have a donor who wants to do a lot more than just max out to your campaign. One day, you get a call from someone who asks if you have any maxed out donors who might also like to give to a group that makes independent expenditures. They say, "If you have anyone who would like to help your candidate, you can let them know that Sally from Super PAC XYZ will give them a call and that they should make a decision about what Sally says and that you have no control over it." So the Member calls and says "Hey, I know you're maxed out -– and I can't take any more money from you -– but there's this other group. I'm not allowed to coordinate with them, but can I have someone call you?" Then you give the list of your maxed donors to Sally. Sally calls and says "Hi Max Donor –- I got your name from Rep. Joe Smith's campaign -– I don't know if they've told you that there's this other thing that you do can do to help. I know you want to help Joe and so if you give to our group, we'll be able to help Joe out." The more sophisticated the donor, they know exactly what that call is. After the first time, they're looking for it in future cycles and make a note in the memo line of the check -– "Go Joe Smith!"
The most obvious link between independent groups work and campaigns is staff. Workers tend to come from the same pool of partisan operatives who rotate from campaign, to independent group, to party committee. These operatives live and breathe campaigns and understand intuitively when to help a campaign and how to signal to an independent group.
The people interviewed in the report also discussed how the surge in independent spending can influence actions in Congress. The largest concern voiced by those interviewed was that the increased spending took away control from campaigns. "[I]ndependent expenditures drove the agenda," one staffer said. Another complained that candidates had been reduced to "bit players in their own campaigns."
Lawmakers explained that there were concerns that independent spending could create fear in members of Congress, making them consider whether a particular vote will attract attacks from deep-pocketed interests.
"Even if it's in the back of their mind you can't tell me that if somebody spends a couple of million dollars in your race that you're not going to ... that's not going to affect the decision making process," former Rep. Dan Boren (D-Okla.) said.
Former Rep. Tim Holden (D-Pa.) and former Sen. Kent Conrad (D-N.D.) both expressed concerns in the report that lawmakers would take fewer risks and deviate less from party line votes due to independent spending.
The report showed that some independent groups intended for their efforts to help advance a policy agenda, but found it difficult to get the response from Congress they desired:
One person in charge of independent spending for a group told us that one of the goals for their 2012 election spending was to "pave the way for policy conversations after the elections," but lamented that they were unsuccessful in obtaining the desired legislative results. Similarly, an interviewee from a different group told us that although there was a "robust program" to equate direct PAC contributions with access to candidates and elected officials, Members did not seem to perceive a connection between access and supportive independent spending.
The lawmakers who were interviewed also feared independent spending was increasing partisan polarization and reducing time fraternizing with other lawmakers due to an increase in the need to raise funds.
REAL LIFE. REAL NEWS. REAL VOICES.
Help us tell more of the stories that matter from voices that too often remain unheard.
BEFORE YOU GO
PHOTO GALLERY
2014 Election: $500,000-Plus Super PAC Donors