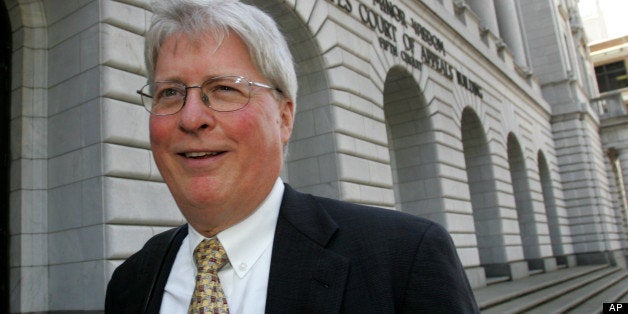 The whistle-blower complaint contends that James Bopp Jr., a leading campaign finance reform opponent and one of the lead lawyers in the 2010 Citizens United case, has improperly benefited from his nonprofit James Madison Center for Free Speech by diverting nearly all of its funds to his Bopp Law Firm in Terre Haute, Ind.
The James Madison Center for Free Speech was established as a 501(c)(3) nonprofit to provide pro bono legal services to clients whose First Amendment rights had been infringed by campaign finance laws across the country. CREW alleges that the nonprofit setup was done to benefit Bopp through payments to his law firm and that the center is no more than a front for the law firm. CREW calculates that Bopp and the nonprofit owe $6.2 million in back taxes for the years 2006 to 2011.
"Mr. Bopp is well-known for pushing the legal envelope, but you'd think he'd be more careful to comply with incontrovertible law," CREW Executive Director Melanie Sloan said in a statement. "No matter how just Mr. Bopp believed his cause, there is no excuse for end-running the tax code."
Bopp defended himself when he crashed a conference call for reporters held by CREW. He said, "The simple response to this complaint is that I am the only one who works for the Madison Center and so I am the only one who gets paid."
He noted further that the nonprofit center indeed provides pro bono legal services and that people make contributions to support that work.
He also attacked CREW, saying that the organization was funded by financier George Soros -- CREW does receive money from Soros' Open Society Institute -- and that it was solely interested in attacking conservatives -- CREW has filed numerous legal complaints against Democrats as well.
Bopp has previously explained that the James Madison Center was founded as a conservative vehicle for challenges to campaign finance laws at a time when the only organization pushing such challenges was the American Civil Liberties Union.
The CREW allegations were filed as a whistle-blower complaint with the Internal Revenue Service and were also sent to the offices of the Indiana attorney general, the U.S. attorney for the Southern District of Indiana, the Indiana secretary of state and the D.C. Department of Consumer and Regulatory Affairs for further investigation.
Calling all HuffPost superfans!
Sign up for membership to become a founding member and help shape HuffPost's next chapter
BEFORE YOU GO
PHOTO GALLERY
U.S. State Capitol Buildings