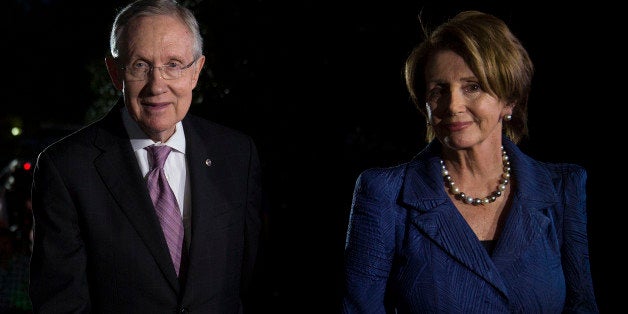 WASHINGTON -- Despite liberal opposition to the election spending unleashed by the Supreme Court's 2010 Citizens United decision, progressive independent groups have apparently outspent conservatives so far in 2013. Does that mean liberals have learned to stop worrying and love Citizens United -- or, at least, unlimited independent money?
Maybe. But the news of a Democratic spending surge overlooks some key facts -- what drove the reported spending this year, what obscured other spending this year and what is likely to happen next year. In other words, any suggestion that conservatives have fallen behind in the money race is greatly exaggerated.
Democratic-leaning independent groups have certainly seen an uptick in fundraising and do lead in spending reported to the Federal Election Commission. On Tuesday, USA Today wrote that liberal super PACs have spent twice as much as conservative super PACs this year on elections. On Wednesday, MSNBC pointed out, based on numbers from the Center for Responsive Politics, that among "dark money" groups -- that is, nonprofits that do not disclose their donors -- the liberals have seen a surge in spending in 2013 compared to 2011 and have spent more than twice the amount coming from the conservatives.
But evidence of a broader trend in the 2014 election cycle is slim.
The main driving force behind Democratic independent spending in 2013 has been the high number of special elections. There were eight off-cycle congressional elections in 2013 -- six for House seats and two for Senate seats -- compared to just four in 2011 -- all for House seats. Two-thirds of all independent electoral spending this year went into these races, and two-thirds of that was spent just on the contests in Massachusetts and New Jersey.
The special elections that voted in Sens. Ed Markey (D-Mass.) and Cory Booker (D-N.J.) were held in heavily favorable terrain for Democrats. The Republican Party and supportive independent groups saw little to no chance of success for their candidates, Gabriel Gomez in Massachusetts and Steve Lonegan in New Jersey, and thus invested little to no money in their races.
Both Markey and Booker, however, had organizations and individuals who felt strongly about their candidate winning. In Markey's case, the Democratic Party was also determined not to repeat the mistakes that led to the special election victory of Republican Scott Brown in 2010.
Environmental groups, led by the League of Conservation Voters, backed then-Rep. Markey in his primary race against Rep. Steve Lynch and in the general election because of Markey's long standing as the leading climate hawk in the House. The league spent $1.3 million on the Massachusetts Senate race.
The Democratic Senatorial Campaign Committee similarly spent nearly $700,000, and Senate Majority PAC, the institutional Democratic super PAC focused on Senate races, chipped in another $1.3 million.
In New Jersey, Booker attracted the support of New York City Mayor Michael Bloomberg through the mayor's Independence USA PAC. The Democrat shares Bloomberg's views on the need for stricter gun control and school reforms, including advocating for charter schools and tougher oversight of teachers. Bloomberg's super PAC spent $732,536 to support Booker.
The former Newark mayor was also backed by a super PAC called the Mobilization Project, which was funded by a mix of Democratic and Republican hedge fund managers and investors -- a cohort that has strongly supported Booker's career. The Mobilization Project forked out $532,445 to support his Senate campaign.
In three of this year's special House elections, groups focused on particular issues dominated the spending, while in another contest, Democrats tried to steal a win against a scandal-ridden candidate in a GOP stronghold.
Illinois' 2nd District race featured huge spending by Bloomberg's Independence USA PAC as it helped to elect a pro-gun control candidate in the Democratic primary over others who opposed gun control measures. In Alabama's 1st District, the U.S. Chamber of Commerce weighed in on the Republican Party's internecine struggle by helping defeat a tea party primary candidate after the government shutdown. And in Massachusetts' 5th District, where the election is set for Dec. 10, Emily's List has endorsed and is backing the female victor in the Democratic primary.
In South Carolina's 1st District, Democrats sought to poach a seat in GOP territory after former Gov. Mark Sanford, notorious for his extramarital affair, won the Republican nomination. The Democratic Congressional Campaign Committee and House Majority PAC combined to spend nearly $900,000 to defeat Sanford, but failed. National Republicans stayed out of the race because of Sanford's personal baggage and because the heavy Republican tilt of the district made it highly unlikely that Democrats could win.
Among the races that are attracting interest this year but will actually take place in November 2014, the partisan split for 2013 is much smaller. Democratic independent groups have spent in excess of $2.5 million while Republican independent groups have spent slightly more than $2.1 million on next year's races.
Among those independent groups, the subset of dark money nonprofits have likewise concentrated their spending on this year's special elections, which drew 78 percent of their dollars. The only dark money group that reported spending in 2013 on a 2014 election was Patriot Majority USA. A Democratic nonprofit linked to Senate Majority PAC, it threw more than $550,000 into the Senate races in Kentucky and Arkansas.
But the latter number may present a false picture of which side is really spending big on next year's elections.
This far away from the elections, dark money groups do not routinely put large sums of money into the kinds of spending that must be reported to the FEC. They are trying not to run afoul of nonprofit tax laws that require them to spend more than half of their time and money on their stated social welfare purpose instead of electoral campaigns.
At this point in 2011, dark money groups had already spent at least $25 million on unreported issue ads that named a candidate for election, according to a Huffington Post review of news reports and the groups' own press releases. These ads masked their electoral attacks as issue advocacy over government spending, health care or environmental regulation. And nearly all of that spending came from conservative groups.
Dark money nonprofits are now running issue ads targeting vulnerable candidates in the 2014 cycle. A Huffington Post review of those ads run earlier in 2013 found that more than 60 percent targeted candidates up for reelection in 2014. And the money being spent on those spots dwarfs the dark money group spending reported to the FEC.
Americans for Prosperity, the chief political arm of the billionaire Koch brothers, has launched an issue advertising campaign targeting vulnerable legislators over Obamacare into which it's pouring $5.6 million. That's more than twice the amount of all dark money spending reported to the FEC in 2013.
In other words, a large portion of the dark money being spent to influence voters has gone unreported and unaccounted for when looking at which party is winning the independent spending battle. Democrats are clearly not shunning all independent spending on anti-Citizens United principle. But neither have they wrested the dark money crown from Republicans.
Calling all HuffPost superfans!
Sign up for membership to become a founding member and help shape HuffPost's next chapter
BEFORE YOU GO
PHOTO GALLERY
Supreme Court Justices