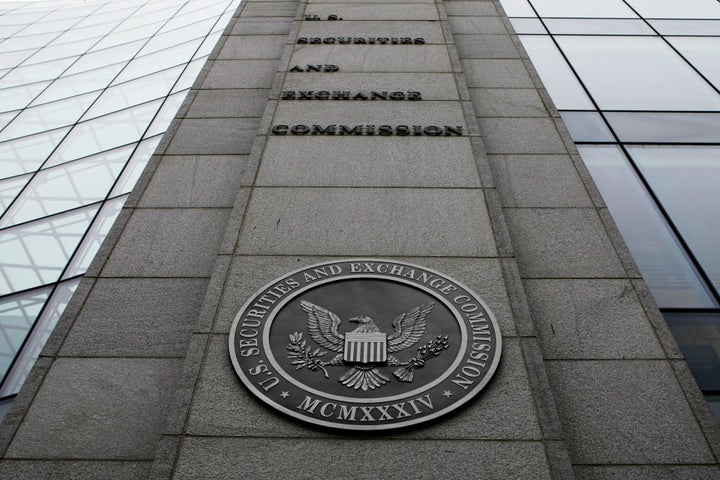 WASHINGTON -- A coalition of reform groups gathered Monday morning to urge the Securities and Exchange Commission to require publicly traded companies to disclose contributions to independent groups engaged in electoral politics. The event in front of SEC headquarters continued efforts by reform groups and elected officials to fix disclosure loopholes opened and expanded by the Supreme Court's 2010 decision in Citizens United v. Federal Election Commission.
"The SEC can do something about the fact that money is taking over the political process," said Bill de Blasio, the public advocate for New York City. "They can force publicly traded corporations to disclose their political spending. It's not a lot to ask to simply disclose what they're doing. The SEC has the power, but the SEC is not using the power."
Advocates of reform have focused their sights on several federal agencies that have authority over some aspect of the campaign finance system, including the SEC, the FEC, the Federal Communications Commission and the Internal Revenue Service. The SEC, for its part, has the authority to write a regulation expanding the required disclosures made by publicly traded companies.
Reformers targeting the SEC are concerned about a specific type of political spending: contributions to nonprofits and trade groups engaged in direct electoral efforts that do not have to disclose their funders. Such groups, both right- and left-wing, include the U.S. Chamber of Commerce, Crossroads GPS, Americans for Prosperity and Priorities USA.
As de Blasio, who is on the board of New York City's $40 billion pension fund, and others said at Monday's event, a company's political spending is important information for current and potential shareholders deciding where to invest their money.
"When regular people like you and me invest our money through our retirement plans and pension plans, we need to know if those corporations are trying to make our lives better or worse," said Bob Edgar, president of Common Cause.
"They secretly funded a back door campaign to kill the law before it ever made it out of Congress," Edgar said. "They didn't do it in the open. They didn't do it so their shareholders would know. They did it in secret."
The Center for Responsive Politics, a nonprofit tracking campaign contributions and spending, reports that donors' disclosure of independent political spending in federal elections dropped from nearly 93 percent in 2006 to only 53 percent in the 2010 elections. During that same time period, the Supreme Court decided Wisconsin Right to Life v. FEC (2007), removing a ban on so-called issue ads close to elections, and Citizens United v. FEC (2010), opening the door to unlimited election spending by corporations, unions and individuals.
The groups involved in Monday's SEC event -- including Common Cause, the Office of the Public Advocate for the City of New York, Public Citizen, and the Coalition for Accountability in Political Spending (CAPS) -- say their members have sent more than 75,000 letters to the SEC in support of a political spending disclosure rule.
One SEC commissioner, Luis Aguilar, has already endorsed the idea, stating, "Unfortunately, there is no comprehensive system of disclosure related to corporate political expenditures -- and that failure results in investors being deprived of uniform, reliable, and consistent disclosure regarding the political expenditures of the companies they own."
Kate Coyne-McCoy, executive director of CAPS, said that her group -- which is backed by Illinois Gov. Pat Quinn, California state Treasurer Bill Lockyer and de Blasio -- had been calling for a meeting with SEC Chairman Mary Schapiro and received word on Monday that they would be granted a meeting with one of her colleagues after Monday's event.
"Today, we are going to demand that the SEC do its J-O-B," Coyne-McCoy said.
The push to require political spending disclosure has been opposed by business allies, including the editorial board of the Wall Street Journal. On March 19, the Journal ran an editorial titled "The Corporate Disclosure Assault," which described the efforts as "part of a multiyear campaign by unions, left-wing activists and their factotums to expose and then vilify companies that disagree with them."
Richard Trumka, president of the AFL-CIO and a supporter of an SEC rule requiring political spending disclosure, wrote a letter in response to the editorial, arguing that all the groups are asking for is the same disclose required of unions. "Unions have long been required to make public disclosures of their political and other spending. Corporations that spend to influence politics have no legitimate gripe against shareholder disclosure resolutions that would require them to publicly disclose that spending -- and they have ample opportunity and resources to explain why that spending advances shareholder value and the public interest," wrote Trumka.
CORRECTION: An earlier version of this article misspelled the name of New York City's public advocate, Bill de Blasio, and misstated the first name of California Treasurer Bill Lockyer.

Popular in the Community