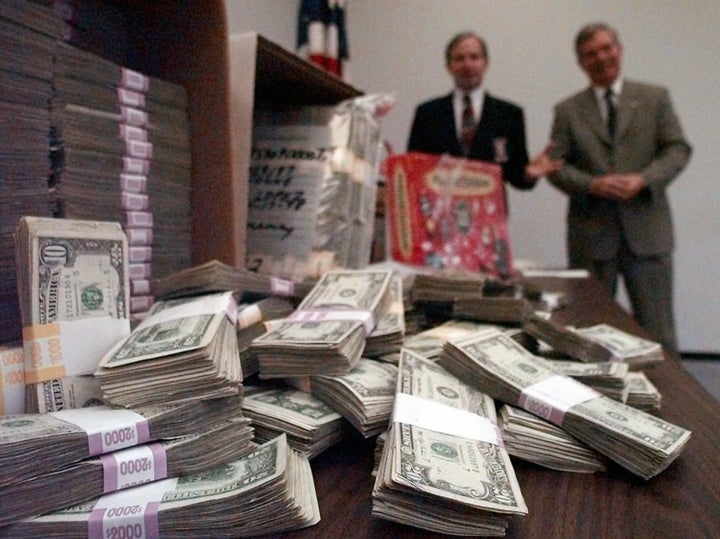 Independent political committees that can accept unlimited funds from corporations and individuals, or Super PACs, are receiving contributions from non-profit organizations that do not have to disclose their donors to the public, according to a new report .
The report, released Friday by Center for Responsive Politics, underscores the expanding catalog of loopholes groups can now use to hide money spent on campaigns and elections.
From the Center for Responsive Politics report:
During the 2010 election cycle, five super PACs utilized this little-used route, attributing all or nearly all of their contributions to nonprofit organizations organized with the Internal Revenue Service under section 501(c)(4) or section 501(c)(6) of the U.S. tax code, the Center for Responsive Politics finds. Most of these non-profit groups are directly affiliated with the super PACs to which they donated money.

These five super PACs are:

New Power PAC, which attributed 88 percent --103,500 -- of its118,000 in receipts to Kentuckians for the Commonwealth, the 501(c)(4) group that formed the super PAC.
ProgressOhio, which attributed essentially all of its funds to the 501(c)(4) nonprofit ProgressOhio.org.
Environment Colorado Action Fund, which received about 99 percent of its funding from Environment Colorado, a 501(c)(4) organization.
Protecting America's Retirees lists essentially all donations as coming from the Alliance for Retired Americans, another 501(c)(4) nonprofit group.
National Association of Realtors Congressional Fund attributes 100 percent of its funding to the 501(c)(6) trade association that shares its name.
In January 2010, the Supreme Court ruled in Citizens United vs. Federal Election Commission that corporations and unions could spend money independently to support or oppose candidates for election. This led to a series of rulings in lower courts and at the Federal Election Commission (FEC) that opened up new avenues for political spending, including the creation of Super PACs.
Since the Citizens United ruling, the FEC, which sets rules on campaign finance, remains deadlocked on almost all new guidelines for post-Citizens United outside spending. The commission is most notably stalled on the issue of disclosure of donors to nonprofit groups spending heavily on elections.
On Wednesday, the FEC failed to reach consensus on whether to require disclosure of the outside election spending unleashed by the Supreme Court. The commission split on partisan lines, with the three Democrats favoring disclosure and the three Republicans opposed. Democrats on the commission, who had attempted to create new disclosure rules earlier this year, cited the Court's affirmation of disclosure and the need for transparency in elections as reasons to implement disclosure requirements for the new money permeating the system.
The Republican commissioners released a statement that said "attaching new regulatory proposals to a rule-making under the guise of responding to the Court's holding was no more responsible today than it was in January."
John Wonderlich, the policy director at the Sunlight Foundation, a non-partisan, non-profit advocating for transparency in both government and elections told HuffPost, "Our campaign finance system is turning into a money-laundering system. Unless we fix our disclosure requirements it's going to become laughably easy to keep secret who is funding our elections."
Calling all HuffPost superfans!
Sign up for membership to become a founding member and help shape HuffPost's next chapter