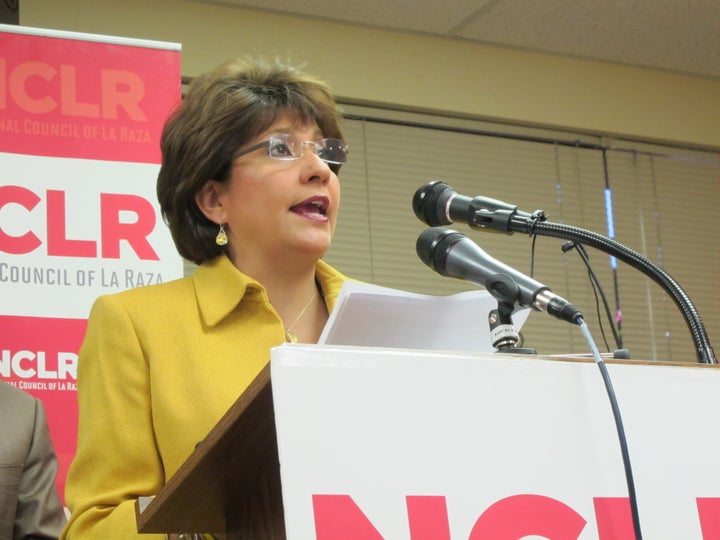 WASHINGTON -- A coalition of human rights groups and labor organizations will band together to push for a path to citizenship for undocumented immigrants, starting this week with events in eight states and continuing with a bus tour to 80 cities and a march on Washington, D.C.
The group, called Alliance for Citizenship, is aligned with 24 others, including the Service Employees International Union, National Council of La Raza, Church World Service, Center for Community Change, National Immigration Forum, AFL-CIO labor federation and Southern Poverty Law Center.
The idea behind the Alliance for Citizenship campaign announced Tuesday is to harness and grow support for immigration reform from outside Washington, where Latino voters and others can press their own lawmakers to move forward. So far, the group has collected 300,000 petitions calling for a pathway to citizenship.
Their top priority is a direct pathway to citizenship for some of the 11 million undocumented immigrants already living in the U.S., and that it be a clear path. But leaders told reporters on Tuesday they want to give space for Congress and the White House to work out details of how it would function.
"Right now, it wouldn't be helpful to us to interject ourselves with specifics along that," said Janet Murguía, president of Latino advocacy group National Council of La Raza. "We want this to be something that emanates from the process that has begun on the Hill or that is going to see itself work forward with the president."
Other work from the coalition groups has begun. SEIU spent $250,000 on a Spanish-language radio ad campaign that will run from Tuesday to Saturday. The ad encourages listeners to call their representatives and remind them of Latino voters' influence in the 2012 election.
"There are some in Congress who reject this bipartisan proposal," a voiceover says in the ad, as translated by SEIU. " They want to deny millions of hardworking Latinos a path to citizenship, keeping millions of Latino families in a state of uncertainty about whether they might still be separated ... But the power to make a difference is ours. They heard our voice in November -- they'll hear it again today."
This week, the Alliance for Citizenship will hold events in Illinois, New York, Arizona, Nevada, Colorado, Florida, Texas and New Jersey -- many of the home states of senators from the "gang of eight" immigration working group. The alliance will also hold meetings with other members of Congress, leaders said.
The bus tour will begin on Feb. 25. The campaign will culminate on April 10, when coalition representatives predict 10,000 or more immigration reform supporters will come to Washington to urge reform.
"The time for congressional action is now," Rev. John McCullough, president of Church World Service, told reporters Tuesday. "We rejoice that there is bipartisan agreement to move forward, and we pray that the Senate introduces an immigration bill in early March and moves swiftly and with resolve to prove that they can work together to solve issues important to this nation."
REAL LIFE. REAL NEWS. REAL VOICES.
Help us tell more of the stories that matter from voices that too often remain unheard.
BEFORE YOU GO
PHOTO GALLERY
Bipartisan Immigration Plan's Key Provisions