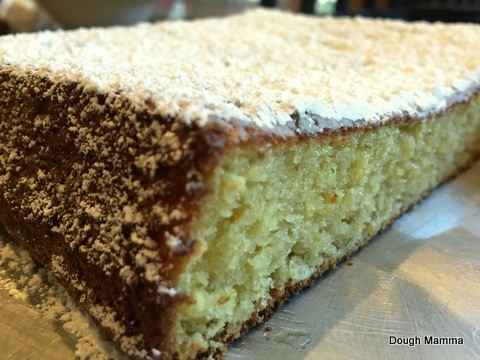 Some things in life are rather predictable. For instance, I know if I wear white, by 5:00pm my clothes will be stained. Or if I see a movie starring Ben Affleck, 9 times out of 10, it's going to suck. When Passover arrives each year, the most predictable end to a lovely Seder dinner, is unfortunately, very crappy desserts.
Though I adore coconut macaroons, they're really more of a sweet snack, than say a dessert you hold proudly in your arms just before you lay it on the dinner table. Most other Passover desserts include cakes made with matzo meal, which oftentimes are so dense, they'd be better utilized as paper weights, rather than offered as something edible.
Cooking sans flour, leavening and dairy sounds as appetizing as eating at a Sizzler's steakhouse, but trust me, I'm about to turn your world upside down with this amazing naturally flour-free recipe.
Referred to in Spain as "Tarta de Santiago," this cake dates back centuries ago. Decorated with a powdered sugar cross representing Saint James, this almond cake can be found near the Cathedral of Santiago de Copostela in Galicia, which houses the relics of the Apostle St. James. Here comes the twist, according to food writer Claudia Roden, there is a great likelihood this cake was originally created with Passover in mind.
Many Jewish people had settled in Coruna, a Galician city, after fleeing from the Berber Almohads' attempt to convert them during the 12th and 13th century. Coruna still houses a synagogue as well as a Jewish quarter today. Though some Jewish people had converted to save their lives, many continued to celebrate their Jewish traditions in covert fashion. Dusting over the cross with powdered sugar is one hypothesized attempt to enjoy a Passover dessert without conforming. Like most things in history that took place centuries ago, the true origins of this beauty will continue to be debated.
My father who always enjoys pointing out famous Jewish people, especially at inappropriate moments and loudly declaring pride over anything with Jewish origins, would love the idea; this delicious cake could potentially be a Judaic original.
I was skeptical when I first started researching various recipes: eggs, almonds, sugar and citrus? No butter, no flour, yuck! But alas, I could not predict this outcome, it was absolutely divine. Light, airy, with a nutty texture and citrus notes, I couldn't get enough. In fact, my husband and I demolished the cake before I could get any "tutorial" pictures of dusting powdered sugar designs. All of the cake's height and fluffy texture comes from whipped egg whites. Hubby likened the taste to a beignet, light and airy. I could see where he was coming from though I would describe it to be more like an angel food/orange cake hybrid. This cake requires no accompaniments, though whipped cream and/or berries are always a welcome addition to almost any dessert. For those who are interested in making their own matzos, check out last years' post here.
Chag Sameach (Happy Holidays)!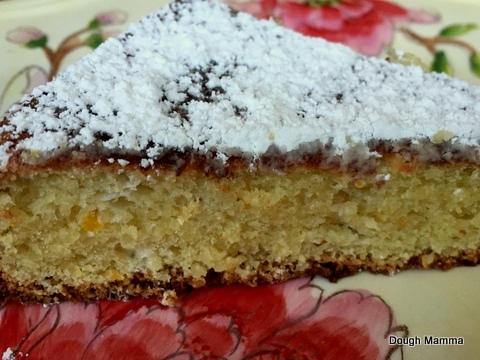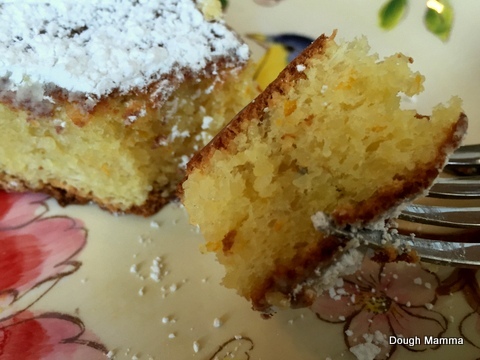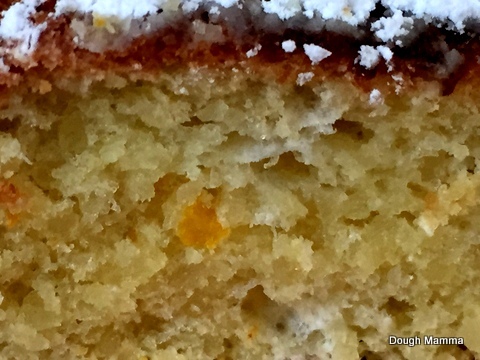 Title: Citrus Almond Cake
Author: Dough Mamma
Prep time: 35 mins
Cook time: 20 mins
Total time: 55 mins
Serves: 8
Notes: A few confessions here. One, this is very easy to make, though I have included a tutorial following the recipe for those who are unfamiliar with folding in egg whites. If you want to skip grinding your almonds, go ahead and buy almond meal. Use organic citrus since you will be using the zest. I packed my springform pans by accident so instead, I greased and lightly floured my brownie pan; then I put a piece of parchment paper on the bottom of the pan as well. I should have pulled my cake about 3 minutes earlier as it should be golden brown not chestnut brown, regardless, it still tasted divine. After 20 minutes, check your oven so your cake doesn't burn. Since all the volume comes from whipped egg whites, you want to be careful not to deflate your batter as you incorporate the egg whites, simply rotate your bowl a few inches every time you fold in. My egg whites filled my 5qt bowl and it took me a good five minutes to incorporate the entire bowl. Always make sure you use a clean bowl when whipping egg whites and make sure there is no grease on the bowl or the whisk. If you cant find caster sugar, you can grind regular sugar until it is a fine texture -- like artificial sweetener.
Ingredients
Citrus Almond Cake
8 oz blanched almonds
6 large eggs, separated, at room temperature
1 cup of superfine sugar (A.K.A. Caster sugar, found at whole foods and similar stores)
Grated zest of one lemon
Grated zest of one orange
¾ tsp of salt
⅛ tsp of almond extract (careful, a little goes a long way)
1 tsp of Grand Marnier *optional, but adds lovely hints of orange
Powdered sugar for dusting the top
Orange Simple Syrup *optional
¼ cup of orange juice (about 1 large orange)
¼ cup of sugar
Instructions
Preheat oven to 350 F. Grease and lightly flour a 10 inch springform pan, or see notes if you don't have a springform pan.

Ground almonds in a food processor until finely ground. Add salt and mix.

In a large bowl, using an electric mixer, beat the egg yolks with the sugar until smooth and pale.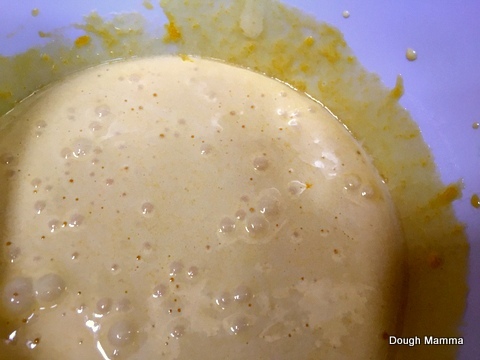 Beat in the zests, almond extract and Grand Marnier.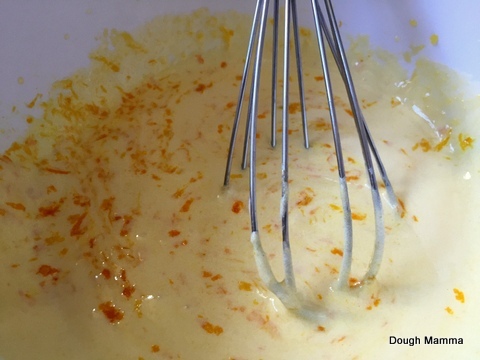 Set bowl aside.

In another large bowl, with clean beaters, beat the egg whites on full speed, until stiff peaks form. This egg whites will almost fill a 5qt bowl.

Taking about 1 cup's worth of whipped egg whites at a time, fold them into the almond mixture until all the egg whites have been incorporated.
Pour batter into prepared pan and bake for about 20-25 minutes, or until golden brown and the cake springs back when gently pressed.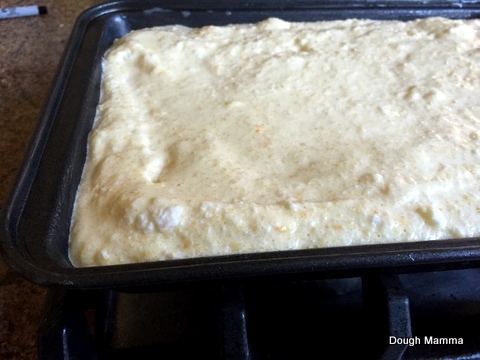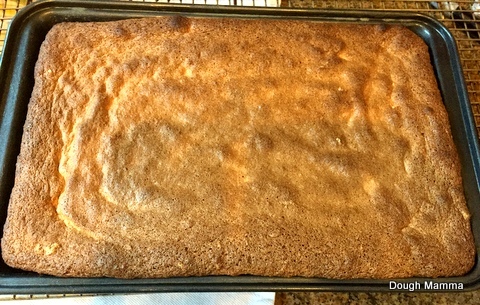 Allow to cool on wire rack in pan for 10 minutes. Take a butter knife and run around the inside of the pan to loosen cake if necessary. Carefully flip cake onto wire rack so that the cake bottom is now on top. An easy way to "flip" is to take the topside of the wire rack and place it on top of the cake and invert.
While your cake is cooling you can make your simple syrup. Heat orange juice and sugar in a small saucepan over medium heat until all sugar is dissolved. Remove from heat and allow to cool.
Once the cake has cooled completely you can add your simple syrup with a pastry brush if using. Allow to soak in for about 15 minutes before dusting with powdered sugar.
Store at room temperature in an air tight container.
Below are some ideas for powdered decorations demonstrated on paper instead of cake, because we inhaled the cake before pictures could be taken.