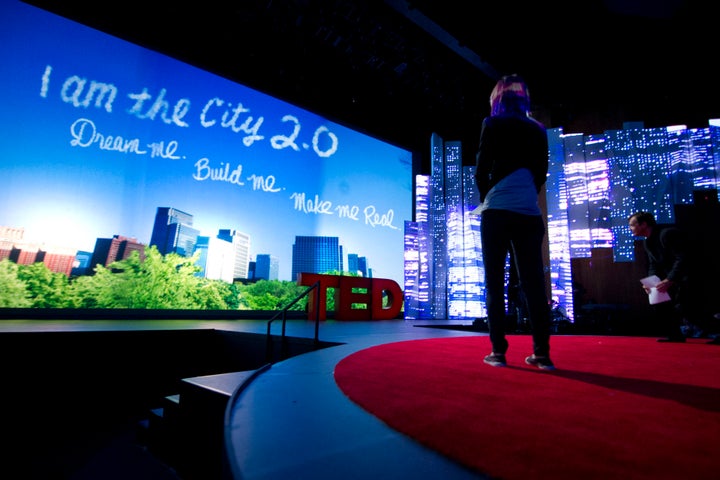 Many of us grew up seeing global urbanization as E.F. Shumacher did -- as possibly the deadliest trend facing the world.
We were wrong. Far from threatening humanity, cities are the key to building a future our planet can sustain.
We may think of them as overcrowded places. But actually, it is the growth of cities that may ultimately allay predictions of population Armageddon. Across the world, as people urbanize, family sizes fall dramatically.
We may think of them as polluted. But actually, the average carbon footprint per individual in cities is far smaller than that of those who live in suburbia and rural communities. People commute shorter distances, and by living on top of each other in smaller homes, heating and air-conditioning use per household is lower.
We may think with dismay of the teeming slums of the developing world. But as TED2012 speaker Ed Glaeser persuasively explains in his book Triumph of the City, it's not that cities create poverty. Rather, successful cities attract poor people, and in time, offer them a route out of poverty.
Urbanization may well be the planet's largest systemic change in centuries. In the next seven decades we'll have to build as much urban living space as in all of human history to date. That's the equivalent to a new city with a million residents, every week, for 70 years.
It's a daunting task, but also an amazing opportunity.
The rise of a new kind of city is inevitable. With each vote of a politician and choice of a citizen, transportation, energy, public space, housing and law are shaping a new urban future. But what will it look like? The creation and redevelopment of the world's cities offers us all -- citizens and leaders, amateurs and experts -- the ultimate design challenge. We must seize this moment.
Yesterday at TED2012, we granted this year's TED Prize not to a person, but to a big idea: the City 2.0. The city of tomorrow. And as part of that prize we're launching a new online platform. It will allow citizens around the world to connect with their neighbors and get to work re-imagining the cities in which they live. And it will allow visionary companies and organizations to share tools and resources to empower those grassroots efforts. The dream is to create cities where innovation, inclusiveness, health, soul and opportunity come together to reset the trajectory of the human race.
We invite mayors, architects, engineers, urban planners, nonprofits, multinational companies and ordinary citizens to use this platform. Already it offers some cool tools and the ability to connect with like-minded souls. But with your participation, it can become something truly amazing.
Just like cities, the TED Prize is based on the power of radical collaboration. Join us at thecity2.org. Tell us what you will contribute. Partner with other concerned citizens around you. Get started with building your own City 2.0.
Popular in the Community