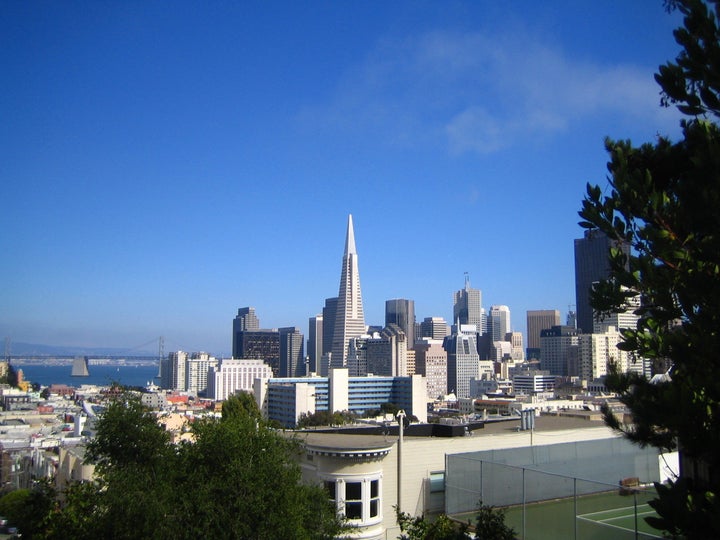 The accreditation commission that has threatened to sanction City College of San Francisco has cited the fact that 92 percent of the college's spending goes to salaries and benefits as a main factor in its financial problems - and community college district officials attribute the high percentage to a history of generous pay and benefits for employees, including faculty, staff and administrators.
While higher education observers say many community college districts have scaled back benefits for retirees in the last 20 years, City College has not, for the most part.
The California Community Colleges Chancellor's Office does not track districts' spending on salaries and benefits as a percentage of total expenditures in a way that is easily compared, making it difficult to say where City College's spending ranks.
"This analysis is something we don't do and have not done before because it is an area we don't administer or regulate," Fred Harris, assistant vice chancellor of college finance and facilities planning for the chancellor's office, said in an email.
In fact, while the chancellor's office keeps an eye on districts that are operating close to the fiscal edge, City College of San Francisco was not one of the districts the chancellor's office considered to be in fiscal crisis.
Harris said he was uncomfortable with City College's spending on salaries and benefits because, on average, these costs eat up roughly 85 percent of spending at community college districts in California. But he said it's an issue of local control that the chancellor's office doesn't manage.
"It's extreme, but the district has made that decision, and for us to go in and say, 'You're wrong,' is not necessarily our primary mission," he said.
Larry Kamer, a consultant hired by the district who is also serving as college spokesman, said City College of San Francisco has always had a big heart.
"It's always paid its instructors well. It has always put teaching and student services at the top of the list of priorities," Kamer said. "There are a couple issues that we'll have to look at, though, including how generous we can be moving forward."
The Accrediting Commission for Community and Junior Colleges has threatened to pull the college's accreditation if it does not make critical improvements to its finances, planning, assessment of student learning and more. Colleges must be accredited in order for students to get federal financial aid; without that ability, City College would be all but forced to close.
The 92 percent figure is just one piece of the commission's criticism of City College of San Francisco, but the commission's report [PDF] notes the figure is at the center of the institution's financial problems.
Because of that spending level, the college has little wiggle room to fund its future liabilities, including $36 million in other post-employment benefits. And the district has been operating at a deficit - expenditures are estimated to exceed revenues by $5.9 million this year.
David Wolf, former executive director of the accrediting commission and co-founder of The Campaign for College Opportunity, said spending 92 percent on salary and benefits puts a district's instructional health at risk.
"There's everything wrong with 92 percent going to salary and benefits," Wolf said. "You cannot run a coherent college spending your money that way."
Spending that way limits funds for new computers and other technology. Physics and chemistry labs need new technologies so students gain skills needed in the workplace, for example. It also hinders a college's ability to start new instructional programs, not to mention pay the bills, Wolf said.
"All smart managers know that once you get above 85 (percent), you begin to run into serious quality problems," Wolf said.
At the other end of the spectrum, salaries and benefits at the Kern Community College District in California's Central Valley make up an estimated 78 percent of the district's total spending.
The Kern Community College District has three colleges but is smaller than the San Francisco Community College District, with 37,000 students.
Kern's chief financial officer, Tom Burke, said that for at least the last decade, the board of trustees has set a goal of keeping salaries and benefits below 80 percent of expenditures.
After spending an estimated $84 million on salaries and benefits, Kern spends the next biggest chunk - $11 million - on services, utilities and operating expenditures, a category that includes not just the gas and electric bill, but also the cost of maintaining the district's technology, software licenses, and infrastructure and buildings.
By comparison, San Francisco, with 90,000 students and nine primary campuses, spends $10.8 million in that cost category.
Kern has scaled back health benefits over time. There's a cap on how much the district will pay for benefits, and the employee has to cover any premium costs above the cap. Faculty members, for example, have a cap of $1,140 for the current plan year.
There's also a two-tiered retiree health benefit system at Kern. Retirees who were hired before June 1988 are eligible for lifetime health benefits. For those hired after 1988, employees who have worked for the district for 15 years are eligible for retirement health benefits until they hit age 65, when they have to go to Medicare, Burke said.
At City College of San Francisco, full-time academic employees who have worked for the district for five years and have reached age 55 are eligible for lifetime district-paid health benefits when they retire. Steven Hale, employee relations manager for the district, said the majority of retirees worked at the college for much longer terms.
Non-academic employees hired before January 2009 are eligible for full lifetime retiree health benefits if they reach age 50 and have worked five years.
Because non-academic employees are part of the San Francisco Employees' Retirement System, they are subject to a 2008 city charter amendment that scaled back the benefits a bit for employees hired after 2009. To get the full employer contribution, these retirees must have worked for the district for 20 years.
For those non-academic employees who have worked 10 to 15 years, the college covers half of the full retirement benefit, Hale said.
Geoffrey Kischuk, an actuary who has consulted with City College of San Francisco and several other community college districts to help analyze their retiree health liabilities, said City College's benefits are unusually generous.
"Most of the districts in the Bay Area have changed their benefits or eliminated their benefits, in some cases more than 20 years ago," said Kischuk, who is president of Total Compensation Systems Inc.
A chancellor's office spokesman also said districts that offer lifetime health benefits to retirees would probably be in the minority.
At City College of San Francisco, health benefits for current retirees cost $6.7 million in 2011-12, according to the district's budget [PDF].
Trustee Steve Ngo said that's an area the district has to re-examine.
"You would have to construct a new regime that would bend that cost curve down in such a way that gets the district in, I believe, a fiscally healthier position. That requires negotiations with our units," he said.
City College of San Francisco also has been more generous with its adjunct instructors and part-time staff than its counterparts around the state.
For example, part-time instructors who have taught at least two semesters and are assigned to teach seven and a half hours or more of class per week are eligible for the same health and dental coverage as full-time faculty.
Similarly, part-time classified employees who work more than a certain number of hours per year and for several years in a row can receive full-time benefits.
Kern, by contrast, provides part-time employees who work at least half-time with a portion of the benefits based proportionally on the number of hours they work, Burke said.
Karen Saginor, president of the Academic Senate for City College of San Francisco, agreed that it's a problem that 92 percent of the district's spending goes to salaries and benefits. But she noted that faculty members have made efforts to save money on supplies and materials, and they have gotten grants to help pay for new technology.
"I bring in my own pens. We print double-sided on paper. We're very careful about turning off the lights and (not) wasting water," Saginor said. "There's so much that we've done to try to save money - the more money you have to spend on other stuff, the fewer classes you have for students."
Erica Perez is an investigative reporter for California Watch, a project of the nonprofit Center for Investigative Reporting. Find more California Watch stories here.
Calling all HuffPost superfans!
Sign up for membership to become a founding member and help shape HuffPost's next chapter