NEW YORK -- A large group of New York City Council members staged a "die-in" on the steps of City Hall Monday, before marching into the street and blocking traffic, all while chanting "I can't breathe!" and "Black lives matter!"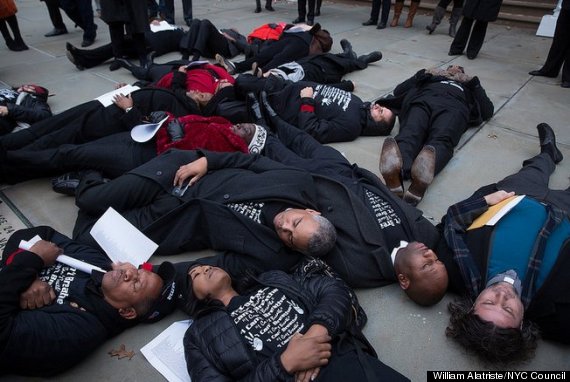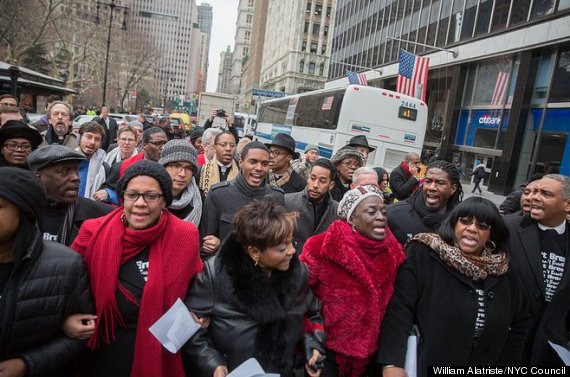 The protest mimicked the chants and demonstrations that occurred in New York City and across the country this week, in light of a Staten Island grand jury's decision not to indict the officer who put Eric Garner into a chokehold before the 43-year-old's death.
"I am Eric Garner!" about 25 council members screamed in unison Monday, while bringing traffic on Broadway to a five-minute standstill. The council members, joined by a large group of clergy from assorted faiths, read from a long list of victims of police brutality across the country.
The reading of the names brought council member Jumaane Williams to tears.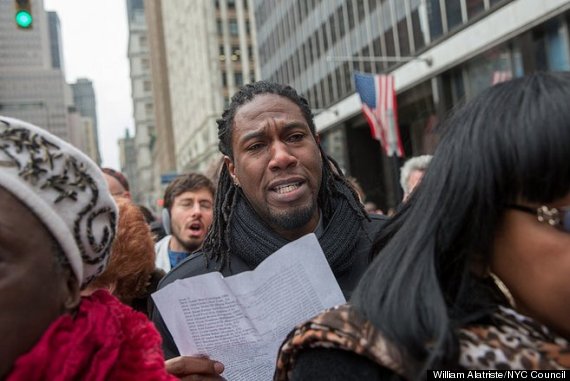 The council members -- many of whom were wearing "I can't breathe!" t-shirts -- chanted the words 11 times. It's the same number of times Garner repeated his dying words during an arrest for allegedly selling untaxed cigarettes this past July.
A video of the arrest shows NYPD Officer Daniel Pantaleo wrapping his arm around Garner's neck -- a chokehold maneuver that's banned under NYPD guidelines.
Marching back in through the gates of City Hall, the council members thrust their hands into the air and screamed, "Hand up! Don't shoot!"
"We've been shot and killed as dogs," council member Andy King told reporters. "We will no longer tolerate it."
Council member Antonio Reynoso told The Huffington Post that the group planned the protest just this morning. "The council's standing together, knowing that we have the power to make a difference," he said.
Last month, Reynoso was a lead sponsor of the Right to Know Act, which would require NYPD officers to identify themselves when stopping a person on the street, and to explain the reason for the stop. The bill would also require police to make people aware that they have a constitutional right to refuse a search if there's no legal basis for it besides consent.
Council member Rory Lancman told HuffPost that Monday's demonstration is the beginning of a new oversight process that will reform "every aspect of police and community relations in the city, from the broken windows strategy to interactions between police and young men and of color, to how these cases are handled in the courts."
"We need to have active investigations of misconduct and hold people accountable," he added.
Lancman introduced a bill last month that would make police chokeholds illegal. He said support for the bill is "gaining steam" after the Garner grand jury decision.
As council members marched back inside city council chambers, the clergy led them in singing songs including "This Little Light Of Mine" and "We Shall Overcome."
Once inside the chambers, the council members put their hands up to their necks in a choking motion.
"There are too many unarmed people of color dying as a result of over aggressive policing," the council's Black, Latino, and Asian Caucus said in a statement after the demonstration. "We will work with our state and federal legislators and the Office of Mayor Bill de Blasio to hold the NYPD accountable to change."
"Earlier today, [New York] Attorney General Eric Schneiderman told us that we are the only country in the world that utilizes a grand jury system," the statement continued. "We are seeing, time and time again, that grand jury decisions do not reflect the voices of our local communities. The lives of Blacks, Latinos, Asian and many other minorities are devalued and not represented when we don't hold police officers accountable for negative actions. We came together collectively from all walks of life to say: Black Lives Matter!"
Calling all HuffPost superfans!
Sign up for membership to become a founding member and help shape HuffPost's next chapter