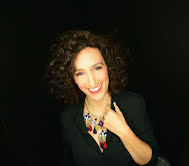 Why would an Italian jazz singer from Staten Island and New Jersey create a show that celebrates the music of a country legend from Texas? Gabrielle Stravelli shared the story behind her love for Willie Nelson's music during her recent show at New York City's Birdland Jazz Club: It all started years ago when her sister took her to hear Nelson at the Garden State Arts center in Holmdel, New Jersey. They were sitting in the cheap seats, way up on the hill. Willie sang "Always on My Mind," she began crying, and a lifelong fan girl was born.
Stravelli's Birdland performance on September 24 marked the debut of her salute to Nelson, aptly titled "City Girl, Country Boy." Each of the 14 songs in the set was written, co-written and/or recorded by the legendary artist. From the moment she first burst on to the stage with an up tempo medley of "Lady Luck" and "If You've Got the Money, I've Got the Time," Stravelli, a petite dynamo in a chic black pantsuit accented by a large silver and turquoise statement necklace, engaged and enthralled the audience with her clear, self-assured voice and warm, infectious smile. Above all, Stravelli is a singer who honors the lyrics. Willie Nelson once described country music as "Three chords and the truth." Stravelli gets that and she brilliantly conveys the emotional truth—whether joy, or in the case of so many country tunes, heartbreak—behind each song.
Stravelli's second number was "Butterfly," a ballad from Nelson's 72nd studio album, the 2017 God's Problem Child, and it was a show highlight. Her rendition was slow, twangy, and poignant, conveying the wistfulness of the lyrics: "Butterfly, do you ever get to stay? Or do you always fly away? Pretty butterfly. I have held you with tender, gentle hands. But you're complicated, and I don't understand." Accompanied by Scott Robinson's lilting flute, the song created a sweet, moving moment.
The song choices in "City Girl, Country Girl" spanned over five decades of Nelson's work, with the above-mentioned "Butterfly" as the most recent, back to one of his earliest, lesser-known tunes, "Three Days" (released in 1962). Stravelli's version, underscored by terrific solos on the drums (Eric Halvorson) and sax (Scott Robinson), was as bluesy as it gets, the perfect choice for the tune's "I got it bad"-type lyrics: "Three days that I hate to see arrive; Three days that I dread to be alive; Three days filled with tears and sorrow; Yesterday today and tomorrow."
Two additional highlights of the Birdland show were a pair of Nelson's best known, most popular songs, the beloved Hoagy Carmichael standard "Stardust" and the honky tonky favorite "Mamas Don't Let Your Babies Grow up to be Cowboys." Stravelli''s "Stardust" was a pivotal moment in "City Girl, Country Boy." It began with her singing in a slow, bluesy, a cappella, accompanied only by her luminous smile and almost rhapsodic facial expression. Then Robinson joined in with a gorgeous, audience-pleasing sax solo. "Stardust," one of Willie Nelson's most celebrated performances, provided the title song for the quintuple platinum 1978 crossover album of jazz standards that launched him to genre-defying superstardom. Later in the show, Stravelli put a very personal spin on "Mamas…"—a very fast, upbeat, jazzy version that included extensive, joyful scatting and a swinging sax solo that got the audience on its feet. The band seemed to enjoy playing the number as much as the audience enjoyed bopping along.
Stravelli closed the show with the tune that brought her to tears years before as a young girl in New Jersey—Nelson's most recorded song, "Always on My Mind" (written by Johnny Christopher, Mark James and Wayne Carson). Accompanied only by Joshua Richman on piano, Stravelli once again showcased her ability to honor the lyrics, artfully conveying the sentiment behind the words, as many audience members quietly sang along:
"Maybe I didn't hold you All those lonely, lonely times I guess I never told you I'm so happy that you're mine
Little things I should have said and done I just never took the time But you were always on my mind You were always on my mind"
R&B legend Otis Redding once gave the following advice to his fellow singers: "Always think different from the next person. Don't ever do a song as you heard somebody else do it." Performing works closely identified with as legendary an artist as Willie Nelson comes with a great risk of trying (and perhaps failing) to recreate the popular originals. However, for a true artist, the challenge is to use the original work as a starting point, as a canvas on which to paint one's own creative vision. In "City Girl, Country Boy," Gabrielle Stravelli, a brilliantly talented artist in her own right, succeeds in creating completely new works of art while honoring Nelson's achievements.
Musicians accompanying Stravelli in "City Girl, Country Boy" were: Joshua Richman (piano), Pat O'Leary (bass/musical director/arranger), Eric Halvorson (drums), and Scott Robinson (Woodwinds).
Gabrielle Stravelli's most recent album is Dream Ago, featuring her original songs, available on the Big Modern Music label. For more information: www.GabrielleStravelli.com
REAL LIFE. REAL NEWS. REAL VOICES.
Help us tell more of the stories that matter from voices that too often remain unheard.
This post was published on the now-closed HuffPost Contributor platform. Contributors control their own work and posted freely to our site. If you need to flag this entry as abusive,
send us an email
.