CLEVELAND, April 25 (Reuters) - Cleveland officials have agreed to pay $6 million to settle a lawsuit filed by the family of Tamir Rice, a 12-year-old black boy who was shot dead by a white police officer in 2014, according to documents filed in federal court on Monday.
The city admitted no wrongdoing in the shooting and Rice's family agreed to drop the complaint against two officers, including the one who shot the boy, U.S. District Judge Dan Aaron Polster, who mediated the settlement, said in the documents.
Rice was shot in a local park by Timothy Loehmann after he and another white officer, Frank Garmback, responded to reports of a suspect with a gun. An investigation revealed that Rice, who died a day after the shooting, had been seen holding a replica gun that shoots plastic pellets.
The shooting was one of several that have fueled scrutiny of police use of deadly force, particularly against minorities.
"Although historic in financial terms, no amount of money can adequately compensate for the loss of a life," Subodh Chandra, the Rice family's attorney, said in response to the reported settlement.
"It is the Rice family's sincere hope that Tamir's death will stimulate a movement for genuine change in our society and our nation's policing," he added.
Officials with the city and police union could not immediately be reached for comment. The two officers have been on restricted duty since the shooting and will remain so through an internal police review.
The American Civil Liberties Union said the case highlighted the need to reform the criminal justice system.
"Settlements are no substitute for the reforms so desperately needed in Cleveland," Christine Link, executive director of the ACLU's Ohio chapter, said in a statement.
"The web of laws and practices that prevent accountability for police misconduct needs to be taken apart and replaced with concrete solutions to eliminate racial bias in the justice system," Link added.
Rice's family filed its lawsuit against Cleveland and the officers two weeks after the shooting. They had also demanded the officers be charged, a special prosecutor handle the case and the U.S. Justice Department investigate.
In December, a grand jury declined to bring criminal charges against the officers.
Settlement talks began in early March, court documents said.
Under settlement terms, which must be approved by a probate judge, Rice's estate will receive $5.5 million and Rice's mother, Samaria, and his sister will each receive another $250,000, the documents said.
(Reporting by Kim Palmer; Writing by Ben Klayman; Editing by Bernadette Baum and Paul Simao)
Before You Go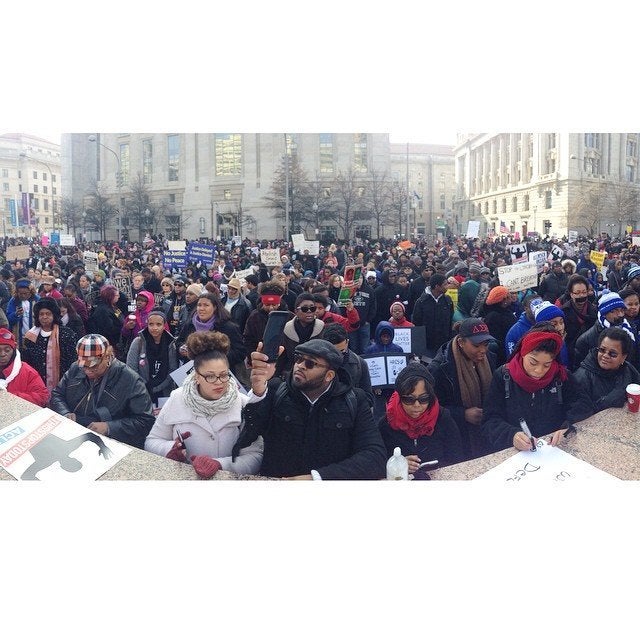 Powerful Black Lives Matter March In Washington
Popular in the Community