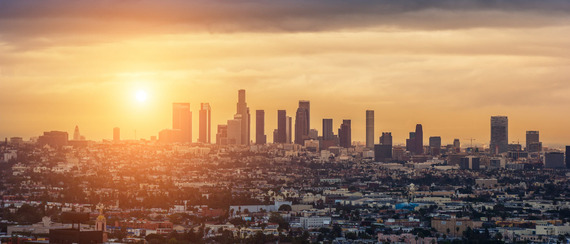 Nobody Loves Los Angeles more than Pulitzer Prize-winning food critic Jonathan Gold. City of Gold, the new documentary by Laura Gabbert about Mr. Gold, is a passionate love letter to L.A. The film takes us on a ride-along with Gold, a charismatic, soulful and adventurous lover of world culture. Following Gold, we meet vibrant individuals who bring their cultures in simmering pots and pans to the kitchens and food trucks of Los Angeles, the most diverse city in America. In fact, the top 5 most diverse cities are all in California. But what makes L.A. really special, is that L.A. is less of a melting pot than a "mosaic" as Gold calls his city. Unlike other cities that spread into generic suburbs from a downtown, we have grown from vastly different communities into one sprawling whole where the communities have kept distinct essences. If you are willing to travel, and in L.A. that means being in traffic (public transportation is just re-materializing after L.A.'s multi-decade love affair with the automobile), you can visit a cultural approximation of many different countries in a day. Just as you can ski in the morning and surf in the afternoon in Los Angeles, you can also visit Korea Town, Little Ethiopia, Tehrangeles, Alhambra's Chinese Mecca, and more within a day's driving.

I am not an L.A. native like Gold, but I've been here since 1990. That's long enough to have lived through several earthquakes, including the big Northridge Quake, and many cultural quakes as well, including the L.A. Riots that erupted in 1992 after the not guilty verdict in the police beating of Rodney King who famously uttered, "Can't we all just get along?"

Yes L.A. has its problems. We have the number one homeless population in America. Many of those living on the streets are veterans left with nothing after their service. We have terrible smog, ocean pollution and coastal development threats. And as pollution gets worse, the agencies governing the air resources and coastal development have both just fired their directors in order to become more "industry friendly" and less environmentally protective.
But we have great culture. In fact, Los Angeles is arguably catching up to New York City as a center for the visual arts. We gave America music as diverse as our population from The Beach Boys to Ozomatli to Kendrick Lamar. Hollywood film has captured the colorful spirit of California from Bruce Lee to Straight Outta Compton. And the Food! City of Gold celebrates our incredible culinary riches. No other city could have produced UCLA alum Jonathan Gold, a culturally aware, Pulitzer Prize-winning author with enough great cuisine to keep him writing at an astonishing pace and with enthusiasm and novelty for decades about food he often finds in mini malls and food trucks.
So what if Trump's vision of America becomes reality? What would happen to the City of Gold? What if we kicked out "the immigrants?" (I understand Trump means to eject not the Europeans like himself -- mother from Scotland/father of German heritage -- and his Russian wives, but the immigrants from Mexico and further south.) Not only would we lose most of the people who grow our world famous produce, but we would lose a lot of the most delicious dishes that make us love L.A., like our mole! Worst of all, the false ideal of returning to some mythical homogenous past when America was "Great," could inspire increased racial hate and warfare leading to homegrown terrorism, attacks from abroad and more homeless veterans.
What makes America Great is what makes Los Angeles Great. Our strength is in our diversity. We are a part of the great web of life, and just as humans can't survive without bees or phytoplankton, we can't survive as a species if we kill each other over the color of our skin, our country of origin, or how we pray. Los Angeles, a glimmering city perched between the ocean and mountains, is a city with immigrants from every place on earth. Los Angeles is precious, as precious as gold. Thank you Jonathan Gold for savoring our city. I don't want to eat white bread and Velveeta while listening to Musak in the smog. I love L.A. just like Gold.
Calling all HuffPost superfans!
Sign up for membership to become a founding member and help shape HuffPost's next chapter