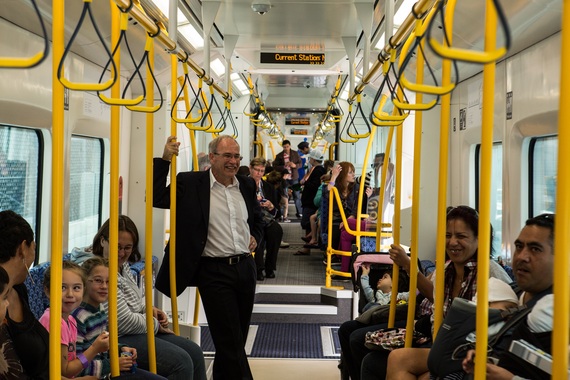 New Zealand's biggest city has come into its own.
After being united as one super city five years ago - the largest local authority in Australasia, responsible for a population of 1.6 million - Auckland has leveraged its economies of scale and experienced radical transformation.
A Housing Accord with the New Zealand government is delivering a stock of affordable, quality housing choices. Auckland is gaining an international reputation for successful major events and last year attracted 2.1 million international visitors. The city is on the way to building a world-class transport system - at the heart of which will be the City Rail Link, a 3.4km tunnel which will at last connect Auckland's fragmented suburban rail network.
To achieve what we have in five years, we've had to overwrite six decades of historic underinvestment and misguided thinking. Proposals for a rapid rail network dating as far back as the 1920s were successively shot down by councils and governments of the day, who instead saw promise in sprawling motorways.
Only increasing the need for greater transport investment is our growing traffic congestion, a problem compounded by Auckland's isthmic geography; not to mention ever-increasing numbers of tourists and migrants.
As the first mayor of a united Auckland, my biggest priority has been getting Auckland moving. The achievements of the first Auckland Council have been nothing short of phenomenal. The arrival of our first fleet of electric trains and the advent of region-wide integrated ticketing will allow for seamless travel between rail, buses and ferries. The crowning jewel in Auckland's burgeoning 52km cycleway network - the magenta-coloured Te Ara i Whiti or Lightpath, on what was a redundant off-ramp in the middle of Auckland's biggest motorway interchange - opened last month to local acclaim.
What will truly revolutionise Auckland, and unlock the potential of our whole transport network, is the City Rail Link - the most ambitious, critical and transformational infrastructure project undertaken since a motorway bridge was built across the Waitemata Harbour more than 50 years ago, linking the city with Auckland's North Shore and triggering decades of urban development that continues to this day.
The rail link will significantly increase the frequency, reliability and speed of Auckland's suburban train network.
It is as much about transforming our mass transit as it is about boosting business, creating jobs, and promoting environmental sustainability. The rail link will move more people out of their cars and into public transport, resulting in cleaner air and water, which in turn will dramatically reduce our vehicular greenhouse gas emissions and lessen the estimated 120 annual air pollution-related deaths in Auckland.
Its economic benefits can't be underestimated. The Auckland city centre is New Zealand's engine room - the nation's largest, fastest growing and most productive employment precinct. 52 per cent of Aucklanders already commute to the city centre by public transport, and the arterial roads feeding the CBD have long since hit saturation point. Public transport and walking and cycling are the only ways to build the city workforce.
Providing for job growth in the city centre is critical to Auckland's economic future. Over the past two years, Auckland's economy has grown at an extra $3 billion a year, adding about 35,000 new jobs annually.
Concentrating certain types of employment in the city centre, however, is crucial to maximising its economic value to all of Auckland. The private sector is planning and constructing new office developments able to accommodate 22,000 employees in the city centre over the next six years - extra workers whose transport needs must be catered for.
Undertaking a generation's worth of change in five years has seen patronage soar - rail increasing by 60 per cent - and Aucklanders embrace a new attitude towards transport, connectedness and their everyday lifestyles.
Auckland has not seen anything quite like the City Rail Link in terms of scale, audacity and potential. It will rejuvenate and connect many parts of greater Auckland and unlock the productivity of our inner city, allowing us to be internationally competitive for jobs and investment.
Not only does the rail link signify a radical shift in local thinking around transport and mobility, but it is quite clearly vital to Auckland's move onto the global stage as an authentically world-class, liveable city.
Photo: Mayor Len Brown on board one of Auckland's new electric trains.
REAL LIFE. REAL NEWS. REAL VOICES.
Help us tell more of the stories that matter from voices that too often remain unheard.