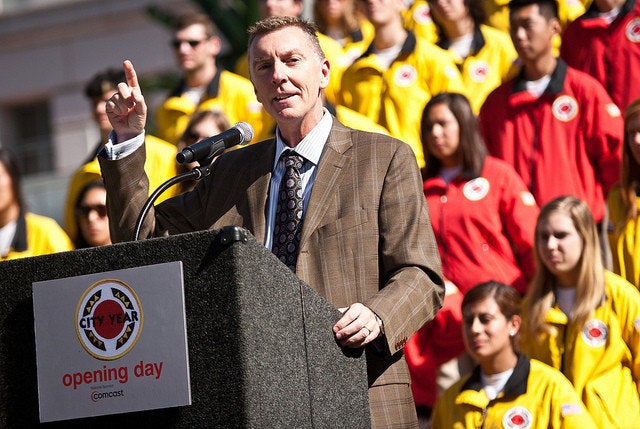 For the first time this week, the Occupy LA protesters weren't the most radical presence at City Hall agitating for change and social reform.
Instead, that honor goes to the folks at City Year Los Angeles, who celebrated their fifth year of service with the Los Angeles Unified School District with an opening ceremony on the south lawn.
For those who have yet to see those distinctive red and yellow windbreakers around town, City Year Los Angeles is an education non-profit that pairs young educators-in-training, mostly high school and college graduates, with some of the lowest performing schools in the LAUSD. These corps members give ten months of their life to the schools they're assigned to, often putting in 12 hour days tutoring and mentoring students at high risk for dropping out. Their paycheck? $11,000 a year. Now that's radical.
LAUSD superintendent John Deasy was on hand to mark the occasion, telling the 210 new corps members that "the more than 700,000 youth in LA are surrounded by an opportunity; and that is you." Mayor Antonio Villaraigosa was also there to celebrate the new school year, saying, "every time I come, I can tell you that I walk away more inspired, more hopeful and optimistic about America's future."
The press release details some impressive data about the effectiveness of the City Year corps program. At John Liechty Middle School, 93 percent of students tutored by the corps members improved by at least one letter grade. 100 percent of elementary teachers agreed that corps member tutors improved their students's language arts performance, as did 88 percent of all teachers district wide.
The one-on-one attention from a "near peer" like a City Year corps member can make a huge different in a student's life. The organization is young, but they're already seeing dramatic statistics that affirm their program of intensive tutoring and personal mentoring. 76% of students John Liechty Middle school passed math in 2010, up from 30% the year before. 70% of students at Breed Street Elementary School can now read at grade level, up from just 46% when City Year first started working at that school.
Currently, Los Angeles' high school drop out rate is 20.3 percent. Statewide, the rate is 18.2 percent, and the future for students who drop out is dire.
According to NPR, they are twice as likely to be unemployed, will earn $200,000 less than a high school graduate, and they're more likely to commit crimes and live in poverty. Then there's their toll on government budgets: "dropouts cost federal and state governments hundreds of billions of dollars in lost earnings, welfare and medical costs, and billions more for dropouts who end up in prison."
Anyone who's fighting against that tide knows that it's an uphill battle, and that they'd better be in it for the long-haul. Is there any way we can send these radicals a pizza?
Photos by Elliot Haney, courtesy of City Year Los Angeles.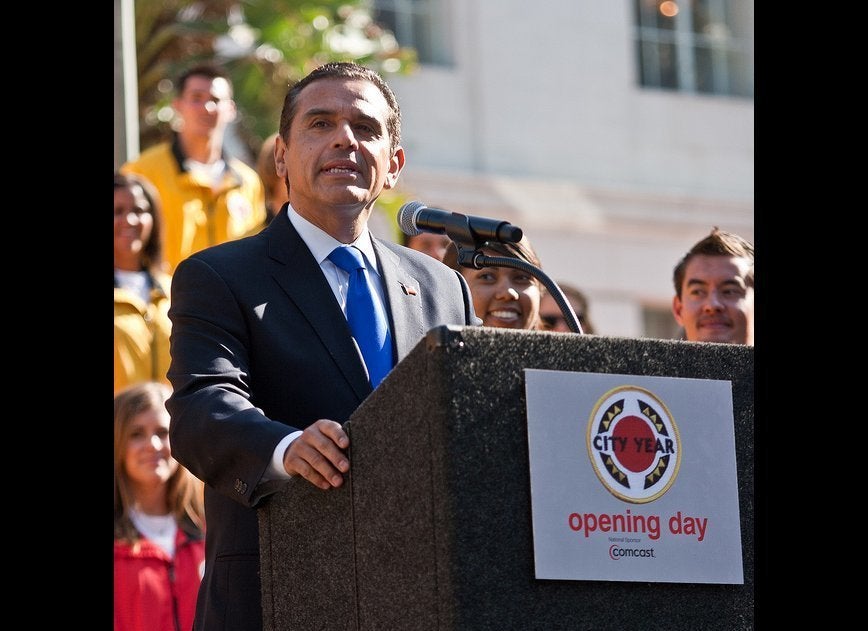 Popular in the Community