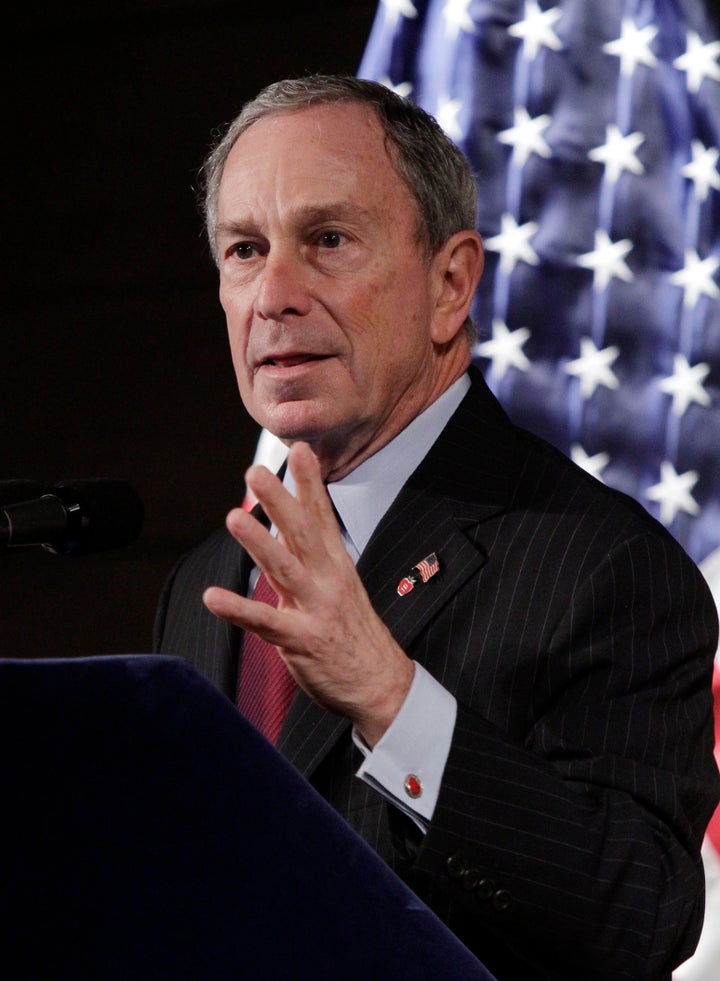 Michael Bloomberg has always yearned to be remembered as one of the great New York mayors -- maybe the greatest. Now, thanks to a monster City Hall scandal, the central bragging right of his administration -- Bloomberg's savvy businessman-approach to governing -- is teetering.
The scandal is known as CityTime, and it involves hundreds of millions of dollars stolen or wasted from beneath the mayor's slumbering nose. (If you think New York is the city that never sleeps, think again.)
Bloomberg needs to be forthright with his constituents about how this all happened. But it's taken him eons to even admit that CityTime -- a disaster- and fraud-ridden project to strengthen the city's payroll system -- was a bad idea. Recently, the mayor snapped out of it long enough to ask the prime contractor to give back the $600 million or so that the city has dropped on the operation.
New York is, of course, no stranger to graft. But it's been a full quarter of a century since the last major corruption scandal. Queens Borough President Donald Manes committed suicide and Bronx Democratic boss Stanley Friedman was sent to prison over a scheme to win a city contract for a company that allegedly made hand-held computers. Even though he had no personal involvement, the scandal seriously damaged the reputation of Mayor Ed Koch, then in his third and final term.
But the scale of the corruption in 1986 --- hundreds of thousands of dollars in bribe money - has been dwarfed by CityTime. The federal government has charged that the project was looted by everybody and his mother.
Believe me, folks, this is not hyperbole. Court papers filed by the U.S. Attorney's office show that the mom of one of the main suspects did a bit of maternal money-laundering. She jumped into her car every two weeks for stops at numerous ATMs, where she typically withdrew $500 or $1,000 in cash, making sure to keep well below the $10,000 mark where banks must report customer transactions. Eventually, the energetic lady hit 500 ATMs for $250,000.
But that was mere walking-around money. Her son, Mark Mazer, is accused of taking more than $25 million in kickbacks in addition to the $4.4 million he pulled down in salary from the CityTime project. His job? Mazur was the cop on the beat -- an outside contractor who was supposed to keep a close eye on the other outside contractors who were performing the work.
The city calls this "quality assurance."
To understand how the scam worked, let's start near the bottom with "Consultant One," a CityTime worker interviewed by city investigators and the feds. She earned $20 an hour to perform routine clerical tasks. However, the city was billed $163.47 an hour for her efforts.
And this massive haul wasn't enough. After about two years on the job, "Consultant One" was fired and told she could earn two weeks of "severance pay" by signing two blank time sheets. The government says that by adding those two bogus weeks of work, Mazer and his alleged co-conspirators were able to rake in an extra $12,000.
Now think about the fact that more than 300 "consultants" were working on CityTime when the project hit its peak. Add the timesheet swindle to the outrageously inflated salaries that were paid and you get a picture of major-league graft and corruption.
The thefts took place over a seven-year period from 2003 to 2010, and became bolder as the years passed. A $63 million project mushroomed into a $650 million boondoggle
All this to stop janitors, typists and other city workers from cheating on their timesheets. The technological jewel of the CityTime system is the "biometric hand scanner," an Orwellian-sounding device intended to keep track of workers' time. When Mazer learned -- to his evident horror -- that several CityTime consultants were using the devices to keep track of their own time, he ordered an immediate halt to the practice.
The payroll reform project was originally started in 1998 under then-Mayor Rudy Giuliani, but the blame for it going off the rails has to be dumped on Bloomberg's door. Complaints about CityTime surfaced as early as 2003. Unions representing city employees complained loudly about the new system itself as well as the inflated salaries that were going to numerous "consultants." So did the union's allies on the City Council. By 2009, complaints about the program had surfaced in the Daily News.
Still, nothing happened. That was because CityTime had powerful backers who included the mayor, his budget chief Mark Page and Joel Bondy, the director of the Office of Payroll Administration (OPA). Page, a long-time power in state and city government, saw it as a way to control both overtime and pension costs. His supporters suggest that he regarded union complaints as a howl from city employees being stripped of their ability to game the system. Bondy was directly in charge of CityTime, and the most generous thing one can say about him is that he was deeply, deeply clueless.
Testifying publicly before City Council committee in December 2009, Bondy -- who had been Mazer's supervisor when the two men worked for the city's child-protection agency -- stoutly defended CityTime and described Mazer's "quality assurance" work as "invaluable."
City employees later interviewed by the feds said Mazer appeared to be calling many of the shots on CityTime, and that he attended meetings as a representative of the Office of Payroll Administration rather than as an outside consultant. (The OPA had an employee who was supposed to be managing CityTime, but Mazer dealt directly with Bondy.)
And on it went, while the city sent Bloomberg on to a second, and then third term as the mayor who knew how to make New York work. Sure, he wasn't exactly loveable, but it was worth it to get an efficient, cost-effective government. Right? Right?
Meanwhile, the prime CityTime contractor, Science Applications International Corp. (SAIC) received more than $600 million from the city. SAIC's project chief, Gerard Denault, is accused of taking $9 million in kickbacks. SAIC's systems engineer, Carl Bell, took more than $5 million and has already pleaded guilty to doing so.
Much of the bribe money flowed through Technodyne, a subcontractor hired by SAIC and headed by an Indian-American husband and wife team, Reddy and Padma Allen. (The Allens have fled to India to avoid prosecution.) SAIC pumped $450 million into Technodyne, and the grateful Allens responded with a shower of illegal cash for Denault, Bell and Mark Mazer, according to the government.
In return, investigators say, Denault, Bell, Mark Mazer and the Allens worked together to pad the CityTime payroll and prolong the project.
The Allens shipped at least $50 million to companies they controlled in India. Part of it was then wired back to the U.S. to shell companies controlled by Denault and Bell. Mazer was paid off through a larger web of shell companies.
Things finally began to unravel about a year ago when an unhappy CityTime consultant who been fired went to the city's Department of Investigation and blew the whistle. DOI began its own probe and the feds were brought into case. Federal indictments were returned about six months ago. Bondy resigned, but no charges have brought against him.
And what was the reaction of our cost-conscious mayor to this massively expensive mess? "Nothing goes without some problems, whether it's in your family, your company, your government, the world. On balance, New York City is -- and I'll still stand by this in spite of this -- relatively corruption- and crime-free," Bloomberg said cheerfully.
His mood seems to have grown less rosy and upbeat with the recent disclosure of more details in the case and a second round of indictments. But the city deserves more than a grumpy demeanor. Bloomberg needs to talk frankly about how such a mess happened on the watch of a mayor who's supposed to be a great manager -- particularly of things financial.
It might not make him feel better. But at least he'd be educating us in how to make sure that when the next scandal hits, it doesn't involve billions.
Popular in the Community