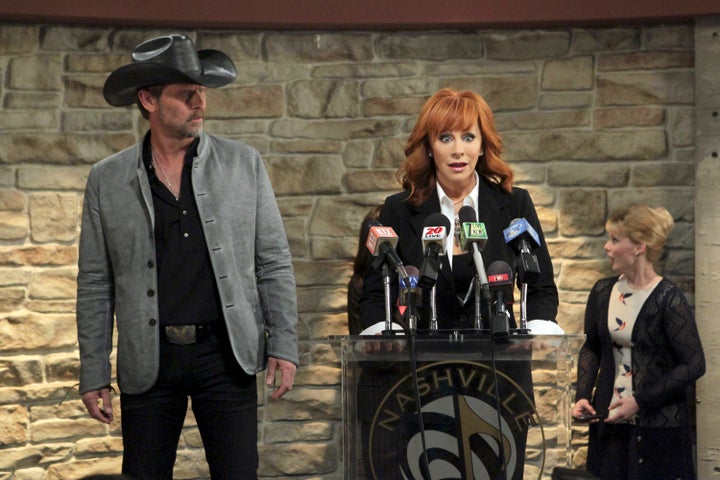 Now that U.S. upfronts are over and the new and returning shows have been announced, it's the Canadian networks' turn to fight for shows that'll air in the 2012-13 fall season.
Citytv was up first, and quickly made it known that bringing the funny was their main goal -- the network has filled six of seven nights with comedy blocks. But don't count out dramas just yet. Citytv also added four new dramas to their lineup.
Mondays might be City's strongest day, simulcasting with CBS for the first half of the night. "How I Met Your Mother" kicks off at 8 p.m., followed by the new comedy "Partners" and the second season of "2 Broke Girls." "Don't Trust the B---- in Apartment 23" follows the three CBS sitcoms, and NBC's "Revolution" (from J.J. Abrams and Erik Kripke) ends the night.
Article Continues After Slideshow! [All Captions Written By Chris Jancelewicz]
PHOTO GALLERY
Citytv Fall 2012 TV Preview: New Shows
City's Tuesday is dominated by Fox, with "Raising Hope," "Ben and Kate," "New Girl" and "The Mindy Project," beginning at 8 p.m. ABC's "Private Practice" will continue to air at 10 p.m.
The second season of ABC's "Last Man Standing" moves to Fridays, followed by the Dan Harmon-less "Community" at 8:30 p.m. The final season of "Fringe" will air in its usual 9 p.m. timeslot with repeats of "Mantracker" capping off the night.
Reba McEntire's new comedy, "Malibu Country," kicks off Sunday nights, followed by "Happy Endings." City will simulcast ABC's hit series "Revenge," which moves to its new day and time, leading into the creepy-sounding thriller "666 Park Avenue."
Overall, not bad. As a "Happy Endings" fanatic, I'm saddened to see it on family-friendly Sunday nights since, let's face it, it isn't the most family-friendly show. ABC's got it right, pairing "Don't Trust the B" and "Happy Endings" on Tuesday nights, but I guess there was only so much City could do. (Asking them to drop "2 Broke Girls" -- which I can't stand, due to its predictability factor and ba-dum-bum delivery -- from its lineup is out of the question, I suppose.)
City's midseason will feature new series "Hannibal," the "Sex and the City" prequel "The Carrie Diaries," "1600 Penn," "The Goodwin Games" and "How to Live With Your Parents (For the Rest of Your Life)."
Over at City's sister station, OMNI, "Rules of Engagement" (one of my favourites -- don't judge me) will begin its syndication stint and air weeknights at 7 and 7:30 p.m., while "Rock Center With Brian Williams" will air on Thursday nights at 10.
The Rogers stations are also upping their talk show quotient, with "The Late Late Show With Craig Ferguson" heading to OMNI and "Jimmy Kimmel Live!" airing on City, along with Katie Couric's new daytime show, "Katie."
The complete Citytv primetime schedule (in ET):
8 p.m. How I Met Your Mother
8:30 p.m. Partners
9 p.m. 2 Broke Girls
9:30 p.m. Don't Trust the B---- in Apartment 23
10 p.m. Revolution
8 p.m. Raising Hope
8:30 p.m. Ben and Kate
9 p.m. New Girl
9:30 p.m. The Mindy Project (s, Fox)
10 p.m. Private Practice
8 p.m. The Middle
8:30 p.m. Suburgatory
9 p.m. Modern Family
9:30 p.m. The Bachelor Canada
8 p.m. 30 Rock
8:30 p.m. Parks and Recreation
9 p.m. Person of Interest
10 p.m. Scandal
8 p.m. Last Man Standing
8:30 p.m. Community
9 p.m. Fringe
10 p.m. Mantracker
8 p.m. The Bachelor Canada (repeats)
9:30 p.m. Less Than Kind (repeats)
10 p.m. Murdoch Mysteries (repeats)
8 p.m. Malibu Country
8:30 p.m. Happy Endings
9 p.m. Revenge
10 p.m. 666 Park Avenue