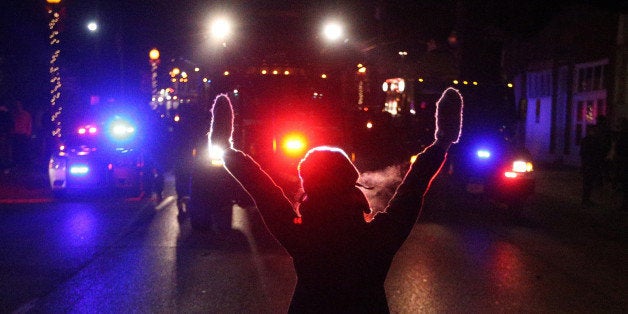 Brought by German journalists Ansgar Graw, Frank Hermann and Lukas Hermsmeier, as well as The Intercept's Ryan Devereaux, the suit accuses Ferguson police of battery, false arrest and unreasonable search and seizure.
"This unlawful conduct was undertaken with the intention of obstructing, chilling, deterring, and retaliating against Plaintiffs for engaging in constitutionally-protected speech, newsgathering, and recording of police activities," the complaint reads.
The complaint details how Devereaux and Hermsmeier were shot at with rubber bullets by police officers after raising their hands in the air and clearly identifying themselves as members of the press. According to the document, Devereaux and Hermsmeier were then arrested, left hand-cuffed in plastic ties for several hours and charged with refusal to disperse.
Graw and Herrmann were also charged with refusal to disperse and arrested while presenting their press badges. The suit claims that the officers purposefully tightened the journalists' plastic ties in order to "inflict pain" on them. When Graw asked for an officer's name, the man responded, "Donald Duck."
"This was a very new experience," Graw said at the time. "I've been in several conflict zones: I was in the civil war regions in Georgia, the Gaza strip, illegally visited the Kaliningrad region when travel to the Soviet Union was still strictly prohibited for westerners, I've been in Iraq, Vietnam and in China, I've met Cuba dissidents. But to be arrested and yelled at and be rudely treated by police? For that I had to travel to Ferguson and St. Louis in the United States of America."
The suit asks for unspecified punitive damages.
"Plaintiffs now bring this action to assure that present and future First Amendment protected activities of Plaintiffs and others will not be suppressed by Defendants, in violation of both Missouri and U.S. Constitutional guarantees," the claim reads.
Popular in the Community